Athens 2004 medal was mission accomplished for Ade Adepitan
Wheelchair basketball 'blew away my preconceptions about disability'
12 Aug 2021
Imagen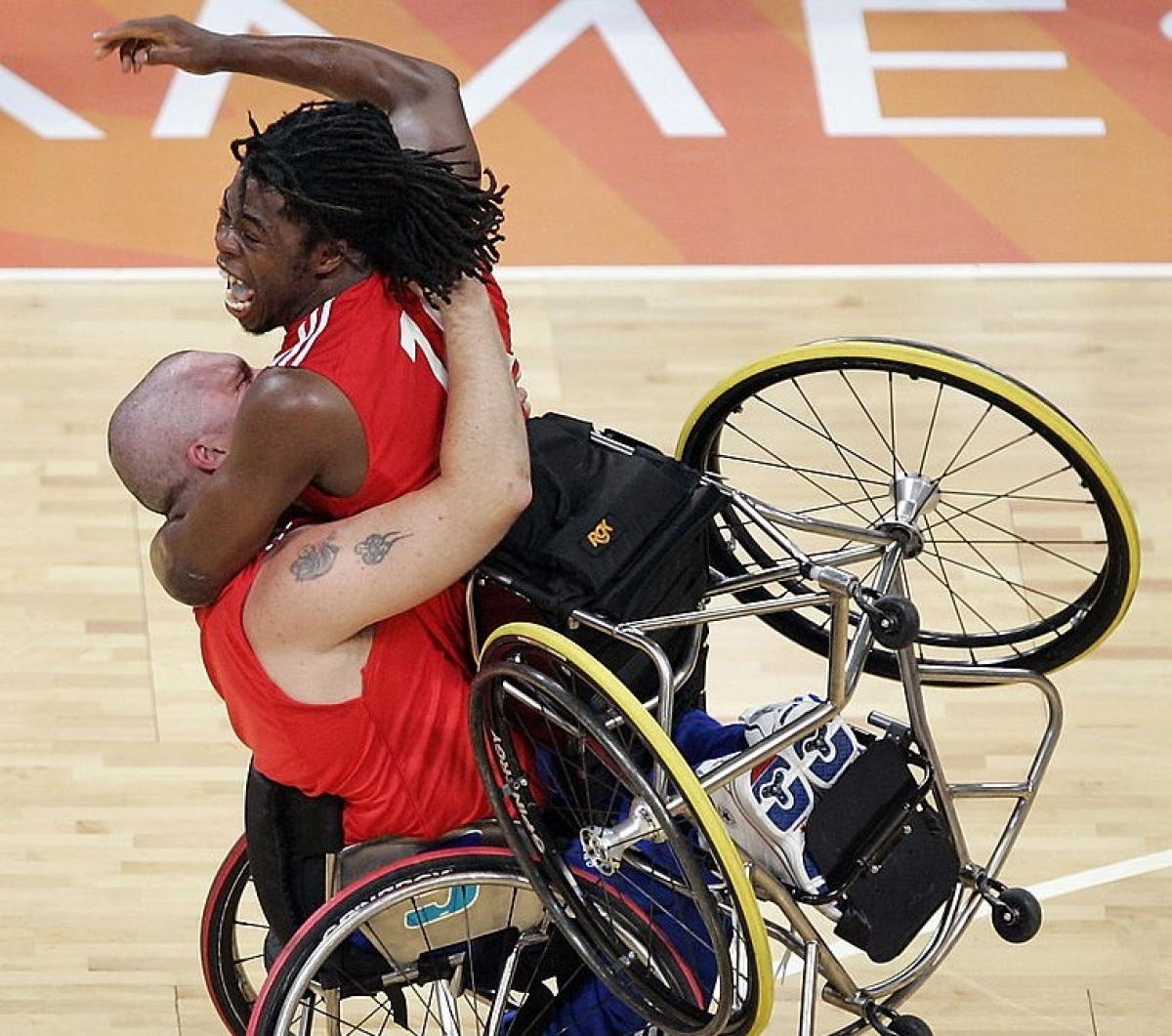 ⒸBrian Bahr/Getty Images
By AMP Media I For The IPC
Two Paralympic Games, two very different experiences for British wheelchair basketball player Ade Adepitan, who has carved himself a successful career in front of the cameras over the last two decades.
Since competing at Sydney 2000 and winning a bronze medal in Athens four years later, Adepitan has been an actor, a documentary maker, a sports presenter and last year was named in the prestigious Black Power List. He has also been awarded an MBE for services to disability sport.
LIGHTBULB MOMENT
His journey started as a teenager, as he recalls.
"I didn't know there was such a thing as the Paralympics until I was about 14 or 15," he said. "I went to the junior wheelchair championships and saw some guys training for the British men's wheelchair team and that was it. This 'lightbulb' moment. Wow. I can compete on the world stage. Before that I thought I was going to be the first guy with polio to play football for England.
"It blew away my preconceptions about disability. I never wanted to get into a wheelchair because I thought being in a wheelchair would look at you negatively, but these guys were incredible.
"They were doing wheelies, sparks were coming out of the wheels and these guys were gladiators. They had the biggest arms I'd ever seen and I wanted to be like them."
Adepitan, who will present Channel 4's Tokyo Today Paralympic highlights on Channel 4, became one of those guys.
"Sydney was my Games of wonderment," he said. "I was like a wide-eyed puppy. Excited by everything. There were 110,000 people at the Opening Ceremony and I remember looking up and seeing people as tiny dots.
"Playing USA, we had 18,000 people watching us. We'd gone from playing at Hackney Sparrows with one man and his dog watching to an 18,000 superdome arena.
"I was excited by everything. 'Look at the machines. You can get free drinks and ice cream in the village. Oh wow'.
"Athens was different. It was focussed.  We were on a mission and when we won our medal we completed the mission.
"To be on that medal rostrum, even now I feel emotional about it. I was this kid, born in Lagos, Nigeria, with polio, grew up in east London in a working class family. Never in my wildest dreams did I ever think I could be in that position."
LONDON GAMES IMPACT
Adepitan was one of the ambassadors for London's successful 2012 bid and rates the announcement as his favourite Paralympic moment.
"I still remember the whole country erupting in joy on that day in 2005. I was in Singapore when Jacques Rogge opened the letter. I was in a room with Seb Coe, Daley Thompson, Tanni Grey-Thompson and David Beckham and to be part of that team was historical, a game changer."
What followed was an unexpected invitation to anchor Channel 4's coverage and the witnessing of Paralympic sport moving up another level in terms of world public recognition.
"London opened the floodgates. It took the profile to another level. All we ever wanted was for able-bodied people to look at us and give us the respect of who we are as athletes."