Gustavo Fernandez talks importance of mental strength
Argentinian wheelchair tennis star spends quarantine training and reading
31 May 2020
Imagen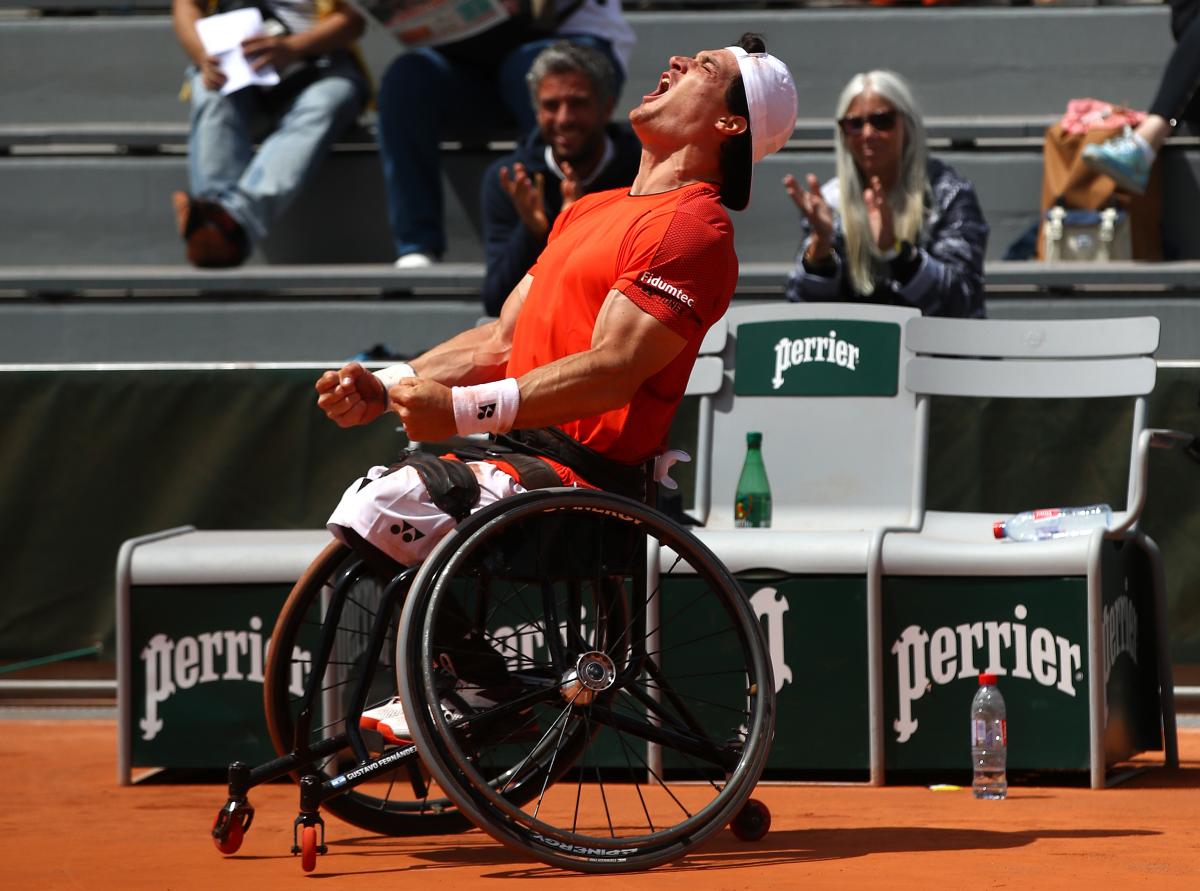 ⒸGetty Images
By Santiago Menichelli
Gustavo Fernandez was already one of the best wheelchair tennis players in the world in 2017, but he still felt he needed to make a mental "leap forward".
It was then that he met compatriot Santiago Sanchez, an Argentinian mind coach and professor working at the University of Bath in Great Britain.
Since then, he has followed a steady ascent to the top of the sport, becoming Latin America's first men's singles world No. 1 and winning three Grand Slam titles more to take his total tally to five.
"We felt we had to step up on the mental side. Santi loved the idea. And it was one of the best decisions of my career, it really helped me a lot", Fernandez said. 
"In life in general and in a sports career, there are very similar situations. As we met, he was learning more about the sport from within, despite being already a tennis fan, and I was growing from the cognitive side."
Since the COVID-19 outbreak, Sanchez keeps sending Fernandez some exercises to remain mentally strong during these difficult times.
"I am working on new things and trying to consolidate others I've been working on, such as managing my emotions, discipline, patience, emotional stability, the ability to make decisions in moments of tension and trying to get the best out of every situation that arises."
Fernandez' goal is clear: "I want to achieve total mind control."
"This keeps me busy and makes me feel like I'm in search of something that serves me well," he explained. "It's a step-by-step job. I'm at a pretty advanced level now, but it's good because you don't see limitations in that sense. For me, the mind has no ceiling. I try to work on it, and I have had results."
Self-demanding
Fernandez is self-demanding and asks those who surround him, whether it is his coach, physical trainer or mental coach, to be demanding with him as well. 
"I try to be balanced at the same time. I try to achieve balance, that's the way it works. It's no good being super passionate or being an ice cube and not feeling anything. I try to see where the limit is and when to slow down.
"It's from the challenges that I've grown the most. I'm fine with hitting myself against the wall and failing. I don't have a problem with things going bad if I can manage them. A high demand at the highest level is very productive. I'm happy to have that ability. I don't get frustrated. I didn't go and buy that skill, it comes with me.
"I don't have talent, or that's my talent. I take advantage of it, I push that button and can keep it up."
Exposure
His many victories did not go unnoticed in Argentina, where he has become very popular, especially after reaching the world No. 1 for the first time in 2017.
"Although it will always be one of the most beautiful moments in tennis because it is the result of a lot of work, I was overwhelmed by everything that came around the number one.
"I had a lot of media exposure. I like my private life and managing my time. I had to adapt to the life of someone who has a lot of commitments and who, in turn, could not say no to anything because of my way of being. I always wanted to be respectful of everyone and I like to be for everyone who needs me.
"It was much more than I could give, in some respects. I had to put a stop to it and restructure my life. I had a very bad six months from the personal side and my professional level dropped. 
"I needed to loosen the pressure pump. It was a learning curve and I had to change a lot of things. I restructured my life and it's now much healthier."
Receiving praise from Novak Djokovic
Fernandez was training at Roland Garros when the Serbian tennis legend, who had been practising in the court next to his, approached him and congratulated him on his tennis level.
"It is big to know that someone like Djokovic respects and values you. It was the fact that he was interested in and respected me as a colleague. There were no cameras, he really felt doing it.
"I have trained very hard to become who I am. I'm not a person on a wheelchair who does sports, I'm a high-performance athlete. My distinguishing feature is not the wheelchair, but the quality and the way I play tennis."