Lights, camera, barbells: Zabala lives full range of emotions as athlete and actress
Loida Zabala Ollero reached her best-ever finish last year, becoming the first European champion in Para powerlifting from Spain, and is currently pursuing a career as an actress while also training for the Paris 2024 Paralympic Games
27 Jan 2023
Imagen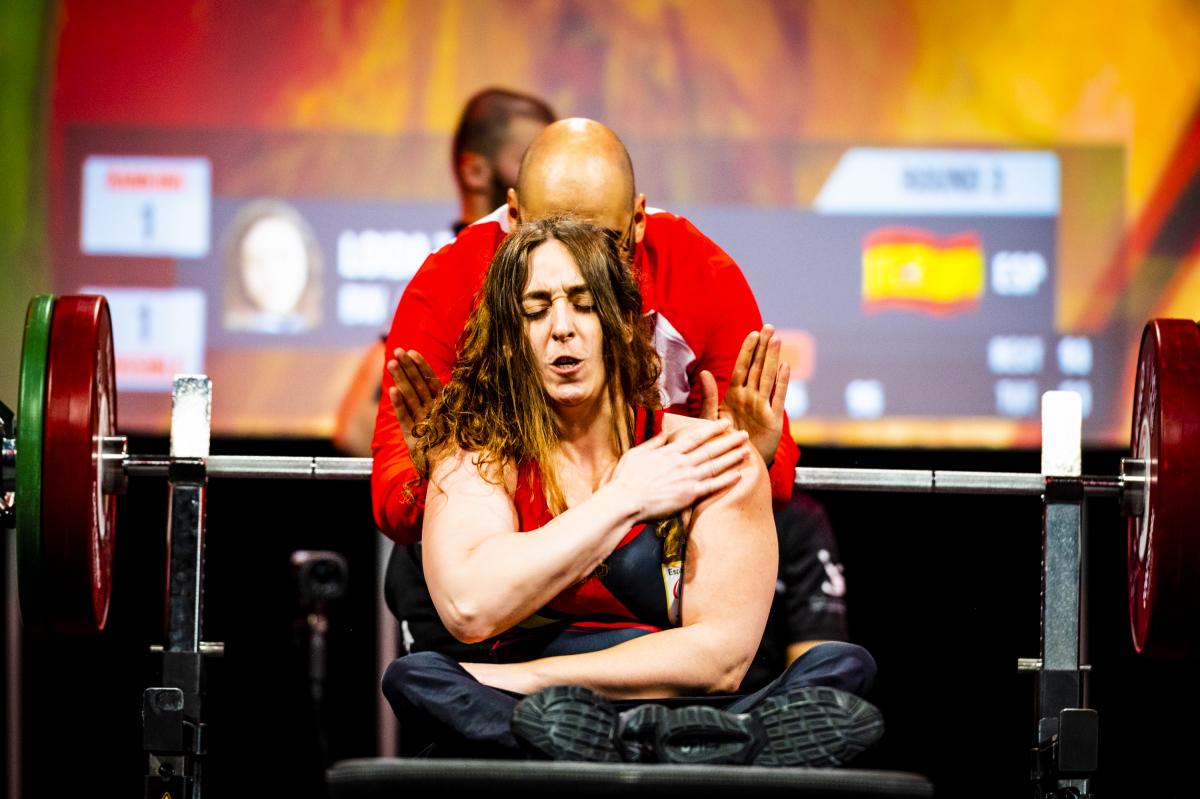 ⒸHiroki Nishioka/WPPO
By Lena Smirnova | For the IPC
Sadness and anger are not emotions one usually wants to feel. Unless you are Para powerlifter Loida Zabala Ollero who launched a side career a few years ago to experience just that. 
On camera, at least. 
The history-making athlete from Spain has experienced all kinds of emotions, including jubilation and pride, while on the bench. As an actress, she has also tapped into a few more melancholic ones. 
"I am an actress because I really like that by playing a character I can experience a lot of emotions that I do not experience as an athlete," Zabala said. "An athlete is very strong, very brave. However, as an actress I can feel other emotions, such as sadness and hate, emotions that I don't usually feel. For me it is an important add-on, so that I feel human."
The passion of powerlifting
Zabala lost mobility in her legs when she was 11 after contracting transverse myelitis. She started training with dumbbells as part of her therapy and discovered Para powerlifting when she was 18.
At Beijing 2008, Zabala made history by becoming the first female powerlifter from Spain to compete at a Paralympic Games, finishing seventh in the women's up to 48kg class.
She went on to complete at the three following editions of the Games, reaching her best result of fifth place at London 2012 and Rio 2016. 
Four months ago, in September 2022, Zabala made history again as she became the first European champion from Spain, winning gold in the women's up to 50kg class at the 2022 European Open Championships in Tbilisi, Georgia.
"I was in a state of shock because I did not expect to become the champion," Zaballa recalled. "I felt extremely happy, but at the same time I could not believe that I was able to accomplish this top ranking.
"Now we are beginning the Paralympic cycle for Paris 2024 and, without a doubt, I would be thrilled to get the gold medal there too."
Casting for drama
While there is no shortage of vivid emotions in her sports career, Zabala was eager to experience a few more - in front of a film camera.
After Rio 2016 she filmed Fuerza, a documentary film that follows the day-to-day life of the top-level powerlifter and shows the challenges that she faces. The film was released in 2018.
"As of now, I have made three documentaries. The last documentary was called Fuerza and it has won several awards, in Spain as well as in Mexico," Zabala said. 
"The documentary was shown in multiple cinemas and at seven film festivals. I was very happy because watching it on the big screens, it was something immensely powerful for me."
The experience of making a documentary was not only powerful, but also enjoyable, prompting Zabala to launch a second career as an actress.
She is now taking regular acting lessons and going to casting sessions.
"I received training as an actress and, in addition to going to castings, I work with a coach to be able to capture all the emotions that I need for each casting," Zabala said.
"In the last casting, I was very close to being selected to be the lead in a movie, but you never know when the opportunity will arrive. In this case, I had no luck and I was only the finalist, but I will keep practising to be able to achieve this someday."
Role of a lifetime
While acting classes have helped Zabala to improve her craft – Para powerlifting has proved a surprising asset to that end as well.
"This sport is wonderful because as a spectator you start off relaxed, but as the athletes start lifting, they pass on their energy and the spectators' energy levels also climb up," she said. "I think it is one of the most important sports that you can watch at the Games because they showcase strength, but also the humanity that's behind each medal."
Aside from her busy sports and acting careers, the 17-time national champion recently also took up work as a telephone helpline operator in Madrid. It is a job she is passionate about, Zabala said, because it involves helping other people.
The veteran athlete has also put a lot of effort into helping to grow the Spanish team.
From being the only Spanish Para powerlifter at Beijing 2008, Zabala experienced a very different dynamic at the 2022 European Open Championships where three teammates cheered her on from the sidelines and shared a bronze medal with her in the team event.

"I have a foundation called the Foundation Loida Zabala and with it we are helping athletes who are improving their level little by little," she said. "There are Spanish athletes who have written to me on WhatsApp to tell me that I have inspired them a lot and I have moved them, which for me is a great satisfaction.
"I think that (Para powerlifting in) Spain is going to grow a lot and it will take a good path."