Fabio Torres leads the hosts as World Cup season kicks off in Bogota
Forty-three athletes from 14 nations set to compete in the Colombian capital in first international event to take place during the pandemic
05 Mar 2021
Imagen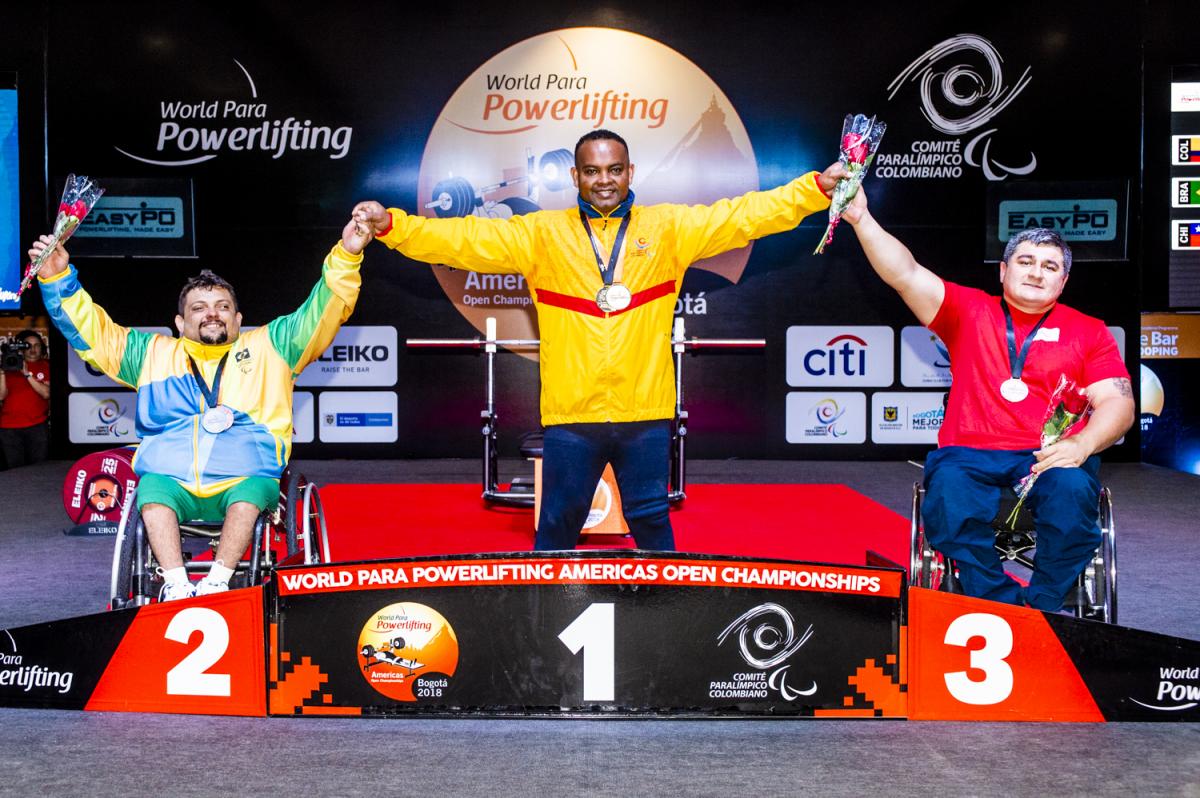 ⒸHiroki Nishioka for World Para Powerlifting
By Filip Ozbolt | For World Para Powerlifting
The long-awaited World Para Powerlifting World Cup season is set to start on Friday (5 March) in Bogota. A total of 43 athletes from 14 countries will be competing for the first time in over a year until Sunday in the Colombian capital.
The last World Cup that took place before the COVID-19 outbreak was the Manchester World Cup at the end of February 2020 in Great Britain. Since then, Para powerlifters had the opportunity to compete from home in the Online World Cup but now they are back in live action again.
The hosts will be represented by six athletes, including home favourite and two-time World Championships medallist Fabio Torres.
"During the past year, I have been training in Bogota to keep safe from the pandemic. It has helped me a lot to stay at home", said Colombia's Fabio Torres. "I'm in great shape before the competition in Bogota where my path to the Tokyo 2020 Paralympics starts."
Torres will compete in the men's up to 97kg category with high hopes.
"It's always great to compete in your home country. I expect to get a good result, but I would love to fight for a gold medal. That's something that every athlete strives for, to be the best in its category."
Regarding the Paralympic Games, which are less than six months away, Torres said: "I feel the pressure before Tokyo like before any other competition. I have fought to win medals at the last two World Championships and I want to do the same in the Paralympics."
During the last year, Torres created the foundation 'Gestión, Amor y Vida' (Management, Love and Life) with his wife Arelis Cantillo Villegas. The purpose of the foundation is to assist persons with disabilities, elderl people and children of low income.
"The foundation is working and fighting day by day, especially with my strength as the president. In the future, we want to find and help more people in Colombia. The foundation wants to expand all across the country", said Torres whose budget was also hit during the pandemic, but did not prevent him from helping others.
"My wife and I have started the foundation in different times before COVID-19. But the pandemic didn't become an obstacle", explained Torres, who sometimes spent 10 hours per day delivering help to people. "We have established events, bought toys for kids, and even managed to get a prosthesis for one girl. Our foundation has done a lot of good things even though we are living in the time of COVID-19."
Men's events
Among the other events taking place in Bogota, the men's up to 59kg is set to be hotly contested. Chile's Nur-Sultan 2019 World Championship bronze medallist Juan Carlos Garrido is coming up against El Salvador's Herbert Aceituno who won his country's first gold medal in 20 years at the Lima 2019 Parapan American Games.
World junior champion and record holder Donato Telesca from Italy is the main favorite in up to 72kg category. The competition in Bogota will see plenty of Parapan American Games winners, including Chile's Jorge Carinao (up to 65kg), Colombia's Francisco Palomeque Palacios (up to 80kg), and his countryman Jainer Cantillo (up to 88kg).
A great matchup is awaiting in the category up to 107kg. Georgia's European Championship bronze medallist Akaki Jintcharidze is going to battle against Mexico's former world champion and Paralympic bronze medallist Jose de Jesus Castillo Castillo.
In the over 107kg category, Jhon Freddy Castaneda from Colombia is the clear favorite to take first place. He is the reigning Parapan Am Games champion.
Women's events
Colombia's Cristina Poblador Granados is the favorite in up to 41kg category with a gold medal at the 2018 Americas Regional Open Championships in Bogota to her name.
The women's up to 55kg is set to be a spectacle as it features a World Championship bronze medallist Besra Duman from Turkey.
The hosts' hopes also rest on Lima 2019 gold medallist Bertha Cecilia Fernandez Arango in the up to 67kg category. The circle of South American stars in Bogota is closed with Chile's Maria Antonieta Ortiz who will compete in up to 79kg category.
The Bogota 2021 World Cup also offered two days of classification opportunities to participant nations.
Bogota 2021 will be shown live on the World Para Powerlifting website and World Para Powerlifting Facebook page. Live results are available here.