Gold Coast 2018: Evan O'Hanlon hoping for perfect end
Australian sprinter to close career at home Commonwealth Games
02 Apr 2018
Imagen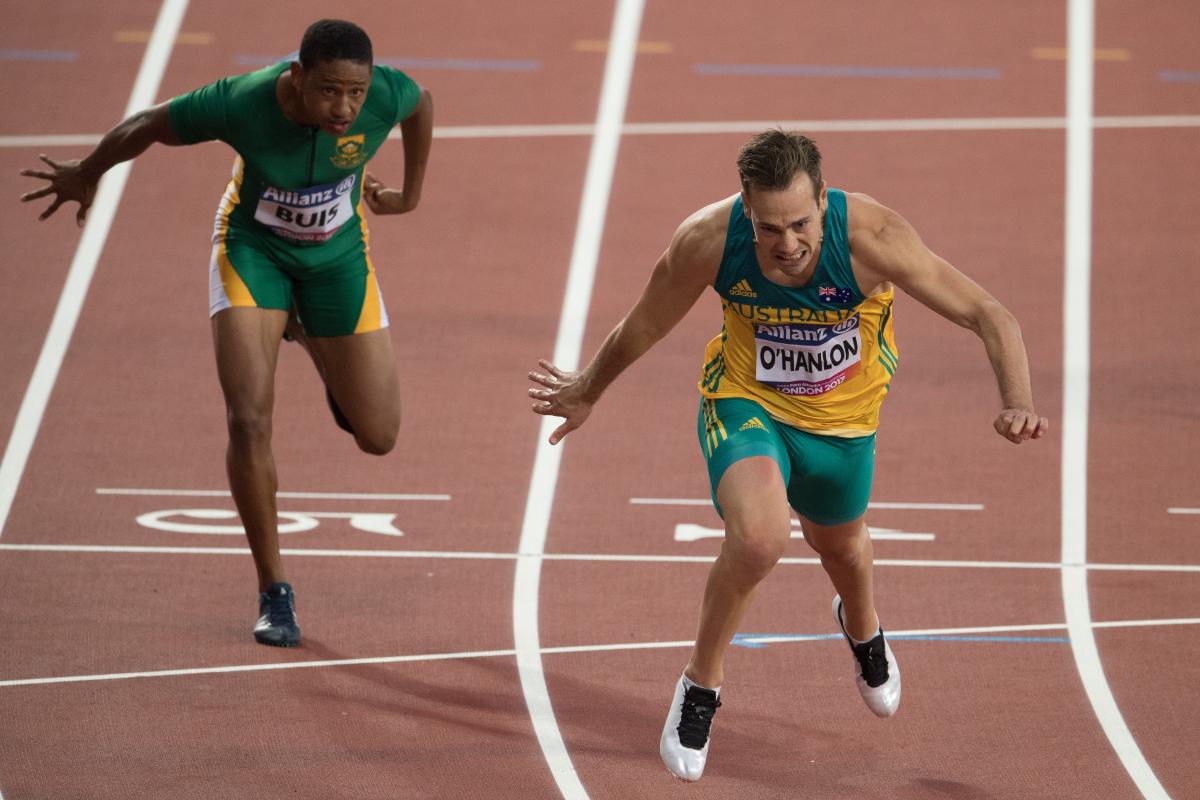 ⒸBob Martin
When Australian sprinter Evan O'Hanlon found out there would be a race for his class at the 2018 Gold Coast Commonwealth Games, he knew there was only one option.
The 29-year-old had just lost his Paralympic 100m T38 title to China's Hu Jianwen and was walking away from the sport, retiring after more than a decade at the top.
But the prospect of a major competition on home soil and the chance to add one more title to his collection changed his mind.
This time, however, really will be his last race.
"It's going to mean a lot to me. The only reason I came back after Rio really was that I have a home Games this year at the Commonwealth Games," said O'Hanlon, who will race in the 100m T38 final on Monday 9 April.
Rio redemption
A triple gold medallist at Beijing 2008 and double gold medal winner at London 2012, O'Hanlon had been favourite for 100m T38 gold at the Rio Paralympic Games.
He had seven world titles to his name; he was the world record holder – the first and only T38 Para athlete to go sub-11 seconds. Rio would be the place he would race for the final time.
But all that changed when Hu crossed the line first in Brazil with a new world record of 10.74 seconds.
O'Hanlon decided to keep training, with retirement postponed for a further 18 months.
Of course, in between Rio 2016 and Gold Coast 2018 there was the London 2017 World Championships - and another race against Hu.
"I would've been happy to sit out the World Championships because I didn't want to be beaten again," admitted O'Hanlon. "Luckily I was able to come away with the win."
Not that that win came easily - the men's 100m T38 final was one of the most thrilling races of the Championships, with the decision down to a photo finish.
O'Hanlon's relief at winning gold was palpable - when the result finally flashed up on screen, he tore off his shirt and roared to the crowd, arms aloft.
"Every time I watch it I'm like 'I didn't win'," said O'Hanlon.
"I came out of the blocks and I was in front - I got a blinder of a start. I was in front and I could just feel him coming, coming and coming.
"Then there was a moment when I thought he's gone past me and then I just got really angry. I was like 'I'm not going to let this happen again'. Rio felt horrible and I didn't want that feeling again, so I just put everything I had in me to getting across the line."
While that one defeat in Rio may be an unwelcome blot on his otherwise remarkable CV, it has helped focus O'Hanlon's mind when it comes to winning on home soil.
"I'm very, very aware that it's tough – it's not easy," added O'Hanlon, who will line up against the likes of South African 200m T38 world champion Dyan Buis and 100m T37 Paralympic champion Charl du Toit.
"I thought I was going to win in Rio and that helps me a lot, knowing that I did lose. It keeps me on my toes. I just have to be 100 per cent prepared for every race. I cannot take anything for granted."
Different build up
Race preparation has also taken a different path this year – O'Hanlon and his wife Zuzi became parents to baby Ursula in February.
The couple found out they were expecting their first child the day O'Hanlon left Sydney for the 2017 World Championships.
The prospect of parenthood also helped him mentally prepare for a race where, for the first time, he believed there was a real possibility he might not win.
"I had a lot of time to think about and it and that helped me even in London where I was like, 'What do you want to show your kid?'
"I wanted to show them that it's alright to get beaten or make a mistake as long as you stand up and go back and try again."
He proved his point with a win in London – now, with his young family in the crowds of the Carrara stadium, O'Hanlon will be hoping for the perfect end to his career.