Josh Hargis: 'I look at two separate lives I've lived'
USA Army veteran reflects on the moment he chose to embrace his disability and discovered Para ice hockey
10 Nov 2020
Imagen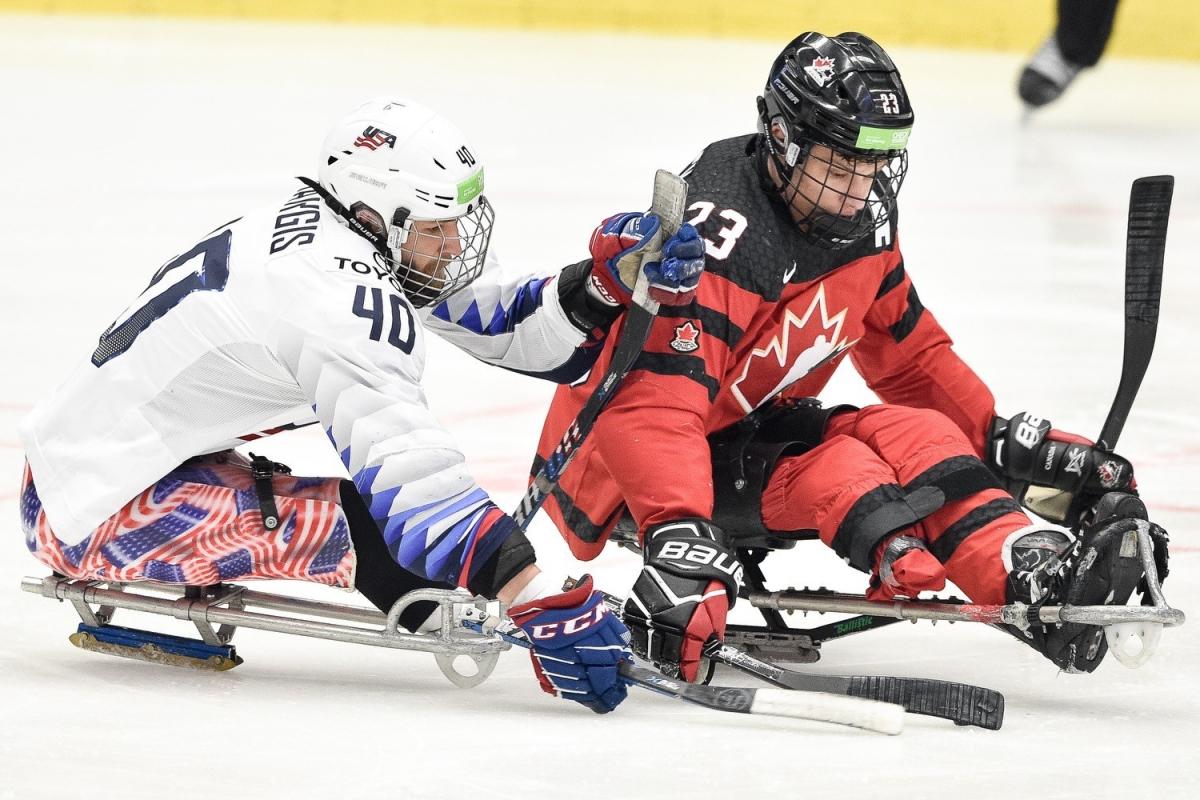 ⒸOstrava 2019 LOC
By Stuart Lieberman | For World Para Ice Hockey
Entering his third year on the USA national Para ice hockey team, Josh Hargis knows the circumstances may be different given the COVID-19 pandemic. 
But that is ok. Because the 31-year-old Army veteran is used to adversity.
As the USA marks Veteran's Day on Wednesday (11 November), Hargis reflects on the moment he chose to embrace his disability after losing both his legs during an explosion in while serving in Afghanistan in 2013.
That moment was captured in a photo that went viral when his wife, Taylor, posted it on Facebook. In the photo, Hargis was seemingly unconscious in a military hospital, yet he lifted his hand to salute the USA flag while a Purple Heart was being pinned to his chest.
"It always puts a smile on my face because it was a moment of pain and struggle, but it provided an opportunity for me to get to where I am now," Hargis said. 
"That's the beginning for me. I look at two separate lives I've lived, and that was the end of one life and the beginning of another. It's been a tough road starting from there, but it's been worth all the work I've put in with my family to get to where we are and represent the USA on the national team."
Instead of going through "monotonous" physical therapy after becoming a double amputee — he relearned to walk at the same time his baby son started walking — Hargis was given the option to try Para ice hockey instead, as a means to recovery. 
"It kind of found me," Hargis said. "It wasn't love at first sight kind of thing because it was so physical and there was so much work that went into it and I just wasn't good, but after a while, once I started getting comfortable with the sport and started getting good at the basic skills, I started to see my potential in the sport. That's when my love and my drive for the sport really took off."
Five months after losing his leg and one month after skating in a sledge for the first time, Hargis watched the Sochi 2014 Winter Paralympics on television. Former USA captain Josh Sweeney, another military veteran, scored the gold-medal winning goal, lighting a fire within Hargis.
"I got to watch the highest level of the sport right after my injury and my amputations," he said. "I got to see the highest level of it and I immediately set that as my goal, wanting to make the national team and compete in the Paralympics."
Hargis began playing with the San Antonio Rampage, a Para ice hockey team sponsored by Operation Comfort, which helps wounded, ill and injured service members recover and get involved in the community. 
It is the same programme that gave life on the ice to Sweeney, as well as USA Paralympians and USA Army veterans Rico Roman and Jen Lee.
Hargis quickly worked his way up to the USA national development team, serving as co-captain for the 2017-18 season, and the following season secured a spot as a forward on the national team. 
He is one of seven military veterans on the country's Para ice hockey national team, alongside Roman, Lee, Ralph DeQuebec, Travis Dodson, Luke McDermott, and Joseph Woodke.
Gold at Ostrava 2019
Hargis was part of the Ostrava 2019 world-title team and scored the squad's gold-medal winning goal at last December's Para Hockey Cup to extend the USA impressive streak to six tournament wins. But he does not take anything for granted. 
"The most difficult part about being on the national team or even trying to get on it is how much time, effort and dedication it takes to achieve this goal. It's not something that you just decide to do one day and next month you're on the national team," he said. 
"And I don't see myself as at the top of my game yet. I've only been playing it for six years now, so I want to continue getting better. I know that I still have room to grow and a lot to learn about the sport."
Hargis now lives outside of Nashville, Tennessee with his wife and two sons, Whalin (6) and Lowell (4). 
Whalin, who is just beginning to comprehend what his father went through in Afghanistan, sees his father as a hero already on the ice. In fact, any time a hockey game is on TV in the Hargis household, he perks up with the same question.
"Daddy, which one are you?" he asks.
"No buddy, I'm not playing. I'm not on this team. I play sled hockey," Hargis responds.
"No, but which one are you?" 
"Ok, I guess I'm No. 88 Patrick Kane!"
Hargis' favorite moments are the ones when he sees joy on kids' faces when they watch Para ice hockey — and when kids with a disability try it for the first time.
"I want to be able to stay involved with the sport long-term, to be able to give back and to help the younger generation learn about the sport and develop their skills," he said.
"A disability is not something I've had to go through growing up. I've just been exposed to it more recently. Seeing those kids who were born with a disability and who have chosen to get into a sport — the joy that it gives to them as they get on the ice and experience freedom, I love to watch them experience that."