Tokyo 2020: Takeaways from Para archery
From returning champions to unexpected results, archery was full of storylines in Tokyo
15 Sep 2021
Imagen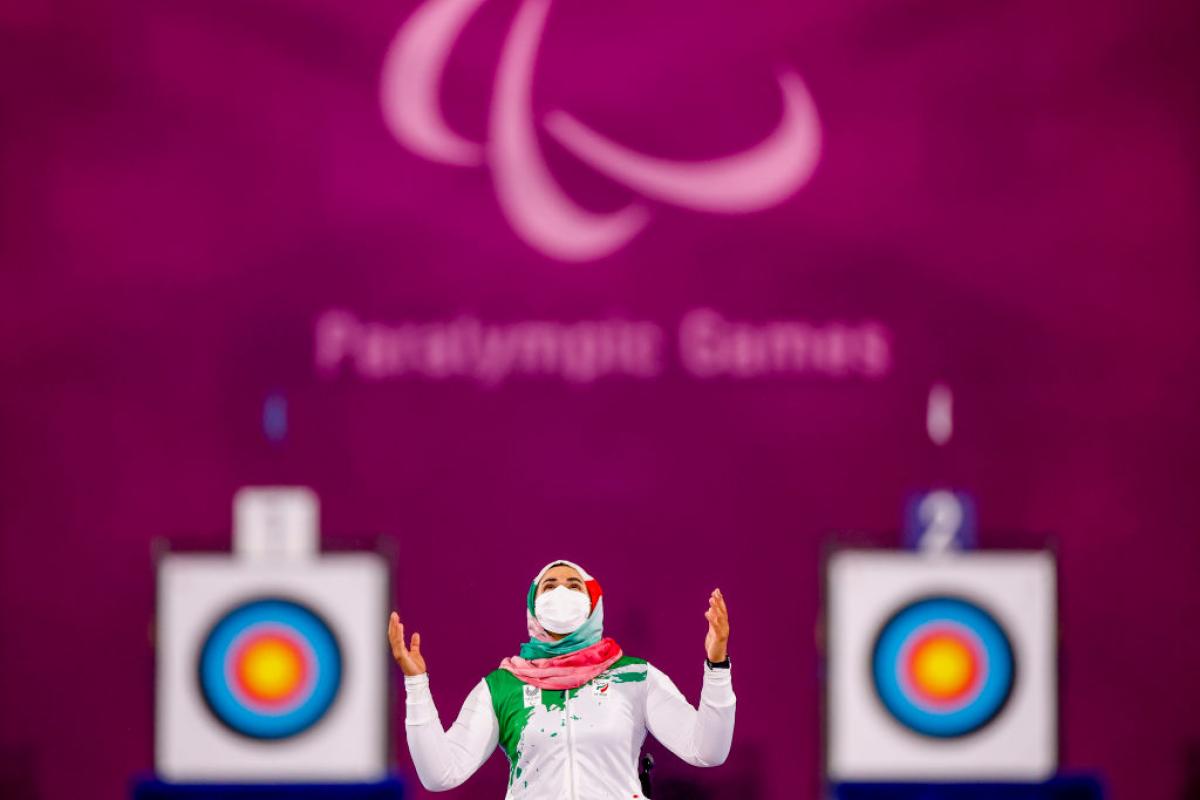 ⒸGetty
By Ros Dumlao I For the IPC
Para archers produced stunning performances over nine medal events at the Yemenoshima Park Archery Field. Here are five takeaways from Tokyo 2020:
1.    Zahra Nemati proves greatness through consistency
No other individual archer from Rio 2016 returned to the top of the Paralympic podium in Tokyo apart from Zahra Nemati. By winning the women's recurve open, the Iranian secured her third consecutive Paralympic title. She did so in a nail-biting shoot-off with Italy's Vincenza Petrilli, hitting a 10 with her last arrow to win the title. South Africa's Margaret Harriman was the only other Para archer to win gold at consecutive Paralympic gold medals, doing so in at the 1960, 1964, 1968 and 1972 Paralympic Games. 
The achievement not only speaks of Nemati's excellence in the sport overtime, but also what it means around the world. She first shot into the global radar by becoming the first woman from Iran to win a gold medal at either the Olympic or Paralympic Games back in 2012, and has used her platform to speak up about women in sports and disability. Now she has another platform – being voted one of six on the IPC Athletes' Council during Tokyo 2020 – to make an impact beyond archery. 
The Czech Republic's Para archery star made his fourth Paralympic appearance and medalled every single time. But Tokyo 2020 was his first gold medal since Beijing 2008, showing his grit and determination still remain.  
As for Drahoninsky, it seemed the men's W1 event was ready for new blood. But the 39-year-old was not ready for that, holding his nerve to shoot a 10 in his final arrow to regain his title. 
The Czech beat the odds, especially with the rise of Turkey's reigning world champion Bahattin Hekimoglu making his debut and tabbed the favourite in Tokyo. He lost out to teammate and eventual silver medallist Nihat Turkmenoglu in the semi-finals, but Hekimoglu's bronze still showed he will keep fighting for the podium in years to come. 
3.    China full of talent
Ai Xinliang (men's compound open), Zhao Lixue (men's recurve open), Zhou Jiamin (women's compound open), and Wu Chunyan (women's recurve open) all won an individual or team medal from Rio 2016 and remained podium threats entering Tokyo 2020. 
While Ai (bronze), Zhao (silver) and Wu (bronze) contested for the podium in their individual events, two Chinese newcomers flew under the radar and onto the top of the podium. 
Debutants He Zihao and Chen Minyi each won a pair of gold medals. For He, the 27-year-old had competed at the 2018 Asian Para Games and 2019 World Championships prior to Tokyo, but it was only the 2019 Asian Championships where he won gold and secured his spot in Tokyo, and eventually the attention of the men's compound open event in years to come. At 30, Chen had been competing in archery for more than a decade but only recently has her talent blossomed to become a Paralympic champion in the women's W1 open. Both also helped China win golds in their respective team events. 
In total, China won eight medals (four golds, one silver, three bronze) to top the medals table.
4.    More promising talent to watch for
He and Chen were not the only Paralympic debutants to grab new attention in Tokyo. The women's compound open final was an exciting battle between two first-timers in Great Britain's 23-years-old Phoebe Paterson Pine and Chile's 19-year-old Mariana Zuniga. Pine had defeated her teammate Jessica Stretton to qualify for the quarterfinals and set up an tense battle for gold with the Chilean, whom she defeated 134-133. 
While the talent continues brewing in Great Britain, Zuniga's debut was headlines for her country. No archer from Chile had ever qualified for the Paralympics before until Zuniga. 
5.    Any man's medal
The men's recurve open was expected to see a new Paralympic champion, but it could have been anyone's guess. When the USA's Kevin Mather upset top-seed and Rio 2016 champion Gholamreza Rahimi of Iran in the early rounds, and then India's 2018 Asian Para Games champion Harvinder Singh, the path to gold seemed anyone's game. Still there was not much known about the US athlete whose first archery competition was the 2017 World Championships.
China's Zhao Lixue, an experienced archer and world champion from 2017, seemed to be next in line to take over the gold in Tokyo; since Malaysia's reigning world champion Suresh Selvathamby did not make it out of the first round. And Mather emerged as one of the biggest surprises of the tournament in Tokyo, as the 39-year-old overcame the heavy downpour to take the title ahead of Zhao.
Singh still made history as his country's first Paralympic medallist in the sport.