Tunis 2022 Grand Prix sees renewed rivalries and French clean sweep
Local Paralympic star Raoua Tlili beats Morocco's Youssra Karim for gold as Yasser Musanganya leads triple podium for World Championships hosts
30 Jun 2022
Imagen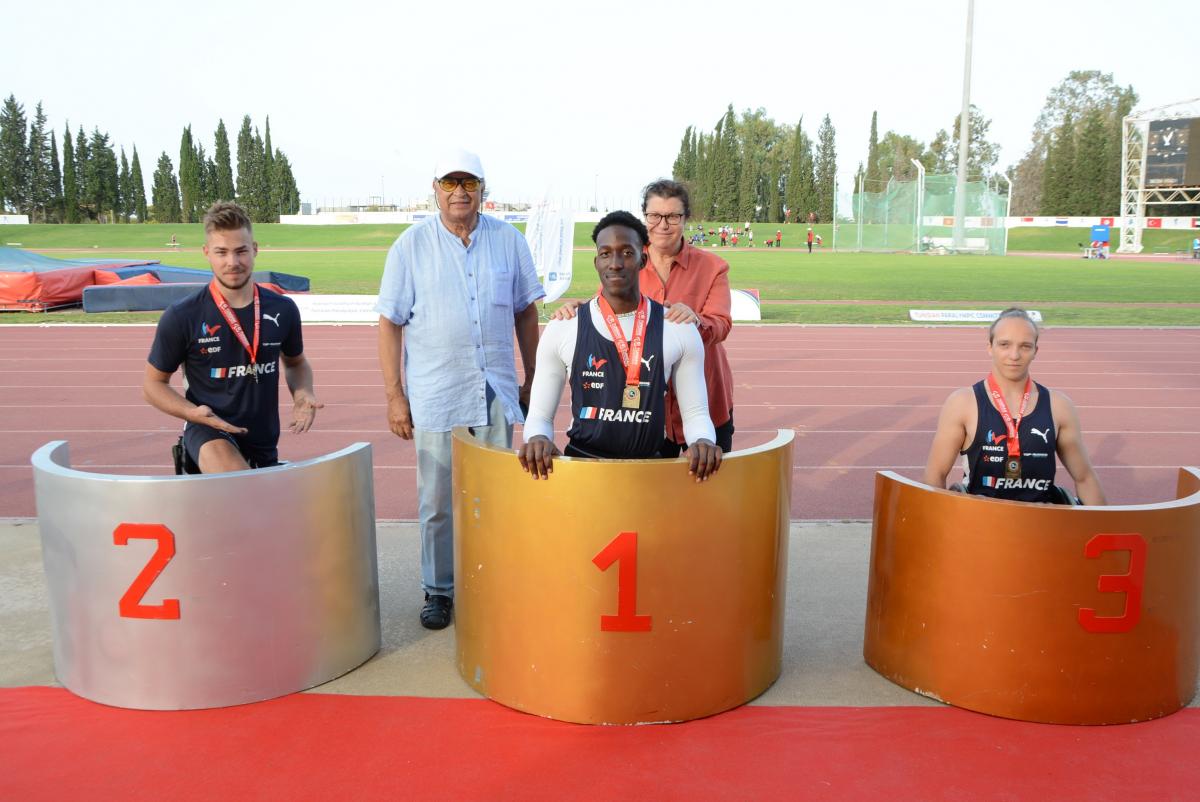 ⒸNPC Tunisia
By Jeroen Adriaanse I For World Para Athletics
The Tunis 2022 Grand Prix added another chapter to the rich spectacle of the traditional meeting in Africa. The fifth stop on this year's events calendar saw some elite level performances across three action-packed days that ended on Wednesday (June 30).  
Tlili and Karim renew rivalry  
Six-time Paralympic gold medallist Raoua Tlili returned to the scene where Morocco's Youssra Karim improved Tlili's previous world record, before the latter broke it again with her final throw in the women's F41 discus final to win gold at the Tokyo 2020 Paralympic Games.
The pair often clash, and each has come out on top more than once over the years. Here, at the Rades Athletics Stadium in Tunis, they renewed their rivalry again. 
Tlili started as the favourite on home soil, with her first throw of 34.09m setting the standard. A fierce competitor, Karim was able to better this score by the finest of margins, but she ultimately failed to top Tlili's fourth effort of 35.86m and had to settle for silver.
It meant back-to-back gold medals for the 32-year-old Tlili in this event, after claiming top spot at the Paris 2022 Grand Prix earlier this month – and another blow being dealt to Karim. 
In the women's F56/57 discus final, Nassima Saifi demonstrated she is still on top of her game. The 33-year-old from Algeria is a five-time world champion in the F57 event (from Christchurch 2011 to Dubai 2019) and topped the podium at London 2012 and Rio 2016. 
She dominated the field and Saifi's best throw – of her allowed six – was a distance of 33.25m to clinch gold. Compatriot Nadia Medjmedj took silver and Thi Hai Nguyen from Vietnam bagged bronze.
French podium sweep
Yasser Musanganya led home a French clean sweep in the men's 400m T54 final on the opening day of the Grand Prix, posting an amazing 50.78 to clinch gold.
Thibault Daurat took silver in 51.71 with Paul Singer third in 52.76. Musanganya started the race strongly, noshing ahead of the field but Daurat caught up and after the pair raced neck and neck it was Musanganya who surged ahead down the final straight. 
"I'm happy with my first place. It's always cool to race with my French teammates. That sensation allowed me to have a very good race", Musanganya said.
Musanganya was seeking a victory in the 400m T54 to build on his momentum following a second-place finish at the Grand Prix in Paris two weeks earlier, during which Singer also grabbed a bronze medal and Daurat recorded a seasonal best.  
"I can't wait for next year, because I'm in full progress. I advise you to follow me very closely," Musanganya concluded. 
The performance in Tunis will surely help the French trio drive them towards hitting top form at the World Para Athletics Championships on home soil next year, with the World Championships set to take place in Paris a year prior to the start of the Paralympic Games in the French capital.  
Flat out in track events
In the men's 100m T12 heats, Leinier Savon Pineda from Cuba also demonstrated great pace to win his event with a time of 10.82. The two-time Paralympic champion came only four tenths of a second short to beat the world record of 10.43 set by Norway's Kashafali Salum Ageze at Tokyo 2020. 
Morocco's Paralympic and world champion Ayoub Sadni got off to a flying start in the men's 400m T47 to win gold, posting a time of 47.89. Sadni bettered his own world record (47.01) in this event two weeks ago. 
"It was hot, but I dealt with the weather normally. I'm now preparing for next year's World Championships and the Paralympic Games [in Paris]," Sadni said. 
The 23-year-old Sadni continued his impressive run of form by also winning the 100m event in Tunis, despite feeling a bit fatigued following back-to-back Grand Prix performances. 
"I wasn't very ready for this competition, as I also competed in Paris, which I was very prepared for. But I still gave Morocco two more medals here," Sadni added. 
In the women's track events, silver medallist at Rio 2016 Najah Chouaya from Tunisia claimed top spot by winning the 1500m T12/20. Simran from India also impressed in the 100m T13/35/36 with a time of 12.98 to clinch gold. 
Mexico up next
Complete results from Tunis 2022 can be found here. 
The World Para Athletics Grand Prix series continues in Mexico next month – and it will be a historic meeting. The city of Monterrey will host the first-ever Grand Prix in Mexico from 21 to 23 July. 
It will be the first Grand Prix in the Americas region in more than two years. The last event took place in Arizona, USA in May 2019.