Vera Muratova makes history at Online World Cup Series Finals
Nur-Sultan 2019 medallist wins first edition in a one-two Russian podium with Colombia's Jainer Cantillo finishing third
18 Nov 2020
Imagen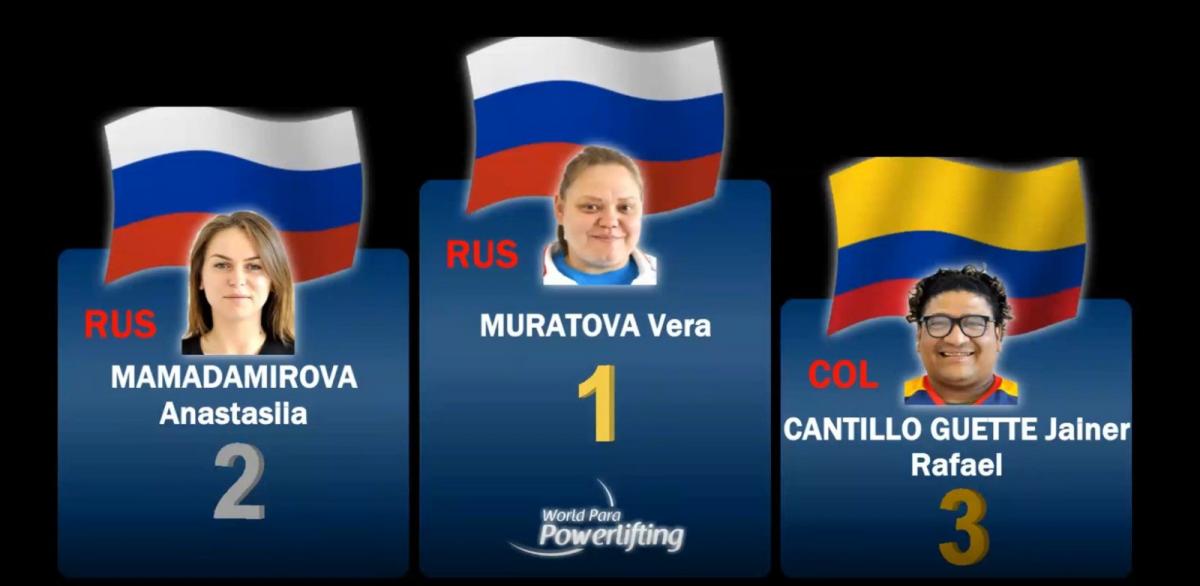 By World Para Powerlifting
Vera Muratova left no room for doubt in the World Para Powerlifting Online World Cup Series Finals, presented by BIGSER. 
The Russian arrived with the best record among the nine finalists and dominated Tuesday's event to become the first champion of the virtual competition series.
The winner will receive a bar from World Para Powerlifting Official Partner Eleiko.
The 40-year-old had three wins and two second places in the five editions of the 2020 Online World Cup Series. Her two defeats came against Mexico's Amalia Perez. 
While Muratova accumulated 343.5 points, including a best lift of 130 kg, Perez had to settle for the eighth place in the final with 142.5 points.
The top two spots on the podium belonged to the Russians with Anastasiia Mamadamirova claiming the second place with 292.5 points. 
Colombia's Jainer Cantillo emerged as the best among the male competitors taking third place with 211 points.
The Finals were held as a mixed event, with powerlifters competing live from their homes and judged by International Technical Officials by video.
The results were based on the additional points athletes were able to score considering the number of valid attempts (good lifts).
The Online World Cup Series was launched by World Para Powerlifting in April to keep athletes engaged and motivated during the COVID-19 pandemic. 
The Series became an instant success and in all 129 participants from 34 countries took part in the online competition. 
"We could not be happier with the results achieved in the first season of the Online World Cup Series," Jorge Moreno, Head of World Para Powerlifting said. 
"When World Para Powerlifting created the Series most of the world was under lockdown and full of uncertainties caused by the pandemic. It was our way to help athletes staying active and doing something fun and friendly in a safe way. Now, we want it to be part of our calendar and we will be looking at how to improve ahead," Moreno added.
Online World Cup Finals result:
1 – Vera Muratova (Russia) – 343.5 Points
2 - Anastasiia Mamadamirova (Russia) – 292.5
3 – Jainer Cantillo (Colombia) – 211
4 – Latsami Sipaseuth (Laos) – 178
5 – Rehab Ahmed (Egypt) – 176.5
6 – Mariana D'Andrea (Brazil) – 176
7 – Cristina Poblador (Colombia) – 174
8 – Amalia Perez (Mexico) – 142.5
9 – Herbert Aceituno (El Salvador) - 69
*Due to technical issues the competition could not be shown live on World Para Powerlifting Facebook page as announced.