IPC Podcast: Sherif Osman's 'difficult but not impossible' mentality 
Egyptian powerlifter went from growing up with a disability in a small village to becoming a triple Paralympic champion
23 Oct 2020
Imagen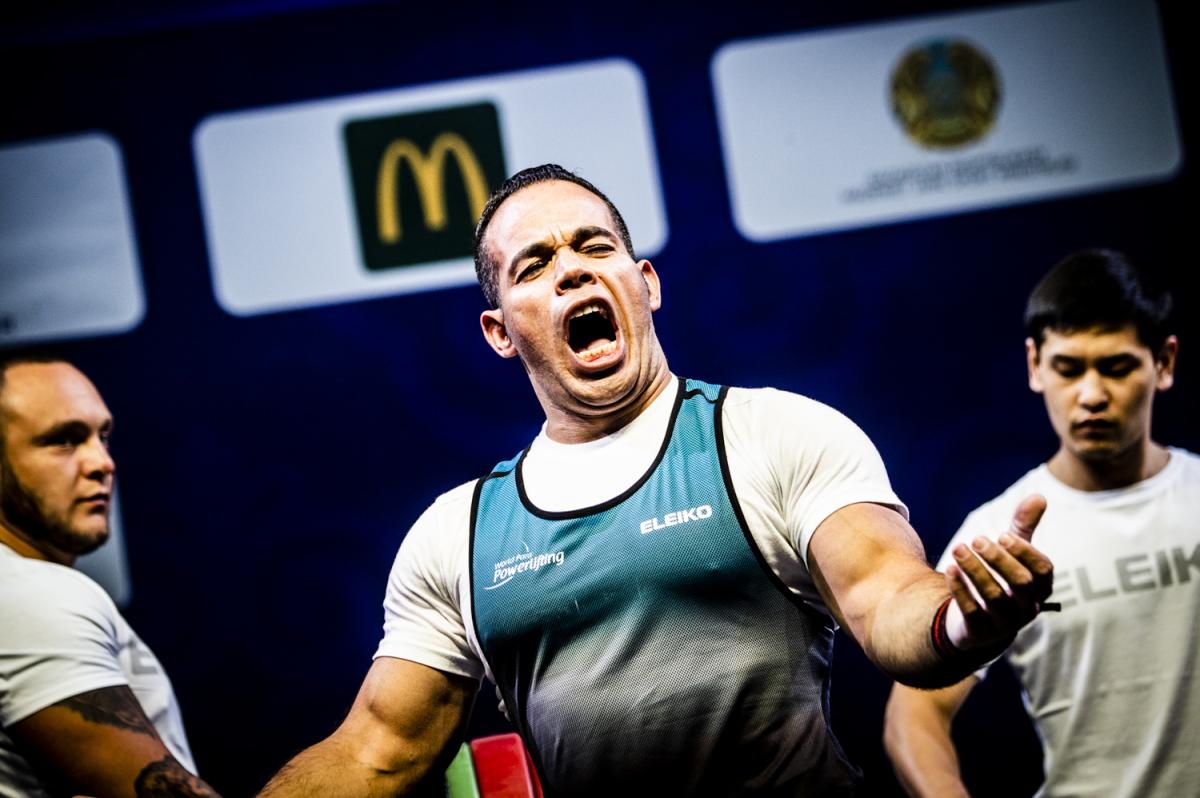 ⒸHiroki Nishioka
By IPC
Sherif Osman's heaviest lift was 211 kg at the Rio 2016 Paralympics. It was an incredible feat as he had pushed himself to the limit to become a triple Paralympic champion, breaking records along the way.
Despite the unprecedented success, Osman, in the episode nine of the International Paralympic Committee's Allianz supported podcast 'A Winning Mindset: Lessons From the Paralympics', explains he does 'nothing special' than his counterparts but attributes his laurels to a strong mind.
"Our power is not coming from our muscles," Osman said. "It's coming from our mind. You have to trust yourself, do your best and catch your dreams."
Osman developed a winning mindset since his childhood. He was diagnosed with polio at nine months. His mother would carry him to school and back. 
"It was a very difficult moment," he recalled. "I liked how my mother worked to support me. Thank you mom."
He tried to improve his walking, not relying on a stick or a wheelchair or anyone for help. That mentality separated him from a common mindset where he grew up.
"I can remember one or two others (with a disability in my village), but they were thinking in a different way. 'I cannot, please help me or carry my bag.' And I didn't like to think in that way. I like to send a message that we, we can (be independent)." 
"I decided to think how I can send a message that disabled people can do anything if they just trust themselves and they want. Don't say 'hey I'm disabled, please help me to go, to find a job, please help', it's not good." 
He left his village to move to the country's capital Cairo in search of work. The move was questioned by his family and friends, but Osman wanted to try. While at university, he eventually discovered powerlifting.
Osman went on to win three Paralympic golds (2008, 2012 and 2016), and four World Championship titles (2010, 2014, 2017, 2019).
He wants to continue at Tokyo 2020 next year, then Paris 2024 and LA28, where he would be in his late 40s. Age does not concern him because he looks at it differently. 
"I'm getting older but I'm taking care in how to improve my weight and results. My body weight is 59. I can lift more but I have steps to do it in. What will happen if I go to 65kg? My muscle will be bigger. One of my targets is if I go up to 65kg, I must break the record. And that is 221. It's difficult, but not impossible.
"Do you know what one of my dreams is?" he continued. "To be one of the oldest athletes to stay and compete. …I have a big challenge, so I need to compete to 53 or 52. It's difficult. But not impossible."
Osman also talks about how he has used his sport to become a role model to others, even counting Liverpool and Egypt footballer Mo Salah as a friend. He discusses the importance his family and friends have played in his life and career and why determination and willpower to succeed can be a power for good. 
"Everyone has a good achievements. I like sport because it sends a message for all that our flag can rise in every land without fights. This is sport."
Full transcript of Sherif Osman's podcast episode is available online.