Australia's Andrew Edmondson excited heading into his second Paralympics
Midpoint player has become crucial in Australian all-conquering wheelchair rugby team
28 Jul 2021
Imagen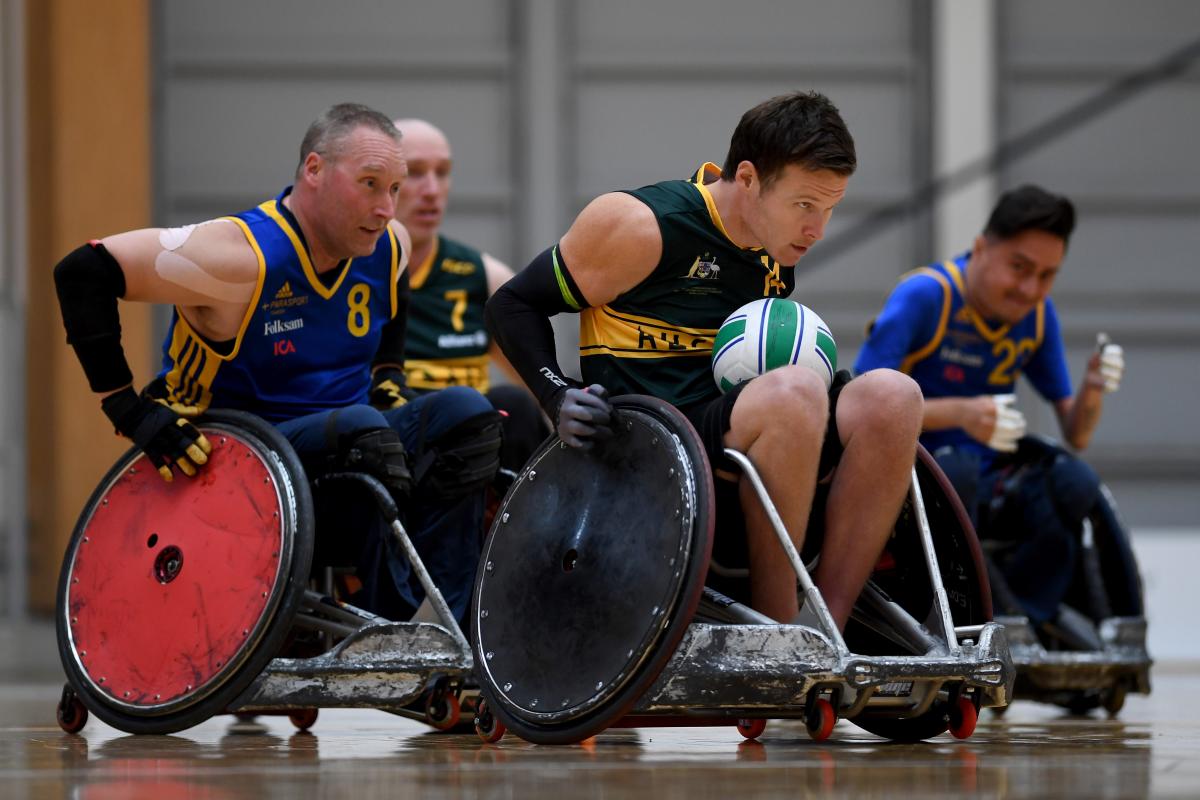 ⒸParalympics Australia
By Beau Greenway | For the IPC
Training with one of the all-time greats of wheelchair rugby has its perks.
Just ask Australian Steeler Andrew Edmondson how much he enjoys working alongside Ryley Batt almost every day. 
The star midpoint player has become a crucial part of the Australian setup since he made his international debut in 2014 and played vital minutes on Paralympic debut at Rio 2016 as his country defended its title from London 2012 in a thrilling final against the USA in double-overtime.
Edmondson and Batt both live in the coastal town of Port Macquarie in eastern Australia, around 400 kilometres north of Sydney, and are always pushing each other to be the best they can be.
It is a huge advantage for Edmondson given how vastly separated the Australian team is and the fact group training sessions have been few and far between due to COVID-19.
"It's good to have the two of us training together up here in Port Macquarie and we get down to Sydney as much as we can," Edmondson said.
"We've been teammates for a long time and played in the New South Wales team for a long time.
"Training together every day, we have our ups and downs, but when it comes to what we're fighting for, we're very similar in that respect.
"We're both hugely competitive and ultimately we have the same goal to play for Australia and make ourselves and our team proud.
"That's where I think Ryley and I find a lot of common ground.
"There's one more guy who plays for Australia that lives in Sydney, but there's also a big group who play socially, so we can organise weekend tournaments and social competitions down there.
"Getting to places together is very important for our team that is extremely spread out."
Edmondson said the pandemic has been particularly challenging in Australia given the varying restrictions in each state across the country.
"At first I really struggled with it mentally, particularly in Australia with all our rules and not being able to do much," he said.
"We haven't played an international game for close to two years.
"It's been a long time and the drive every day to wake up and train has been very challenging, not only for me, but I think for a lot of my teammates as well given we're not professional athletes in that respect. We don't get fully paid for what we do.
"In other ways, it's given me time to focus on other things off the court as well just to keep me motivated.
"I've got a one-and-a-half year old child, so with all that went on with COVID, that kept me really busy looking after him and spending a lot of time with the family.
"Personally I took on a new business role working for Melrose Wheelchairs about eight months ago and I was also part of a public speaking programme through the Australian Institute of Sport in regards to mental health.
"It's been good to keep the mind sharp away from the sport and give myself a bit of a break from training.
"The last couple of months it has switched back to being all about rugby and getting myself as best prepared as I can come Tokyo."
Australia have been grouped in Pool A with hosts and reigning world champions Japan, along with European duo Denmark and France.
Edmondson said it will be interesting to see which teams have adapted best to the challenging conditions heading into the Games.
"Teams like France and Denmark in our pool, we haven't played for a long time, but they're really strong European teams," he said.
"There's going to be a few cobwebs no doubt once we get out there and start playing, but once it happens I'm sure everything will play out like we've been training for in the last couple of months.
"Yes, there won't be as many people in the grandstands, but there will be millions of people watching on TV, so our performance still needs to be there, not only for our fans, but for fans of wheelchair rugby around the world."
USA, Great Britain, Canada and New Zealand make up Pool B.