Colombia's Jose Leep: It's still fun after all these years
Mainstay of Colombia's national team has been there for all the team's highs and lows since 2009 and will look to write a new chapter at Tokyo 2020
21 Jul 2021
Imagen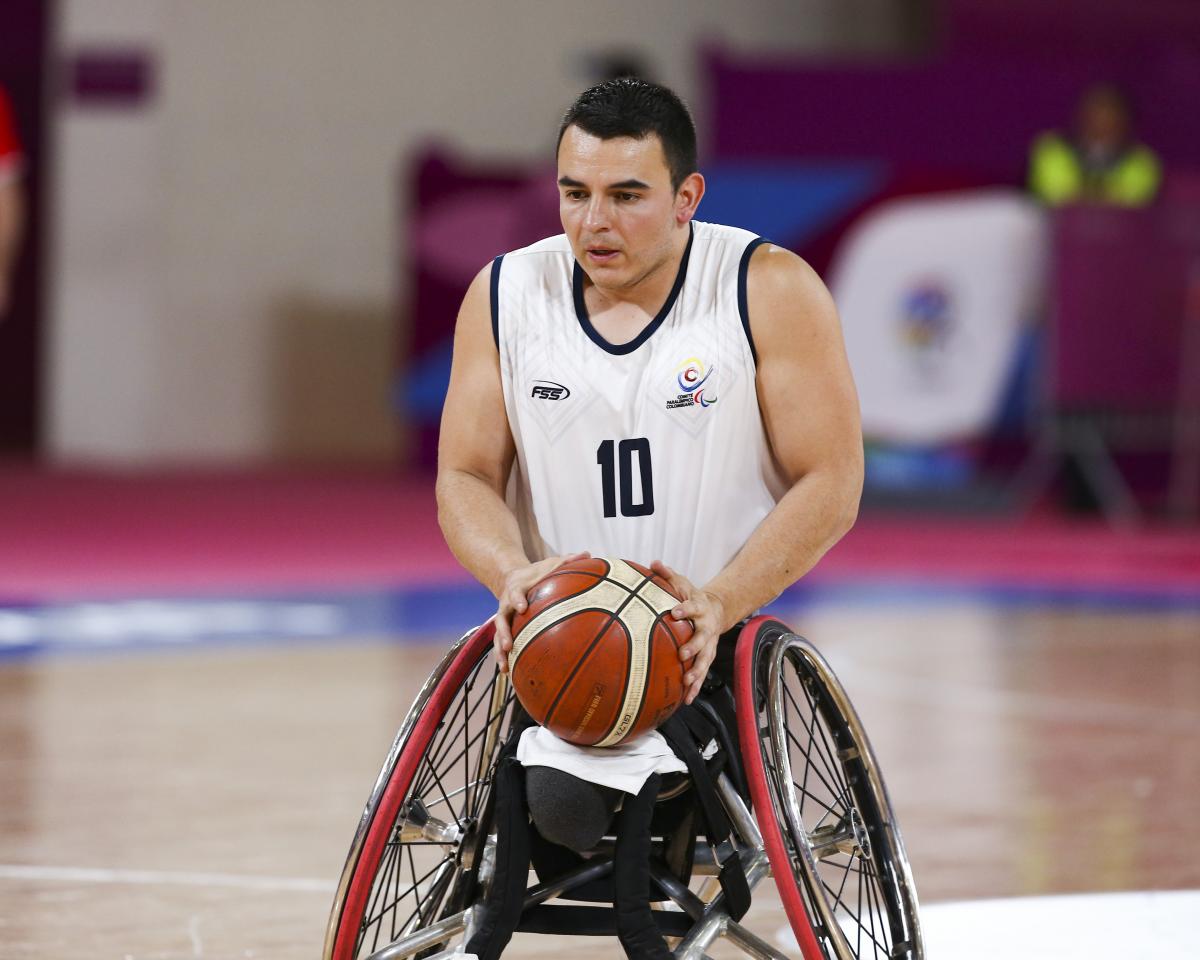 ⒸLima 2019
By Lee Reaney | For the IPC
Few players have been around as long as Colombian captain José Leep.
The veteran led the team to its first Paralympic berth at London 2012 and will be looked upon as a leader when Colombia returns to the Games at Tokyo 2020. 
He has been around long enough to see how the game has changed. 
"The sport has evolved in a couple of ways", he said. "It is bigger and more popular. And the materials [equipment] are much better."
Two things still drive the star in the later stages of his career – one is pure enjoyment of the game. 
"My first Paralympics was in London 2012. It was a very exciting time because it was the first time Colombia had qualified for the Paralympics [in wheelchair basketball], so that was really fun."
"I think Tokyo will be slightly less exciting just because of the pandemic, and all the rules – so it will be a big adjustment, but it should still be fun."
The other is pride in success for his hometown nation.
"We just want to do the best we can", he said. "And to leave our country in good standing."
THE UNDERDOG STAR
Leep got his start in basketball after being adopted by American parents from an orphanage in Colombia.
He had lost his family – and his legs – in a devastating avalanche when he was just five years old. 
His adopted family provided him with plenty of opportunities to pick up sport and Leep discovered he excelled at wheelchair basketball. 
He won a scholarship to play for the Edinboro Fightin' Scots and over the course of his Hall of Fame university career, he led the team to its only national collegiate title game. 
Starring on underdog teams has become somewhat of a calling card for Leep. 
After starring with the junior USA national team, he joined his native Colombia in 2009, just in time for the team's most remarkable accomplishment – a shocking semifinal victory over four-time world champion Canada in overtime at the 2011 Parapan Am Games that clinched Colombia its first-ever Paralympic berth in Wheelchair basketball.
It remains Leep's fondest memory. 
"I had never been to the Paralympics and Colombia had never been [in wheelchair basketball]", he said, "so it was very exciting and a very memorable experience."
Ⓒ Lima 2019

A 3.0 player, Leep is known for his speed – and his accuracy from long range. 
His elite skillset led him to play pro in one of the world's top leagues. He currently plays for Fundacion Vital Zuzenak in the Spanish elite league, where he is the only professional on a team full of youth. 
"We are competing against the top teams in Europe, against really tough, tough talent", he said, "But we accomplished our goal, which was to maintain our category [division].
"Our goal is to do the best we can"
His role at Fundacion is good preparation for his role on Colombia – an experienced leader showing an up-and-coming underdog team the tools to remain at the top level of wheelchair basketball.
But international competition is stiff. 
Colombia fell short of qualifying for Rio 2016, finishing a disappointing fifth at the 2015 Parapan Am Games. 
Leep helped the team back to the Paralympic Games by scoring a memorable 58-51 victory over Argentina at the 2019 Parapan Am Games to secure bronze and claim the Americas' final Paralympic berth – a win in which Leep played an instrumental role. 
Down by one after the first quarter, Leep landed two crucial, long three-pointers in the second quarter to help put the team up by nine at the half – a lead they would not relinquish. 
It is this type of clutch play that Colombia expect from their veteran leader – and what he hopes to deliver once again in Tokyo.
Colombia has been drawn into a division with Canada, South Korea, Spain, Turkey and hosts Japan. 
"Our goal for the Paralympics is just to do the best we can", he said. "We're playing against some tough, tough competition. These are the best teams in the world … I don't think there's going to be any easy games."
Still, Leep and Team Colombia are not simply playing for pride. He stresses the enjoyment of the game. 
"I encourage kids to get out and try different wheelchair sports to see which ones they like. For wheelchair basketball – I'd get them in a wheelchair, on a court, and let them try out the sport for themselves", he said. 
"Kids usually like getting into the wheelchairs and going fast and falling over. It's a good way for them to fall in love with wheelchair basketball."
It worked for Leep – and it remains fun all these years later.