Kinga Drozdz's passion shines through ahead of Paralympic debut
A relative newcomer to the sport, the Polish feels optimistic in the lead-up to Tokyo 2020
24 Jul 2021
Imagen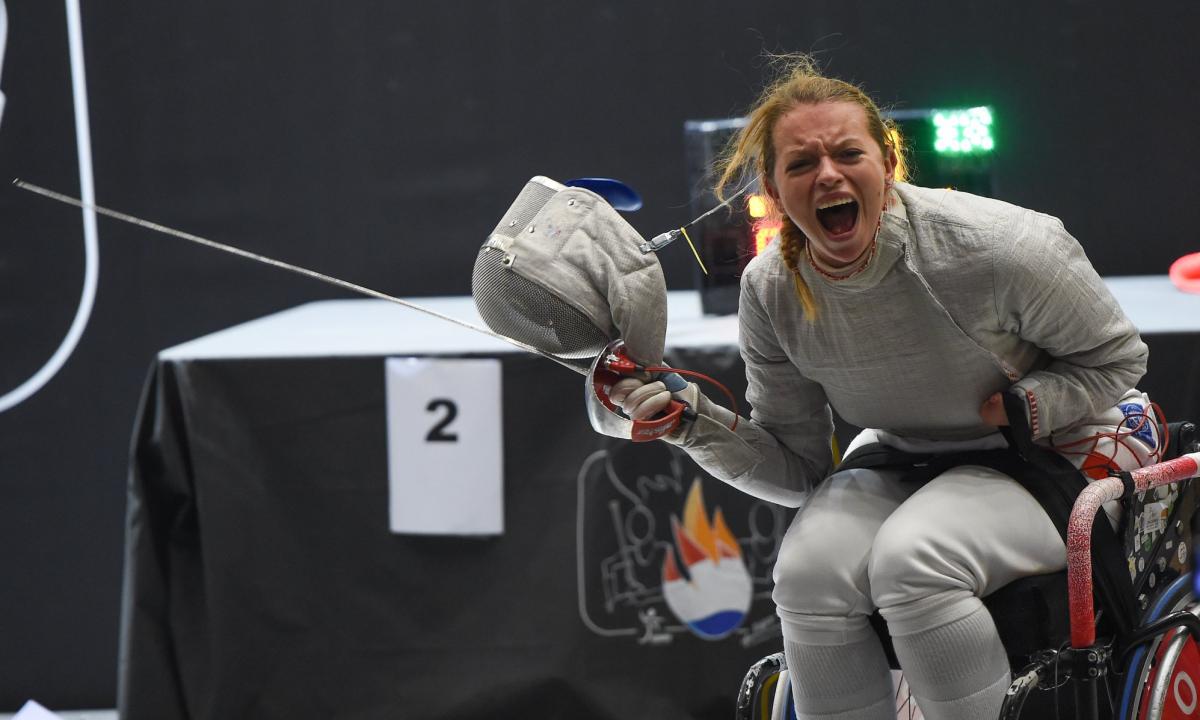 ⒸEva Pavia | #BizziTeam
By Lucy Dominy | For the IPC
Kinga Drozdz's passion for wheelchair fencing oozes from every pore of her body.
A relative newcomer to the sport, the 26-year-old has quickly become a regular fixture for Poland on the podium in the women's sabre category A. As a result, all eyes are on her with under 50 days to go to the Tokyo 2020 Paralympic Games.
"I'm going for gold and I work every day towards that," Drozdz said. "I don't like to say 'oh I'm going for gold and no other medal interests me'. We will see. I am going to do my best fencing. I don't want to think about coming back to Poland without a medal, it's no good. I stay positive. But I have another life, not just fencing."
Drozdz is the definition of a professional athlete, and strives to achieve the right balance between her different passions. As well as her achievements on the piste, she has an established career off it.
Working for the Polish government, Drozdz organises flights which involves careful planning and coordination. This full-time role stretches from 7am-7pm. When she is working, Drozdz trains once a day. And when she is not, that increases to three.
Anyone would think that the Polish fencer had been maintaining this routine for a long time, especially with the rate that she collects medals. 
In fact, Drozdz only debuted in November 2018 at her home World Cup in Warsaw. Just four months later she won her first podium in Pisa, Italy: a gold in her beloved sabre, a version of which she has tattooed on her right arm.
"It was a short time but I work with a psychologist, which was very important for me. Moving in the wheelchair was hard for me because I have no left hand and I had to adapt. 
"Pisa was crazy. I finished my poules and after that I was 16th or 14th but my first match was with [Loredana] Trigilia from Italy and the next was with [Ukraine's Natalia] Morkvych. When I won against her I jumped on my wheelchair because I couldn't believe it. I won, oh my god! It was really crazy. 
"I think when I won against Morkvych, after that everything was easy to me."
Drozdz has certainly made it look easy. Three more World Cup golds followed, the most recent of which came in early July, once again in Warsaw. A World Championships silver medal was also added to her haul in 2019.
Ⓒ Eva Paria
 
"It's psychology work I think. I don't have a problem with motivation because of my psychologist I think." 
Not even the small matter of a global pandemic wiping out all competitions for 18 months and delaying her Paralympic debut by one year can phase Drozdz. With confidence achieved in the sabre, it just gave her the chance to hone her skills in another weapon.
"Maybe it sounds crazy but for me it was a good decision. I started wheelchair fencing at the end of 2018, the European Championships was my first big competition. I could therefore spend the time working on my second weapon, the epee. 
"Sabre is most important for me, I love it. But we [Poland] have also qualified in the epee team that's why it's also important, not for me but for the team. The postponement was good for me. I can do something special and it was extra time for me and my team also."
Finding positives in what should feel like a desperate situation is something which Drozdz does with bags of style. Heading towards her first Paralympics, which will be unique in a lot of ways, she cannot help but get excited about what the rest of her career might hold.
"Keep your fingers crossed for me and the whole of Poland," she said. "Wish us good luck and health.
"Paris [2024] for sure will be my second Paralympics. I don't know, it depends on my health. I hope it will be a long time. I love it. I can't stand being at home for more than three days without training. It's my passion."