Boston beckons for Swiss legend Sandra Graf
Experienced road racer ready for next marathon challenge
12 Apr 2019
Imagen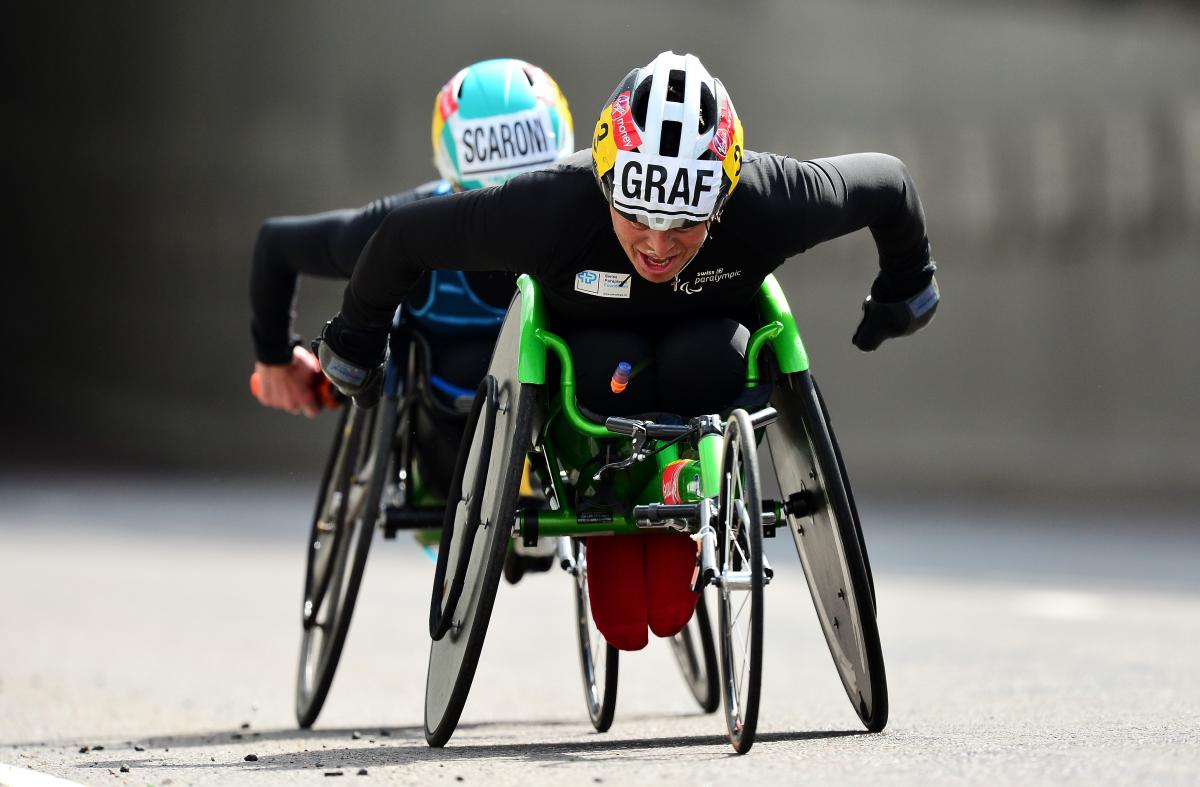 ⒸGetty Images
By World Para Athletics
"Sport is the best school of life. Nothing will work without discipline, fighting spirit, stamina or competition."
Sandra Graf's parents taught her to live by that mantra from a young age, and the words hold such value to her that they feature front and centre on her website.
And discipline, fighting spirit and stamina were exactly what was required last April when the Swiss racer battled through the driving rain and biting cold wind at the Boston Marathon.
Of the 12 women in the elite wheelchair field that started the race, only six finished.
Graf, then 48, was third behind US duo Tatyana McFadden and Susannah Scaroni, notching up another podium place in a career spanning over 20 years, which has so far taken in over 100 marathons around the world.
"Last year was very hard – I think it was the hardest marathon for me," said Graf, reflecting on the 26.2-mile race 12 months ago as she prepares for this year's event, which takes place on Monday.
This will be Graf's eighth time racing in the US city, and while she admits nerves can still feature, she enjoys the Boston course - although "this time I hope it's not too cold and wet. I will go and see how fast I can go; to go for a good time."
Inspiring the best
The Swiss racer has already started 2019 impressively, winning the Dubai Marathon in January for a second successive year.
But while Graf's success over the years – she won her first Paralympic medal at Beijing 2008, with bronze in the marathon T54, then clinched Para cycling gold at London 2012, claiming a further 14 world medals across both sports between 2002 and 2015 – she remains markedly modest about her achievements.
There is no doubt though that she has been a source of inspiration for Switzerland's current crop of stars, including World Marathon Majors leader, Manuela Schaer.
"It was indeed good for me to have her around," explained Schaer, who won all four of the previous major marathons – Berlin, Chicago, New York and most recently Tokyo.
"When I first started to participate in international competitions I always used to room with Sandra. That fact alone already says a lot about her.
"Any other athlete who's achieved as much as she had would not agree to room with a teenager at an important competition such as the Europeans or World Championships. But Sandra took me right under her wing. She became like a 'replacement mum' to me."
The great outdoors
Graf stopped track racing more than three years ago but hand cycling and wheelchair racing on the roads remain a passion. So does skiing, which she enjoys during the winter with the Swiss slopes just a five minute drive away from her home.
"I've been skiing a lot. Its good training for me and I like to do it," said Graf. "You need the same muscles, and I can go outside for training. I like to go out. When we have a lot of snow I might ski up to four times a week, one or two hours each day."
For Graf, the longevity and success of her Para sport career is indicative of the mindset she has – the discipline and the perseverance. Plus, she just loves the freedom she feels outdoors.
"I need to go out – it's like therapy for me. I can sit down the whole day in my chair so being outside is good for my body and mind."