Didier and Trimi shine on sensational Thursday
Thirteen countries top the podium in 25 finals on day five at the European Open Championships in Portugal
21 May 2021
Imagen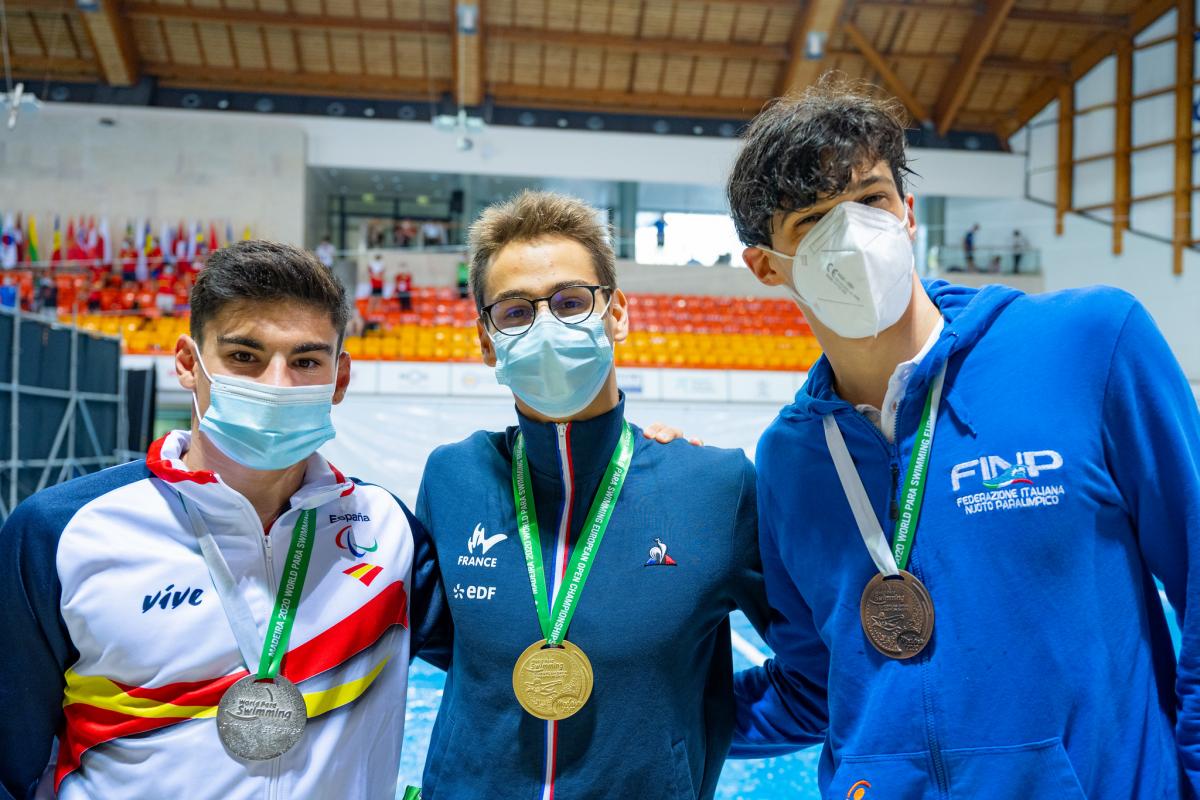 ⒸPedro Vasconcelos / FPN
By Mary Barber and Filip Ozbolt| For World Para Swimming
France's Ugo Didier and Italy's Arjola Trimi led a sensational Thursday (20 May) with 13 countries topping the podium in 25 finals at the Madeira 2020 European Para Swimming Open Championships.
Trimi had a perfect end to her races with a fourth gold medal and a surprise world record in the women's 50m freestyle S4. For Didier, it was the second gold – in the men's 400m freestyle S9 – with one more race to come in Portugal.
The 34-year-old Italian touched the wall well ahead of her opponents with a time of 41.15 which also dipped under the world record for the S3 classification, which she swims in. Spain's Marte Fernandez finished second and Russia's Nataliia Butkova third. 
"It was my last race in Madeira and I wanted to finish with a win, but I couldn't imagine in my wildest dreams that it would be with a world record. I am very happy," said Trimi, who also won a silver medal and broke a European record during the competition.
"Everything [at the competition] was fantastic. The people here are great, and I am really happy that Madeira hosted the European Championships."
She is now looking ahead to the Paralympic Games in Tokyo in August.
"We didn't have much competition in the last year and a half, so to have a competition like this before Tokyo was really important for me."
Trimi's win at the Panteada Olympic Pools Complex topped a night where 25 gold medals were won, and world and European records were broken.
Bertran breaks his own record
France's Didier held off a stellar field to win the 400m freestyle S9 final. The 19-year-old finished five seconds ahead of Spain's world champion Jacobo Garrido Brun and Italian star Simone Barlaam.
It was a sweet moment for him: "I knew that they were better than me in the 400m freestyle, but it was time for me to take the revenge, especially with Simone because he won a lot against me before. 
"I was aware that it was going to be hard for me to win the race and my strategy was to get a good start. I am happy with that and with my time. I am going to train a lot to be a great opponent in Tokyo."
The French swimmer returns to the pool on Friday (21) to defend his European title in the 100m backstroke S9.
Spain's Antoni Ponce Bertran set the tone from the start of day five when he lowered his own world record in the 100m breaststroke SB5. He looked elated when he saw the scoreboard at the end. Russian teammates Andrei Granichka and Iurii Luchkin were second and third.
There were also new European records set by Italian teammates Antonio Fantin and Giulia Terzi. Fantin lowered his time in the 50m freestyle S6 twice in the day, in the heats and the final. Terzi broke the time set at the Paralympics in Rio 2016 for the 50m butterfly S7. 
Israel's Ami Omer celebrated his second gold medal of the competition with a new European record in the 50m freestyle S4. And Ukraine's Andrii Trusov beat the record set by his teammate Yevhenii Bohodaiko in Rio 2016, who came second in the 50m butterfly S7.
Ukraine won another five medals on Thursday helped by Maksym Krypak who put in another outstanding performance to win his fourth gold in Madeira. 
In the 100m butterfly S10 he pulled ahead of nearest rivals Italy's Stefano Raimondo and Russia's Dmitry Grigoryev to land first. 
"I feel good, but I have two more races here in Madeira. First tomorrow [Friday] 100m freestyle and then on Saturday 100m breaststroke. This competition is not finished for me yet. It would be nice to do that [win six golds]. I was preparing for a really long time to achieve that."
His teammate Yelzaveta Mereshko also notched up her fourth gold medal. She claimed two stunning victories on Thursday in 50m freestyle S6 and 100m breaststroke SB5. 
Third gold for Greece and Lithuania
Other athletes celebrating four wins were Belarus's swimming legend Ihar Boki in the men's 50m freestyle S13 and Brazil's Gabriel Bandeira in the men's 200m individual medley SM14. 
Greece's Dimosthenis Michalentzakis landed his third gold in three days in the 50m freestyle S8. He faced a tough challenge from Russia's Andrei Nikoklaev, who was second, and Ukraine's Denys Dubrov third.
"I am satisfied with my result, but I wanted to do a better time," he said after the race. "That's why I have to keep moving towards Tokyo. I am focused in every race and I will continue doing my best."
Lithuania's Edgaras Matakas could not hide his delight after winning the 100m freestyle S11 and his third gold of the meet. 
"My career is amazing. This win feels fantastic. I am a three-time European champion here in Madeira. It can't get better than that."
And there was a third European Championship title for Hungary's Zsofia Konkoly after a stunning victory in the 400m freestyle S9.
The Salei brothers battled it out again in the pool in the 100m freestyle S12. This time Roman, 27, claimed the victory over his older brother Dzmitry, 31, who came third in the race behind Ukraine's Maksym Veraksa. 
Dzmitry, who competes for Azerbaijan, beat Raman, who competes for Belarus, earlier in the week in the 100m butterfly S12.
Russia also had a successful day five, winning four European titles in women's events. 
Daria Pikalova took her third gold in the 100m freestyle S12, Anna Krivshina beat world and European record holder Carlotta Gilli in the 50m freestyle S13, Sofiia Polikarpova conquered the field in the 100m freestyle S11 and 16-year-old Viktoriia Ishchiulova led from the front in the 50m freestyle S8. 
Russia also won the men's 4x100m medley relay 34pts while Spain triumphed in the women's event.
There was also a first gold for Sweden in Portugal with Pernilla Lindberg in the women's 200m individual medley SM14. 
The full results and a complete schedule can be found on the Madeira 2020 website.
Day six action will be live on World Para Swimming website and Facebook page (with geo-block restrictions in Spain and the United Kingdom).