Different Para athletics generations meet on Ottobock Get Together
Heinrich Popow hosts U-17 world champion Ezra Frech and three-time Paralympic champion Brian Frasure on World Para Athletics Facebook
30 Jul 2020
Imagen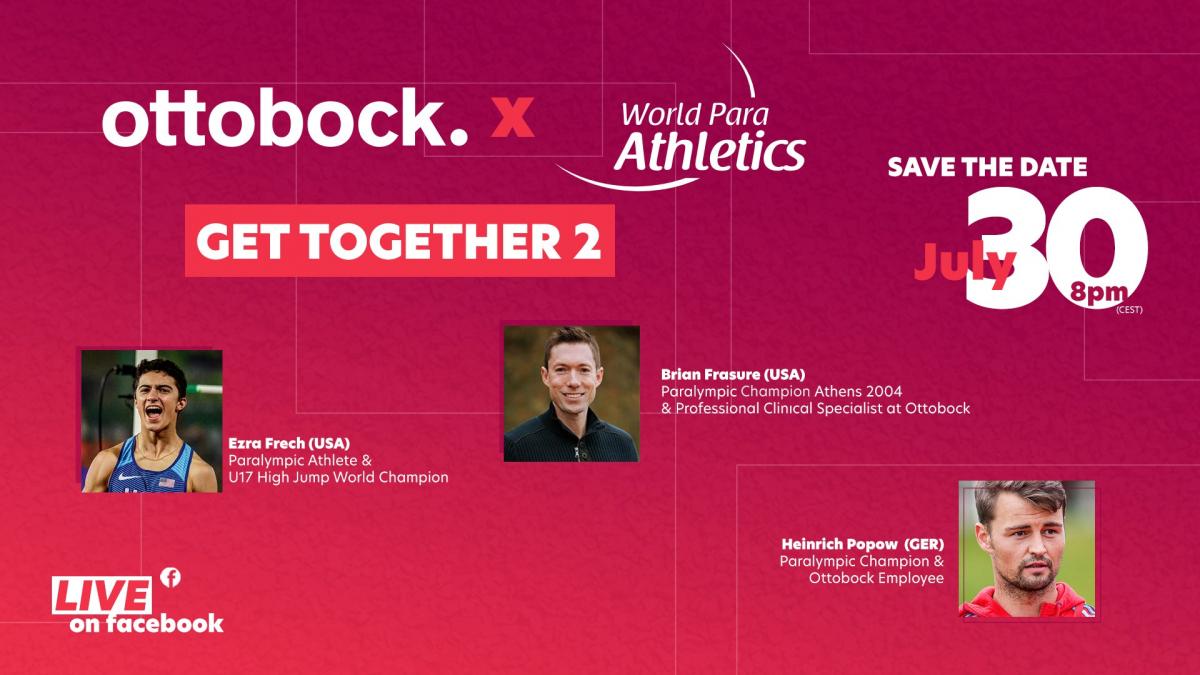 By World Para Athletics
USA's U-17 world champion Ezra Frech and four-time Paralympic champion Brian Frasure are the guests on the second Ottobock Get Together on Wednesday (30 July) on World Para Athletics Facebook page. 
The Ottobock Get Together is hosted by Germany's eight-time Paralympic medallist Heinrich Popow, every month offering a different look at the lives and careers of the world's best Para athletes.
This time, Frech and Frasure join Popow for a generational talk. 
One of the most successful sprinters of his generation, Frasure had a dual career as a prosthetist – sometimes, running against athletes he helped developing the blades for.  
He began working in the prosthetics industry following the accident who led to his leg being amputated in 1992. The USA athlete made his Paralympic Games debut at Sydney 2000 taking a silver medal in the men's 100m T44. 
Frasure competed in another two editions adding six medals to his collection – including three golds in the men's 4x100m and 4x400m T42-46 relays at Athens 2004 and the men's 4x100m T42-46 at Beijing 2008.
Fifteen-year old Frech was the youngest athlete in action at last year's World Para Athletics Championships in Dubai and is one of the most promising names of his generation.
In 2019, he also took a gold medal in the men's U-17 high jump T63 at the Notwill World Junior Championships and two silver medals at the Lima 2019 Parapan American Games (in the men's high jump and long jump T63-64).
The first edition of the Ottobock Get Together took place in June with Germany's Johannes Floors and Switzerland's Sofia Gonzalez talking about the journey from learning how to use prosthetic legs to becoming an elite athlete.
"I was always the youngest participant in activities for leg amputees and, as a teenager, I didn't like it, I didn't have fun with it. Until 2016 when I discovered the running blades and got a completely new perspective," Gonzalez recalled.
You can watch the first edition on the link below.
The Ottobock Get Together takes place at 8:00PM (CEST) on World Para Athletics Facebook.