Gold Coast 2018: Nigeria's fantastic four
Nation wins every gold in Commonwealth Games powerlifting competition
10 Apr 2018
Imagen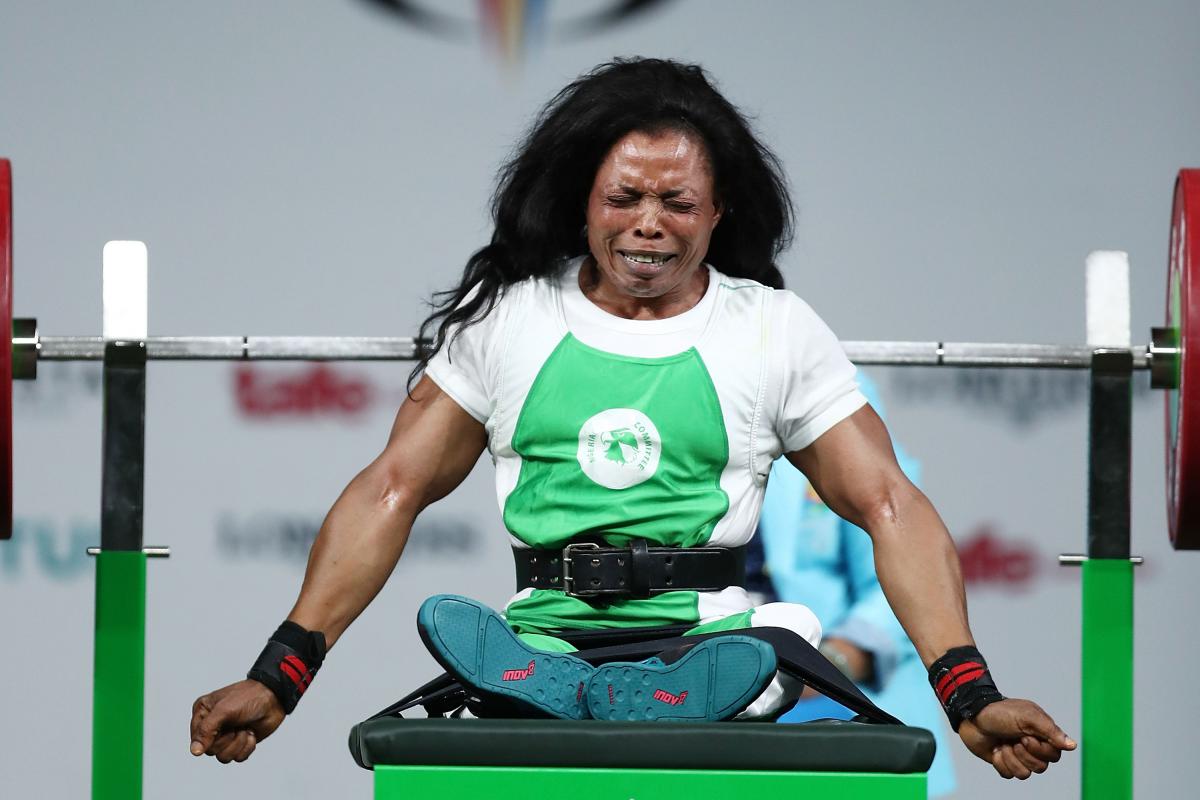 ⒸGetty Images
By Beau Greenway | For the IPC
Nigeria picked up from where it left off at the Rio 2016 Paralympic Games with a dominant display in the powerlifting at the Gold Coast 2018 Commonwealth Games on Monday (10 April).
Esther Oyema and Ndidi Nwosu captured the women's lightweight and heavyweight gold medals, while Roland Ezuruike and Addulazeez Ibrahim earned top spot in the men's lightweight and heavyweight categories to complete a clean sweep of the programme.
Ezuruike finished on 224.3 points in the men's lightweight, edging out compatriot Paul Kehinde on 219.9 points, while England's Ali Jawad took home bronze with 182.7.
A successful lift of 188kg kick-started Ezuruike's quest for gold and he backed it up in round two with a 194kg lift.
His final attempt of 202kg was unsuccessful, but it did not deny him victory.
Kehinde's only successful lift was 211kg, and, while it was higher than Ezuruike's best effort, the AH formula is applied to the best successful lift of each athlete, providing a final point score which determines placing.
Because Ezuruike weighed less than Kehinde, he achieved a higher point score for his lift.
Jawad produced three successful efforts, with his final attempt of 161kg enough to get him onto the podium on his competitive return following illness.
The women's lightweight category followed, with Oyema finishing in the gold medal position on 141.6 points.
The Nigerian had no trouble with her first attempt at 125kg, but was unsuccessful at 131kg with her second effort.
She returned for one last lift at the weight and did not disappoint, securing top spot ahead of teammate Lucy Ejike.
Ejike weighed in almost eight kilograms more than Oyema, meaning her only successful lift of 133kg gave her 134.1 points and the silver medal.
England's Zoe Newson backed up from her bronze medal at Rio 2016 with a Commonwealth Games bronze.
Newson produced a 91kg lift with her second attempt to finish on 106.1 points.
Up next was the women's heavyweight finals and Nigeria's remarkable run continued with Nwosu outclassing the other three athletes in the field to win gold.
Nwosu lifted 110kg and upped it to 120kg, but was unsuccessful at 125kg with her final opportunity.
Her total score was 110.4 points, with England's Louise Sugden lifting 103kg to finish on 89.2 points, narrowly ahead of Kenyan Joyce Njuguna on 89 points.
Njuguna was able to lift 101kg with her last effort, but it was not quite enough to sneak into silver medal contention.
The men's heavyweight competition rounded out the programme, with Ibrahim earning a fourth straight gold medal for Nigeria.
Ibrahim reached a total of 191.9 points after lifting 210kg and 220kg in his first two attempts, before failing to lift 221kg with his third effort.
Malaysia's Yee Khie Jong came away with silver after matching Ibrahim's 220kg with his final lift, reaching 188.7 points, while Indian Sachin Chaudhary lifted 201kg to secure 181 points for bronze, withstanding the pressure after his first two attempts at the same weight were unsuccessful.