Indonesia 2018: Korea united in pride
Member of unified table tennis team reflects on win
11 Oct 2018
Imagen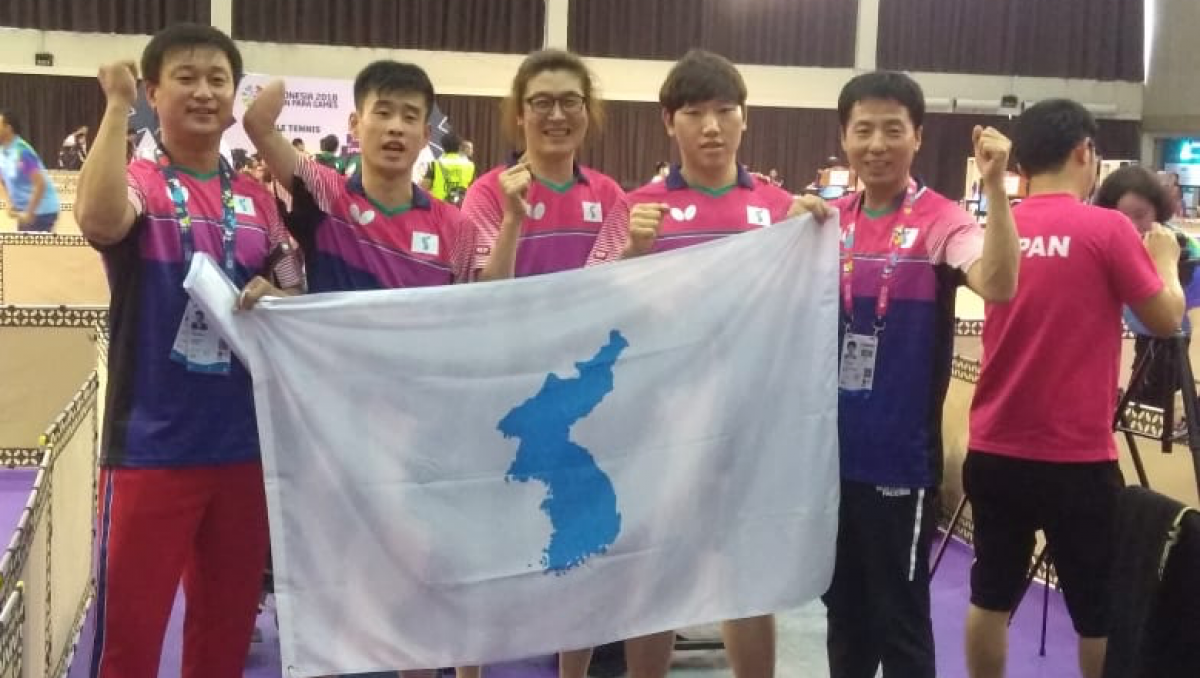 ⒸPriyanka Sharma
By Priyanka Sharma | For the IPC and APC
It has been the proudest moment for 43-year-old South Korean Park Hong-Kyu. Not for the long overdue silver medal he won in the men's TT6 individual events but to represent the Unified Korea team at the Indonesia 2018 Asian Para Games.
The team's thrilling 2-1 win over Japan in the men's team class 6-7 round-robin match on Thursday (11 October) doubled Hong-Kyu's joy. Like most of the other top teams in various classifications, such as China, Japan, Chinese Taipei and South Korea, Unified Korea kept their medal chances afloat.
Playing the second singles in the best of three sets, Hong-Kyu overcame a tough challenge from his Japanese opponent N.I. Noue 3-1 to help his team win the second match of the day. The first game was an exciting thriller with scores being forced to deuce several times, before the left-handed Hong-Kyu won it 17-15, thanks to his backhand slices which made things difficult for Noue in a few occasions.
However, the Japanese came back strongly in the second game to win it 11-6 before the veteran Korean pulled off the third and fourth games to seal the victory.
Hong-Kyu also combined with North Korea's Kim Yong-Rok to win the doubles encounter 3-0. Despite having trained together for just four months, the players showed good co-ordination on the court and a balanced game.
The only blemish in their campaign was Yong-Rok squandering a game advantage to lose the first singles match 1-3.
"It would been better if he (Yong-Rok) had won his game. There was little failure from our side but it feels great that our team backed us all the way," Hong-Kyu said after his energy-sapping game.
A great team
Hong-Kyu said initially he felt awkward about partnering with the 24-year-old Yong-Rok but he became comfortable with his new doubles partner as they started training together.
"We trained for about four months together and now we share 'uncle-nephew' bonding because of our age gap. We make a great team," said the Incheon Para Games singles gold medallist.
The experienced paddler, who was a member of the South Korean team at the London 2012 and Rio 2016 Paralympic Games, has an individual gold and a team silver from the Incheon 2014 Asian Para Games. But he believes he is yet to achieve his dream target. "It might come soon, may be with the Unified Korea team."
"I am preparing for Tokyo 2020. But if a North Korean player is entitled to the qualification, then we can go out together and give a shot at it."