Indonesia 2018: Javelin joy for Iran
World records tumble and China collect more gold
11 Oct 2018
Imagen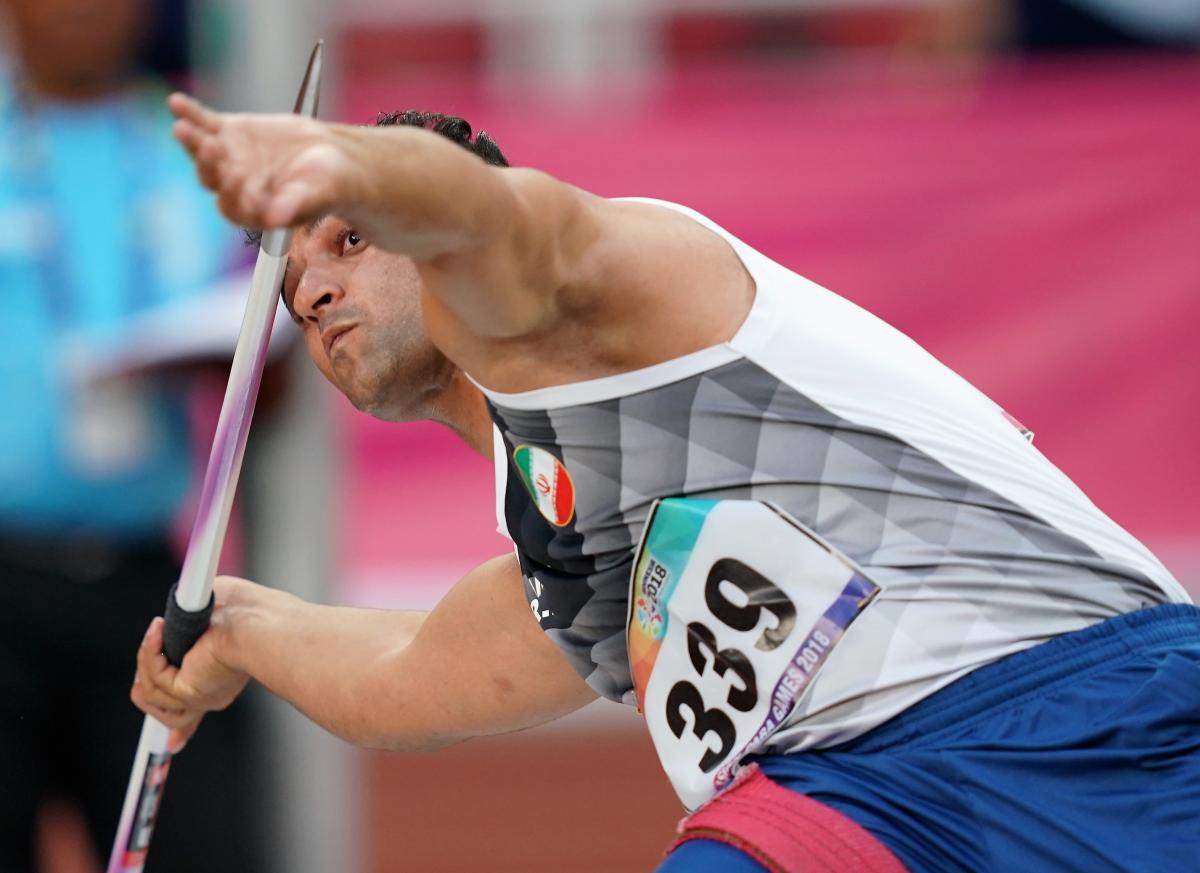 ⒸINAPGOC
By Steven Glover | For the IPC and APC
Two javelin world records fell on night four (11 October) of the athletics competition at the Indonesia 2018 Asian Para Games in differing circumstances.
China's Lijuan Zou improved on her old mark by 42cm to win gold with her first throw of 22.28m in the women's javelin F33/F34.
Iran's Amanolah Papi also has himself a world record in the men's javelin F57.
Papi was the talk of the GBK Stadium in Jakarta after he smashed his teammate Mohammad Khalvandi's world record by 2.48m to set a new mark at 48.60m.
Not to be outdone, Khalvandi also broke his old mark but was unable to surpass Papi in an enthralling battle.
However, due it being a combined F56/F57 event, both men missed out on gold. Teammate – and F56 athlete - Mohammad Alvanpour claiming the overall title with a throw of 39.22m, completing a podium sweep for Iran.
Iran's night was capped off with gold in the men's 400m T12 with Vahid Alinajimi adding to his 200m crown.
Triple triumph
Chinese champion Cuiqing Liu completed a treble of golds by claiming the women's 400m T11 adding to her golds in the 100m and 200m.
After the race, her guide Dong Li Xu paid tribute to the champion and their partnership.
"With our daily habits we have built the spirit, will and patience so that is why we have become so strong in this competition," Xu said.
"We have already become a strong unit because we have a good coach since we became partners five year ago.
"I choose to be a guide because I really want to help other people, especially athletes."
Liu's teammate Guohua Zhou was again the bridesmaid for the champion, finishing with a silver medal in the same three events.
Hongzhuan Zhou also claimed her third gold medal of the Games with a victory in the women's 400m T54. She also won gold in the 100m and 800m.
More gold for Mohamad
Malaysian sensation Ridzuan Mohamad won gold and set a new Asian record in the men's long jump T36. This adds to gold medals in the 100m and 400m T36.
Dening Zhu from China completed a similar feat after securing gold in the men's long jump T37/T38. Zhu also claimed gold medals in the 100m and 200m T38.
China's Asian record holder Wie Li claimed gold and threw three attempts past her previous record in the women's discus F40/41, setting the new mark at 26.12m.
Another Chinese pairing throughout these Games again shared the spoils of victory in the women's 400m T37.
Fenfen Jiang added a gold medal to her gold in the 200m and silver in the 100m, while Xiaoyan Wen secured silver to go with thee gold in the 100m and silver in the 200m.
Uzbekistan's Sabina Sukhanova was also involved in the three races against the Chinese pairing and she will head home with three bronze medals.
It will certainly go down as China's day at GBK Stadium as they claimed 14 gold medals, needing another five to secure 50 athletics' golds for the Games.