Marcel Hug happy to renew rivalry
Silver Bullet ready to battle David Weir again on Brit's return
13 Sep 2018
Imagen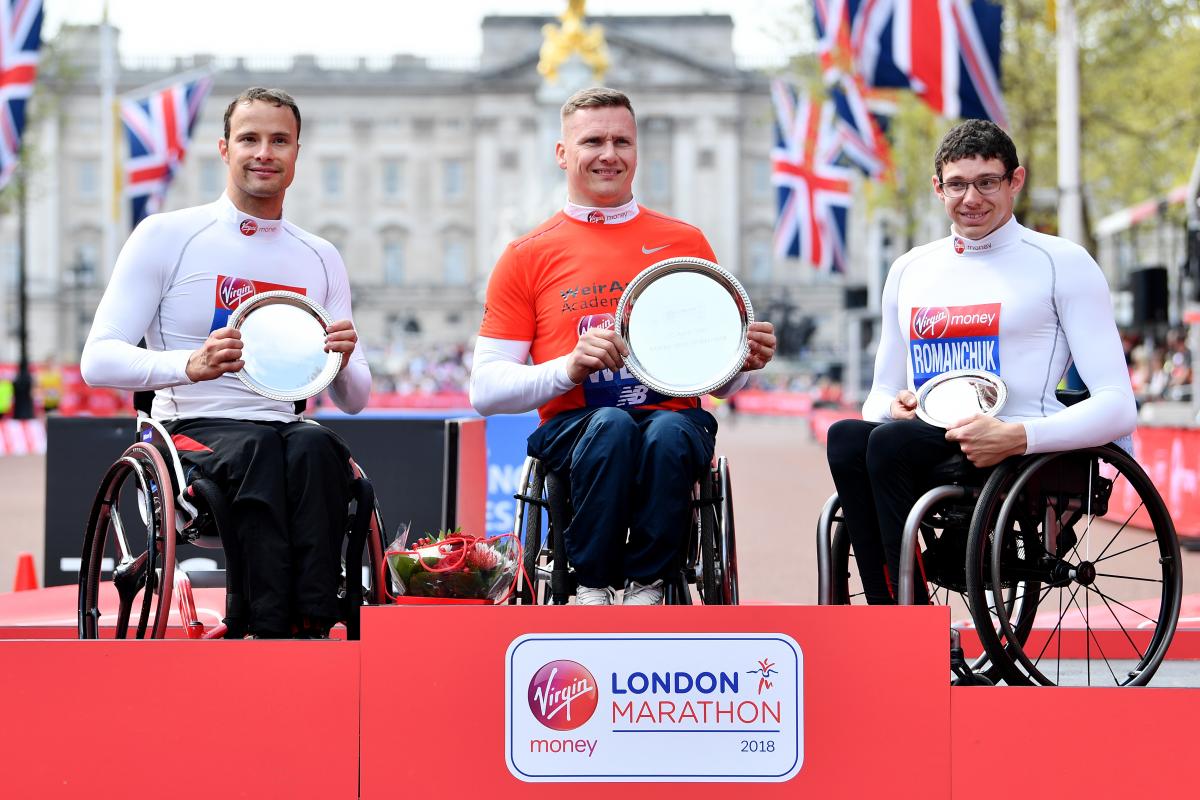 ⒸGetty Images
By World Para Athletics
"Of course it will be exciting to have him in the field but I will try to focus on my own performance and not think too much about what David is doing or what other athletes are doing. At the start line I just try and be in the best shape I can be and not think about other circumstances."
Swiss Paralympic champion Marcel Hug says he welcomes the challenge of facing British rival David Weir on the roads as the pair look ahead to Tokyo 2020 – starting with the Berlin Marathon on Sunday (16 September).
Weir announced on Wednesday (12 September) his desire to wear the GB vest again, two years after falling out with the British team management at the Rio 2016 Paralympic Games.
Mental health issues and severe depression left the six-time Paralympic champion struggling to cope – although he did go on to win the London marathon in 2017, and again for a historic eighth time this year.
However, this week the 39-year-old Briton said that he is now "in such a positive mind-set" and that he is "going to make sure I get to Tokyo, put the GB vest on and feel very proud to wear it".
Good challenge
For Hug, the prospect of racing against his long-term rival on the roads over the next two years in preparation for the marathon at the Tokyo 2020 Paralympic Games is one he says he is looking forward to – but it won't add any extra pressure.
"That will be good, having him back racing in the marathons. It's always good to have a challenge," explained Hug, who added that he was not surprised to hear Weir's decision.
"But I think I'm motivated anyway, because there are a lot of other good guys too. So in the end it doesn't matter if he is racing or not. I am motivated anyway.
"Of course it will be exciting to have him in the field but I will try to focus on my own performance and not think too much about what David is doing or what other athletes are doing. At the start line I just try and be in the best shape I can be and not think about other circumstances."
Strong field
Hug heads to Berlin aiming for a third consecutive win; Weir won the event in 2015. But it's not just about those two racers.
American Daniel Romanchuk finished third in Boston and London this year and at just 20-years-old is already showing terrific potential for the future. Then there's Japanese duo Kota Hokinoue and Ryota Yoshida, who finished second and third behind Hug in the German capital twelve months ago.
"I'm very excited how Daniel is doing, he seems very strong this year. The Japanese and Josh Cassidy look strong at the moment too. There are a lot of very good guys," added Hug.
Sunday's Berlin marathon also marks the start of the Abbott World Marathon Majors Series XII – a title Hug has won twice, with 11 victories from the last 15 major marathons.
A first-place finish in Berlin is a top priority for the Swiss 'Silver Bullet' who, unlike a number of the competitors in Sunday's field, such as Weir and Romanchuk, spent the summer focused on the track.
"It's very important to have a good start [to the Abbott WMM Series], especially for your mind and for your confidence," explained Hug, who won 800m, 1,500m and 5,000m T54 gold at the Berlin 2018 European Championships last month.
"It's a bigger challenge for me because the time between the European Championships and the Berlin marathon is quite short for preparation.
"Maybe it will be a disadvantage for me because I had a short preparation, but between the Europeans and now I've had good training. I think I've done the optimum I could do in this time."