Past disappointments fuel Juan Carlos Garrido from Bogota to Tokyo
Chilean powerlifter in search of his best form to achieve the dream of the first Paralympic medal in Japan
07 Mar 2021
Imagen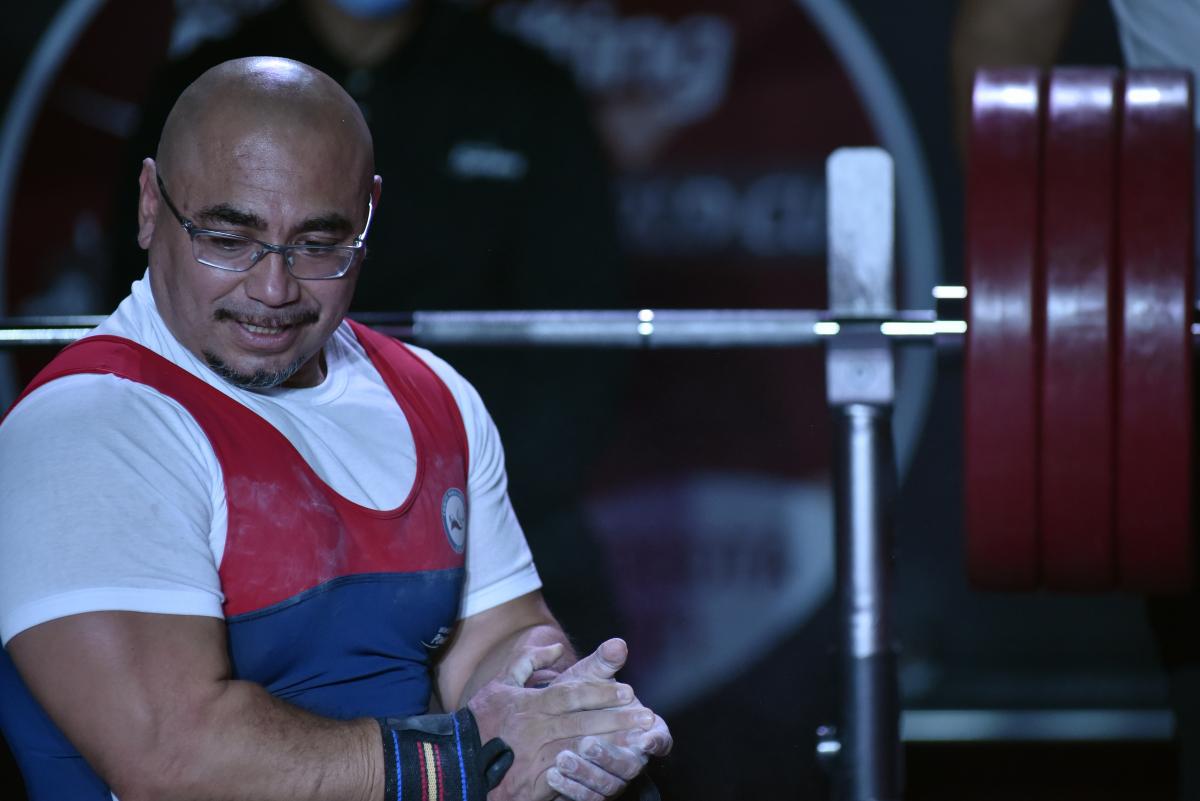 ⒸGuillermo Legaria/Getty Images
By Filip Ozbolt | For World Para Powerlifting
Veteran powerlifter Juan Carlos Garrido from Chile has enjoyed recent success all over the world. In 2019 the 41-year-old won a bronze medal at the World Championship in Nur-Sultan, Kazakhstan.
One month later, in August, Garrido became Parapan American Games champion in Lima for the second time in a row after winning the same accolade in Toronto 2015.
Garrido kicked off last year with a win at the Manchester World Cup in February in Great Britain. When things started to shape up well for him in the build-up to the Tokyo 2020 Paralympic Games, the world was struck by the COVID-19 pandemic. But it did not stop the Chilean star.
"During the pandemic, I had the luck to keep myself in great shape by living and training in a sports camp. Some athletes, including me, talked to the Ministry of Sports, and they let us stay and train in their facilities. We didn't want to stay at home and keep a distance from the COVID-19, we wanted to train during the whole year", said Garrido. 
"I am not in the same shape in which I was last year, but with time and the help of my coach I will improve my technique and be back at my best level," he added.
Now year, new opportunities. Garrido is in Bogota, Colombia for the season-opening World Cup - the first World Para Powerlifting international event to take place since Manchester 2020. 
On Saturday (6 March), the Chilean successfully began the Paralympic year with a victory in the men's up to 59kg category. Garrido triumphed with a successful 180kg-lift. El Salvador's Herbert Aceituno finished second and Peru's Niel Trelles was third (all results from Bogota can be found here). 
"I felt that 2020 was a really good year for me considering the results. I didn't know if I'd be able to maintain the same level of preparation for another year. [But] my worries vanished with time and after a year we have started with competitions once again. I have the hunger to compete and I want to continue in the same way," Garrido said.
A new rival
To fulfil his dream of winning a Paralympic medal, Garrido will most probably have to repeat his result from Bogota and finish ahead El Salvador's Aceituno.
After winning a gold medal for his country at the Lima 2019 Games, Aceituno moved from the men's up to 65kg category to Garrido's up to
59kg. Their rivalry seems to be one of the most exciting in Para powerlifting at the moment.
"Great competition is always making you go forward. Herbert Aceituno is one of those competitors. I've had the first opportunity to go against him at the Manchester World Cup in 2020 and it was an amazing competition", emphasized Garrido. 
"I like to be pushed by others because I am not an athlete who gets anything the easy way. Herbert is one of the best powerlifters in the category and always wants to beat me. I want to do the same to him, but I always wish him the best."
One of Chile's most well-known and talented Paralympians had two great disappointments in his career.
The first one came at Athens 2004, when Garrido was prepared to compete in the men's up to 56kg, but he was mistakenly enrolled in the up to 48kg category. He did not make the weight and could not compete.
In 2016, Garrido was among the favourites to win a medal at the Rio Paralympics, but he failed his three attempts.
"When I think about what happened, I put it in a perspective. I have made errors that happen in life and as time passed, those errors became lessons. I appreciate those moments today because they have given me more experience to confront the Games in Tokyo and I'm ready to show that."
Back for his daughter
Garrido decide to retire after the disappointment at Athens 2004 but returned to Para powerlifting in 2011, only three months before the Parapan American Games in Guadalajara, Mexico. One of the main reasons for his comeback was his daughter. 
"My coach called me the same day I got separated from my wife and I wanted to show to my daughter that, even though I am away from her, I am fighting for her", said Garrido. "Thank God, the results were great after my comeback and my daughter is following all of my competitions."
The Chilean celebrated his 41st birthday on Thursday in the build-up to the World Cup in Bogota. But he has no plans to retire. After Tokyo 2020, he will continue to push his limits to compete on home soil at the 2023 Parapan American Games in Santiago.
"Sometimes I'm thinking of how old I am, but at those moments I also try to think about how I'm going to do things to stay in perfect shape. When I see it by myself that I can't do it any more, I will quit. But I want to be an athlete in my way and keep fighting for my country."
The Bogota 2021 World Cup finishes on Sunday (7 March). The competition can be watched live on World Para Powerlifting website and Facebook page. Live results are available here