Kayleigh Haggo adds European gold to her RaceRunning titles
British world champion takes her first victory at the Euros on a Friday with two world records from Fleur Jong in Bydgoszcz
04 Jun 2021
Imagen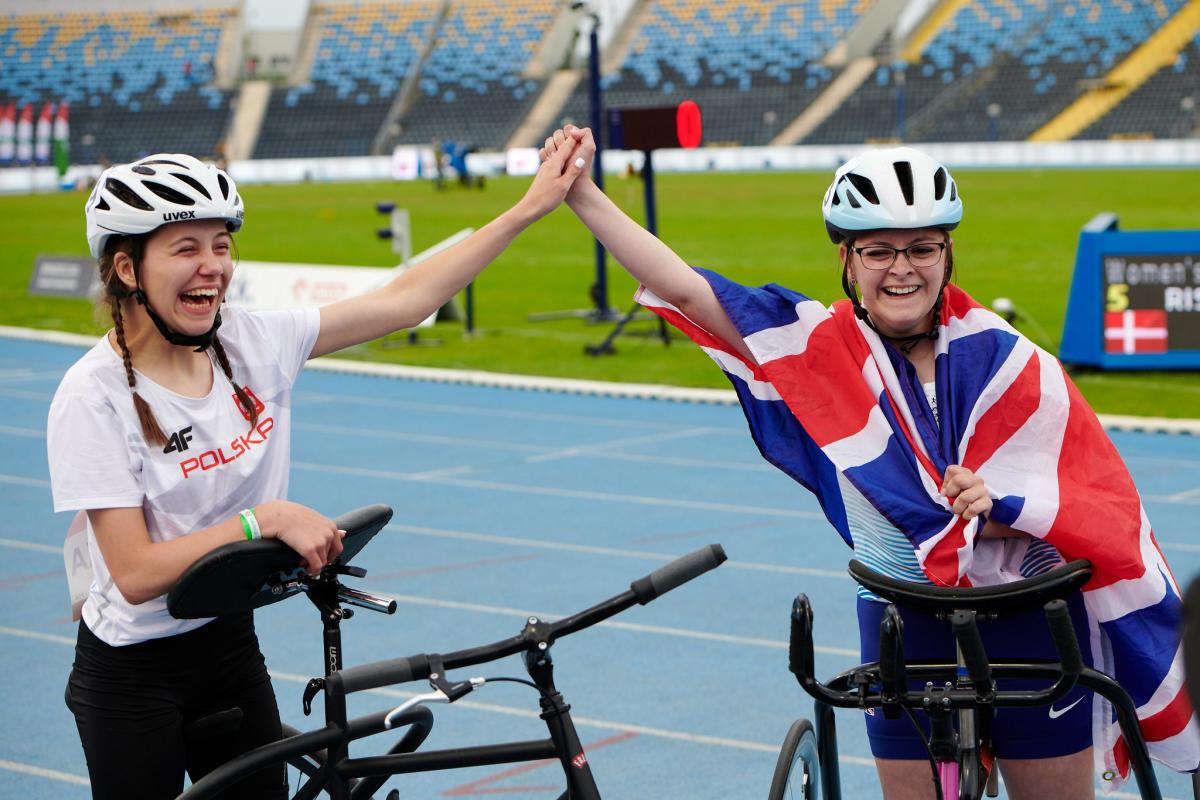 ⒸAdrian Stykowski
By Paloma Gutierrez and Filip Ozbolt | For World Para Athletics
Bydgoszcz 2021 is the third major Para athletics championships with RaceRunning as part of the competition programme and the new class already has a star. Great Britain's world champion Kayleigh Haggo now also holds the European title. 
Haggo took gold in the women's 100m RR3 on Friday (4 June), day four of the European Championships in Poland with a new personal best (18.11).
"I am happy. I have been working really hard and got the new personal record. That's what makes me even happier at the end," said the 22-year-old who won a silver medal three years ago in Berlin.
The British gold medallist hopes more athletes and countries will join RaceRunning in the future.
"Work hard and follow your dreams because everything is possible."
Denmark's Thea Joergensen finished second (19.41) and Poland's Zofia Kalucka was ecstatic with the bronze in her international debut. 
Jong impresses again
Friday was another special day for the Netherlands' Fleur Jong in Bydgoszcz as she won the women's long jump T64 breaking her own world record twice. 
"I don't know what is happening, it's great," said Jong. "I have to be honest and say that the competition was a little bit of a struggle in the beginning and Marlene [van Gansewinkel] was making it difficult for me, but I said to myself that I can do better than this. I did it in the last three jumps."
Just 20 days ago, Jong became the first jumper in the T62 class to go beyond the 6-metre-mark with a world record of 6.02m at the Nottwil 2021 Grand Prix in Switzerland. On Friday, she reached 6.04m on her fifth attempt and then 6.06m in her last jump.
"I trained with able-bodied people who jump further than me and I train every day to get away from Marlene, but you see that we are both running fast and jumping far. Training with your competitors is not a bad thing," the Dutch added, mentioning her compatriot and teammate who took the silver medal with a personal best (5.82m).
Jong had a fantastic European Championships winning two gold medals with two world records. The first one came on Thursday in the women's 100m T64.
European records galore
Besides the world record, five more European records were broken on Friday afternoon. Great Britain's Daniel Pembroke won his first European title with a 66.75m-throw in the men's javelin F13.
Russia's Evgeniia Galaktionova won the women's shot put F32 (6.95m) dethroning the Ukrainian Anastasiia Moskalenko (6.81m) who is also the reigning world champion.
After winning the world title in Dubai two years ago, Russia's Aleksandr Rabotnitskii topped the podium in Bydgoszcz in the men's 1500m T20 with a time of 3:54.36.
His compatriot Anton Kuliatin won the gold medal on the same distance in the men's 1500m T13. He got to the finish line in time for a new European record (3:46.97). 
In one of the most exciting track events of the day, the universal 4x100m relay, Russia won another gold medal with a time of 47.67. They added the European gold to the bronze medal won at the World Championships in Dubai 2019.
Edgars Bergs from Latvia defended his European crown in the men's shot put F35. He made the decisive throw (14.00m) in the last attempt.
"I am satisfied with my result. I came to the European Championships to get a result for the Tokyo Paralympics and I did it. That makes me really happy."
Following Zoran Talic's victory in the men's long jump T20, Ivan Katanusic won Croatia's second gold of the day in the men's discus throw F64 with a new competition record (57.94m).
"This is my first gold medal in the discus. The competition was good, I was ready and my mind was in. I knew that I would be a champion, but I waited for my opponents to throw."
Third golds for Fairbank and Vdonin
Russia's Andrei Vdonin completed his sprinting hat-trick with a victory in the men's 200m T37 (23.14) following the gold medals in the men's 100m and 400m on Wednesday and Thursday, respectively.
Olivier Hendriks from the Netherlands had another fine performance in Bydgoszcz. After winning the men's 100m T64 on Wednesday, he triumphed in the men's 400m T64 with a new personal best (49.18) to round up a great European Championships.
"I did it for the time because I needed a good result to qualify for Tokyo. I was a second under it. It was a solid personal best and I am really happy for it," said the 17-year-old Dutchman.
Swiss Silver Bullet Marcel Hug added another gold to his tally in Bydgoszcz. After winning in the men's 1500m T54, he topped the podium in the men's 800m with a new competition record (1:37.20).
France's Pierre Fairbank stepped up his game even compared to Hug's achievements in Bydgoszcz. The Frenchman won his third gold, this time in the men's 800m F53 with a new season-best (1:45.59).
Iana Lebiedieva from Ukraine defended her title from Berlin three years ago in the women's discus throw F53. She achieved it with a new competition record that now stands at 15.44m.
Poland's world record holder Karolina Kucharczyk won the women's long jump T20 (6.13m). Alan Kokoity from Russia triumphed in the last field event of the day, the men's shot put F36 with a new competition record (15.92m).
Other winners in the track events were Patricia Eachus from Switzerland in the women's 800m T54 (1:52.02, CR) and Rafi Solaiman from Great Britain in the men's 100m RR3 with a new personal best (17.16).
Russia is on top of the medals table before the final day of competition with 49 medals in total (27 golds, 18 silvers, and 14 bronze medals).
Complete schedule and results from the European Championships are available on the Bydgoszcz 2021 website.
Day five sessions will be live on the World Para Athletics website and Facebook page (with geo-block restrictions in Spain, Poland, and the United Kingdom).