Young stars Ekler and Iglesias make statements in Bydgoszcz ahead of Tokyo
Hungarian defends long jump T38 title equalling her world record while Spanish sprinter takes her second gold in three days at the European Championships
04 Jun 2021
Imagen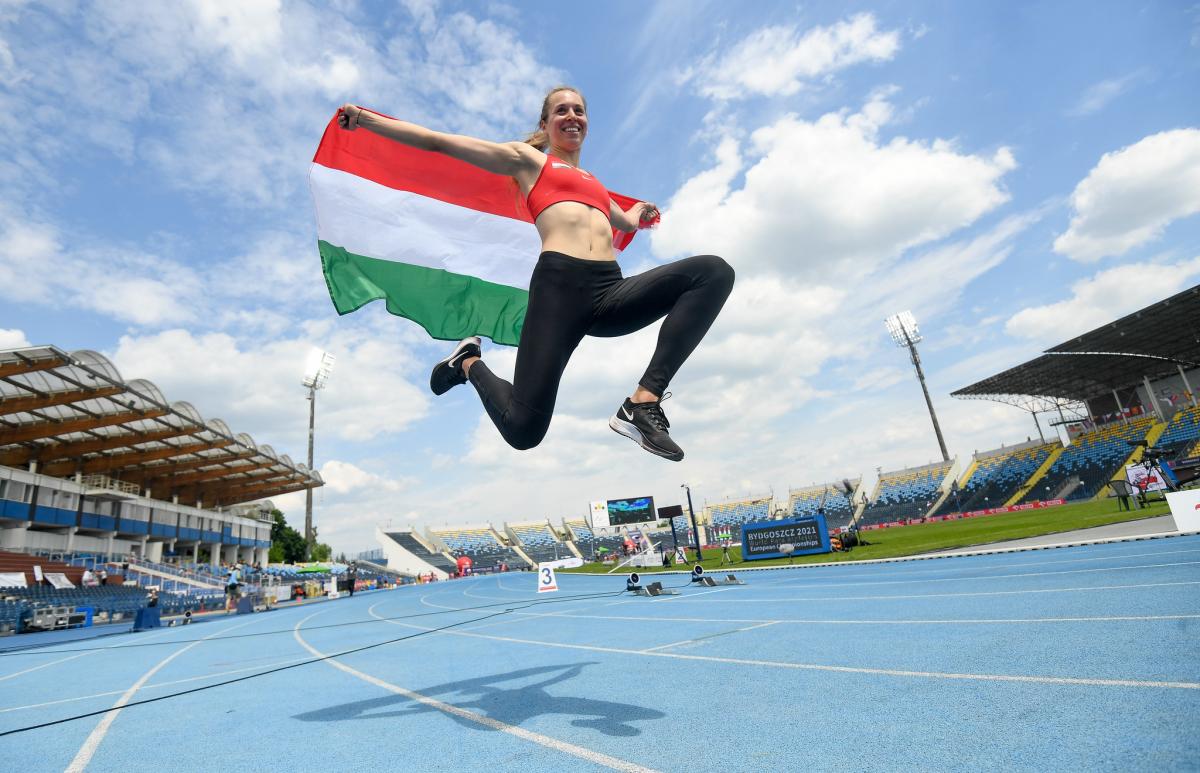 ⒸBartlomiej Zborowski
By Paloma Gutierrez and Filip Ozbolt | For World Para Athletics
Luca Ekler from Hungary and Adiaratou Iglesias from Spain are stepping up their form at the European Championships in Bydgoszcz ahead of their first Paralympic Games in Tokyo in August.
They both won gold medals in their respective events in the morning session on day four of the Euros on Friday (4 June) in Poland.
Ekler defended her women's long jump T38 European title in style, equalling her world record (5.51m) in the third attempt.
"I think it was great, but I want to jump further next time. I have longer jumps in myself and I hope to improve my results in the coming months. It will be better for the Tokyo Paralympics where I want to break my world record," said Ekler.
The Hungarian long jump world champion also won a silver medal in Bydgoszcz in the women's 100m T38.
"I compete in three events and it is hard at the moment. This competition is much tougher than the ones at home, but I am really happy to be in the European Championships again."
European record for Iglesias
Spanish sensation  Iglesias shined again after winning gold in the women's 100m T13 on Wednesday. This time she triumphed in the women's 400m T13 ahead of the former European champion Leilia Adzhametova from Ukraine.
"I am super exhausted. I came here without confidence in myself. I wasn't sure about this because the 400m race is for brave people. First, because you must have psychological training and I still have to work a lot on that," Iglesias said.
The 22-year-old sprinter born in Mali broke the European record in her second final in Bydgoszcz with a time of 55.70. She returns to track later on Friday for the universal 4x100m relay final. Then, her focus will be on her Paralympic debut in Tokyo.
"I don't really believe in myself, but I hope that the training will help me to improve my confidence. I want to thank my coach because he normally believes more in me more than I do," Iglesias added.
New coach, new gold for Talic
Zoran Talic from Croatia and Thomas Geierspichler from Austria won their fourth consecutive European titles in Bydgoszcz.
Talic won the men's long jump T20 with a new season-best (7.20m) and proved to be the dominant force in the event.
"I am happy for the gold medal. The competition was good, I am satisfied, but the result could have been better. I am first and the distance was 7.20m, but I need to jump further in Tokyo," said Talic who grabbed the gold in his last attempt in front of Greece's Athanasios Prodromou (7.01m).
"The Greek athlete pushed me forward when he jumped 6.95m [in the third attempt]. I got lucky on my last jump, God gave the luck to me and I am happy with the gold medal."
Talic jumped over seven metres for the first time in two years. The secret behind the success is a recent change.
"I got a lot of confidence for Tokyo, but I still have a lot of work to do. I have a new coach and I can already see the result of our work. My best jump is 7.40m, but for Tokyo, I will need 7.50m or 7.60m."
Austria's Thomas Geierspichler followed in the footsteps of Talic in the men's 1500m T52 (4:18.14). He won his second gold in Bydgoszcz (first being in the men's 400m T52) and the fourth consecutive in the event.
"I didn't expect to win. I had a lot of pressure on myself and it was a long week already. We had the qualification for Tokyo first, and then the horrible weather happened in Bydgoszcz so I just wanted a medal here, but I wasn't expecting gold. I am so overwhelmed with feelings right now."
Poland's Joanna Mazur successfully defended her European Championships title in the women's 400m T11 with a time of 1:03.90. It was her second home gold after the win in the women's 1500 T11.
"We are happy with another gold, especially because we repeated the same result from Berlin three years ago. We are proud of the result, but we are not going to stop because Tokyo is ahead and we need to keep the hard work going", said Mazur who has another race (200m T11) on Saturday with her guide Michal Stawicki.
Piotr Kosewicz topped another podium for Poland in the morning session. He also defended his title from Berlin 2018 in the men's discus throw F52 with a new competition record (20.86m).
Four more gold for Russia
Turkey's Kaedi Muhsin triumphed in the men's javelin throw F34 with a new European record (31.69m). His compatriot Oguz Akbulut won his second gold medal in a row in the men's 400m T12 with a new competition record (49.33).
It was a fine morning in Bydgoszcz for Russia with four gold medals. Aleksei Churkin broke the European record in the men's shot put F32 (11.16m).
Nadezhda Burkova (women's shot put F12) and Fedor Rudakov (men's 1500m T11) achieved new competition records with their victories (Burkova 13.06m and Rudakov 4:09.71, respectively), while Dubai 2019 bronze medallists Nikita Prokhorov won the men's shot put F46 (15.18m).
Cheyenne Bouthoorn clinched another track gold for the Netherlands in the women's 100m T36 with a new personal best (14.86). 
Spain's Nagore Garcia Folgado took the victory in the women's 100m T12 (12.72) with Yuliia Shuliar from Ukraine winning the women's 400m T20 with a new European record (56.83).
Complete schedule and results are available on the Bydgoszcz 2021 website.
The evening session will kick off at 17:30 CEST and will be live on the World Para Athletics website and Facebook page (with geo-block restrictions in Spain, Poland, and the United Kingdom).