Marcel Hug takes 13th European gold on closing day in Bydgoszcz
05 Jun 2021
Imagen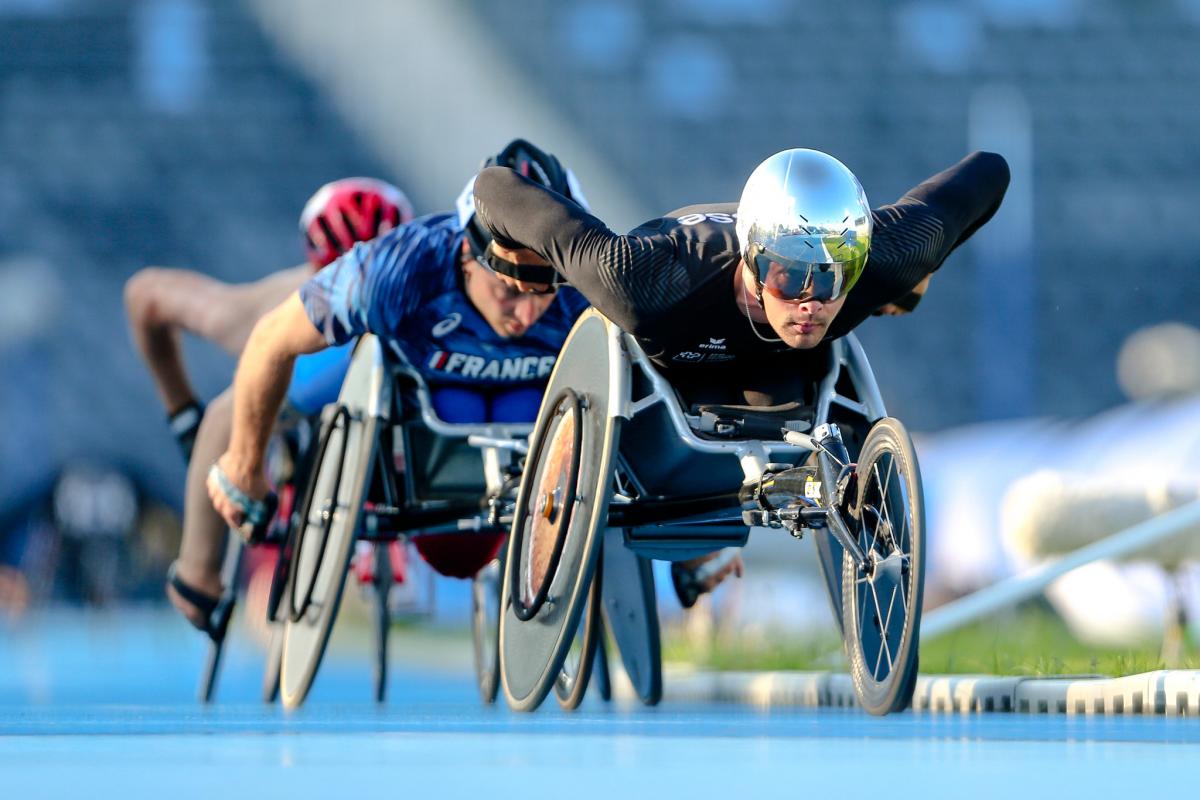 ⒸTadeusz Skwiot
By Paloma Gutierrez and Filip Ozbolt | For World Para Athletics
The Bydgoszcz 2021 European Para Athletics Championships came to a close on Saturday (5 June) with another outstanding performance from Switzerland's wheelchair racing legend Marcel Hug.
The Swiss Silver Bullet made it three out of three in Poland taking the men's 5000m T54 title on day five. The 35-year-old successfully defended all three golds from the Berlin 2018 Euros.  
The two-time Paralympics champion controlled the race from start to finish and clocked a time of 1:57.80.
"It feels amazing. It was the last race and it feels great to leave Poland with three titles and good performances. I am satisfied," said Hug who took his European gold tally to 13 this week. 
On Wednesday Hug topped the podium in the 1500m T54 and then he came back on Friday for another victory in the 800m T54. 
When asked about what he would say to his younger self at the start of the career, Hug explained:
"I would just say go ahead and be good. I think you are in a good way, you have a lot to learn, and then everything will go well."
Hug added 19 World Championships and eight Paralympic medals to his tally along the way, but when asked about the number of his European golds, he got a little bit confused.
"I don't know how many European titles I have," said the Swiss, who took his first European title in Espoo, Finland in 2005.
New world record for Ekler
Luca Ekler from Hungary had another great performance on a Saturday. She won the gold medal in the women's 400m T38 and broke the world record on the way (1:00.27).
"I can't believe it. I was thinking that I am only a long jumper. The 400m race is new to me and I am happy. I hope the best is yet to come," said Ekler.
On Friday she defended her European title in the women's long jump T38 equalling the world record (5.51). She also took a silver in the women's 100m T38 on Wednesday behind Great Britain's Sophie Hahn.
"This win gives me so much confidence because it was my only third race in the 400m. This whole thing is new for me," Ekler added.
Adolphe loses European crown
There were no more world records in the final session, but three more European records were broken along the way. One of them came in a surprising 100m T11 final with Athanasios Ghavelas winning with a time of 10.98.
The Greek sprinter repeated the time set in the morning heat and beat World Championships silver medallist and defending European champion Timothee Adolphe of France (11.03).
"It was really good, the track is really fast. I don't know what to say, I just want to thank my guide Sotiris. Timothee Adolphe is an amazing guy and athlete. I will prepare good to compete against him again at the Paralympic Games in Tokyo," Ghavelas said.
The women's 100m T47 was one of the most exciting races of the day with Serbia's Saska Sokolov taking her second gold in Bydgoszcz. She broke the European record (12.25) and defeated the Berlin 2018 champion and local star Alicja Jeromin (12.29).
The third European record of the session was set in men's 1500m T38 with France's Redouane Henounni-Bouzidi defending his gold from Berlin three years ago (4:04.39).
First titles for Tsvietov and Van Gansewinkel
Norwegian star Salum Kashafali added the European title to his World Championships gold medal from Dubai 2019. He broke the competition record (10.70) in the men's 100m T12.
"The result itself wasn't so important. It was important to come here and try to make the best out of it. Maybe to get a gold medal which I did at the end," said Kashafali. 
"Tokyo is the main event of the year. We are working towards it. I would love to improve my personal best there," he added.
World and Paralympics champion Ihor Tsvietov from Ukraine defended his European Championships title in the men's 200m T35. He broke the competition record with a time of 23.14 and won his second medal in Bydgoszcz following the bronze in the men's 100m T35.
Marlene van Gansewinkel from the Netherlands also waited until the last day to win her first European title in Poland. She triumphed in the women's 200m T64 (26.79), her third medal in Bydgoszcz.
"I finally finished first. I have a love and hate relationship with the 200m race so I am really happy that I finished it. I ended first and that makes everything so much better," said van Gansewinkel referring to her losses against compatriot Fleur Jong in the 100m and long jump T64.
"Of course that I prefer to win, but if I have to lose, I prefer to lose against Fleur Jong," she said.
Best of Britain on last day
There were five more track events on Saturday and three were won by British athletes. Berlin 2018 winner Maria Lyle triumphed in the women's 100m T35 with a new competition record (14.39).
Libby Clegg topped the podium in the women's 200m T11 race with a time of 27.41. After winning the women's 100m T34 title on Thursday, Fabienne Andre finished first in the 800m T34 with a new personal best (2:15.18).
Finland's Rio 2016 bronze medallist Henry Manni bagged the gold medal in the men's 100m T33/34 (16.28). Anna Kulinich-Sorokina from Russia won the women's 200m T12 (25.67).
Some familiar faces returned to the top of the podium in the last day in Poland in field events. Ireland's Niamh McCarthy defended her Berlin 2018 gold in the women's discus throw F41 (30.03m).
"I am reasonably happy because I kept my European Championships gold medal. I know I have a lot of work to do on myself. I am happy to go home now because it has been weird travelling from my own country for a couple of days," said McCarthy with a smile on her face and added:
"It's been tricky not to compete because it was my main feedback of how am I improving. It was hard to get used to it and, finally things are starting to improve. I just have to keep attending competitions and see my results improving."
Russia top the medal standings
Miroslaw Madzia and Janusz Rokicki won the last two golds for Poland on their home soil. Madzia was the best in the men's discus throw F11 (37.16m), while Rokicki celebrated his second European title in a row in the men's shot put F57 with a new season-best (13.90m).
Multi-champion Aled Davies dominated the men's shot put F63 (15.17m) and showed he will be going for more gold at Tokyo 2020. 
Another British gold came with Zak Skinner who won his second title in Bydgoszcz, this time in the men's long jump T13 (6.92).
Mathias Meister from Germany defended his title in the men's javelin throw F41 with a season-best (36.31m). Russia's Mariia Bogacheva dethroned Yuliya Nezhura in the women's javelin throw F54 and won in style with a new competition record (14.86m).
Russia topped the medals table at Bydgoszcz 2021 with 74 in total (31 golds, 25 silvers and, 18 bronze medals). Albert Khinchagov took Russia's 31th victory in the men's shot put F37 (15.19m).
Ukraine finished second with 17 golds followed by hosts Poland with 15 victories.
Complete results from the European Championships can be found on the Bydgoszcz 2021 website.
Bydgoszcz 2021 was the seventh edition of the Euros with 670 athletes from 44 nations in action.