Andrew Parsons meets Moon Jae-in ahead of PyeongChang 2018
IPC President met South Korean counterpart and attended the ninth and final IPC Project Review
18 Oct 2017
Imagen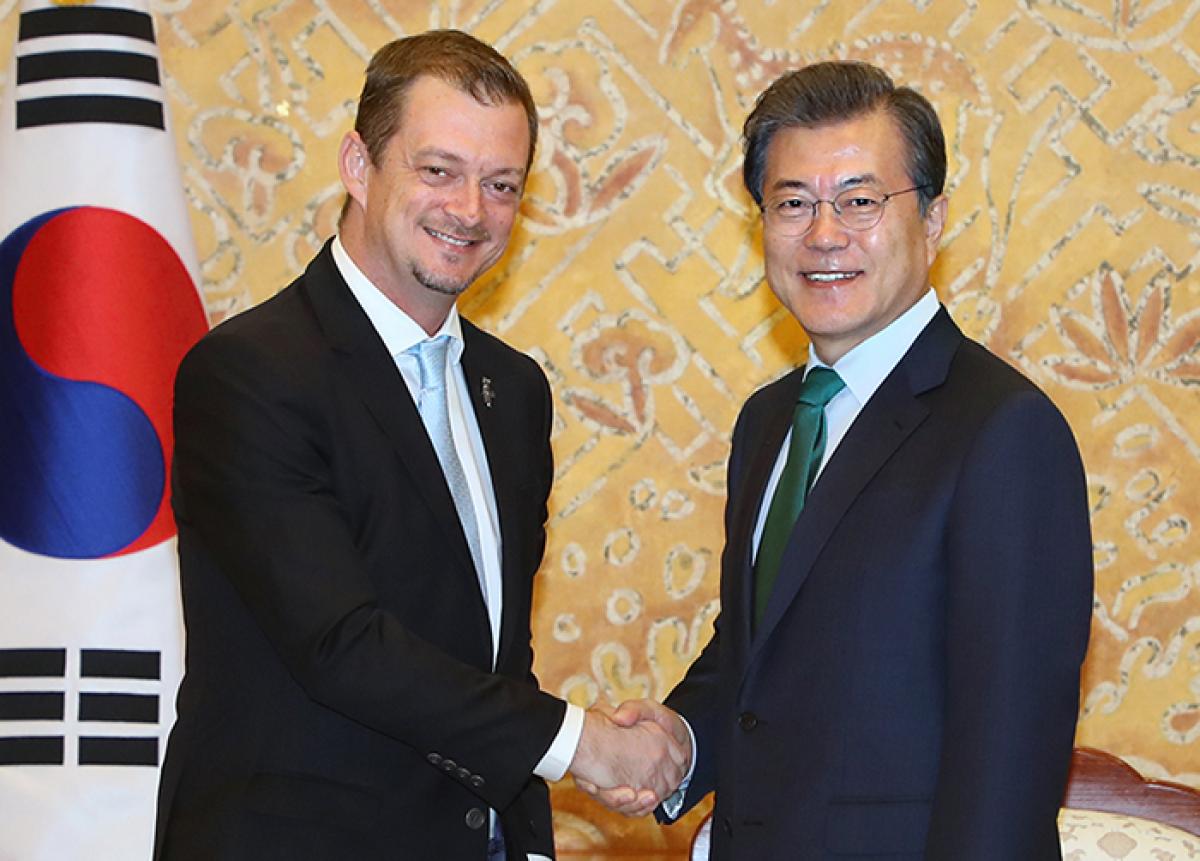 ⒸCheong Wa Dae/KOCIS
By IPC
International Paralympic Committee (IPC) President Andrew Parsons was in South Korea this week (15-17 October) to see how preparations are going ahead of next March's PyeongChang 2018 Paralympic Winter Games.
During his three days in the country he met with South Korean President Moon Jae-in and Foreign Minister Kang Kyung-wha in Seoul and attended the ninth and final IPC Project Review with the PyeongChang 2018 Organising Committee (POCOG). He also met with representatives of the Korean Paralympic Committee.
In his meeting with President Moon, Parsons stressed the need for greater engagement in and awareness of the Paralympic Winter Games, and discussed the possible participation of North Korea in PyeongChang.
Parsons said: "I was really impressed with President Moon's enthusiasm for the Paralympic Winter Games and understanding of what the event can do for changing perceptions of people with an impairment in South Korea and sending a strong message of peace to the world.
"We want next March's Games to involve as many countries as possible. We were both in strong agreement that we would like North Korea to participate for the first time in a Winter Games.
"We also want the Paralympic Winter Games to engage great numbers of Koreans. More people coming to watch the Games will not only create a better environment for athletes but also provide a chance to change the people and their city."
During the final IPC Project Review in PyeongChang, the IPC and representatives from each winter sport international federation received updates on all functional areas involved in the organisation of the Games. A number of site visits also took place.
Parsons added: "It was my first visit to PyeongChang and was fantastic to see where next March's Games will be held and to meet members of the Organising Committee.
"Overall preparations for the Games are going well and I would like to commend PyeongChang 2018 President Lee Hee-beom for his warm hospitality and his organisation's work so far.
"POCOG is now gearing up to transition from the planning phase to delivery. While we remain confident that the sporting competition will be excellent in PyeongChang, we further stressed to POCOG the urgent need to increase awareness of the Paralympic Winter Games and further engagement with the Korean public.
"With just over 140 days to go until the Opening Ceremony, it is essential that progress is made in these two areas in order to drive ticket sales and TV viewing figures."
POCOG President Lee said: "It was wonderful to welcome the newly elected IPC President, Andrew Parsons, to PyeongChang this week for his first visit with us. The IPC Project Review is a great opportunity for him to see firsthand that PyeongChang is ready to host the Games and the ongoing final preparations five months out.
"We look forward to working closely with the IPC to ensure that the Paralympics are a great success and that Paralympians experience a great Games in PyeongChang."
During the visit to South Korea, former IPC President Sir Philip Craven, who is assisting Parsons in the handover of the Presidency, received an honorary doctorate from Yongin University in Gyeonggi Province for his contribution to Para sport.
The PyeongChang 2018 Paralympic Winter Games will take place between 9-18 March and will involve 670 athletes from 45 countries competing in 80 medal events.