Bright future ahead for Australian snowboarders
Australian boarders are targeting podium finishes at the PyeongChang 2018 Paralympic Winter Games.
03 Jan 2016
Imagen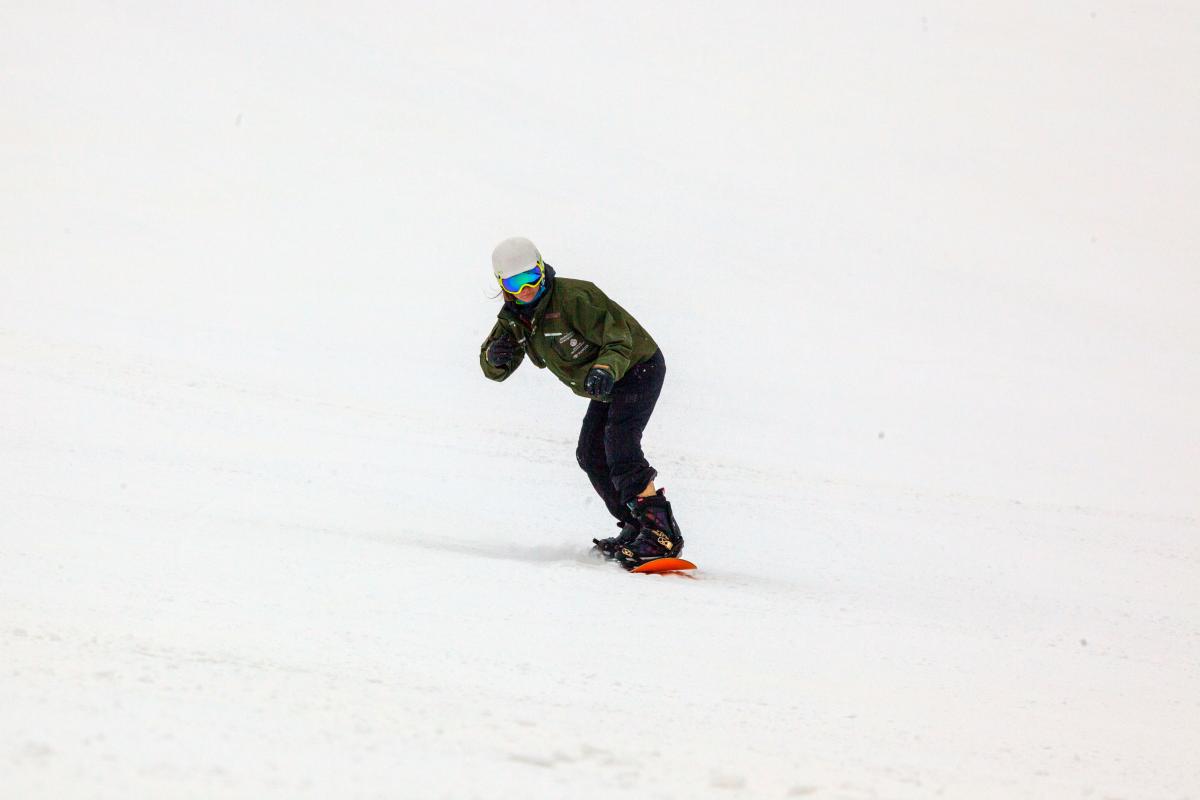 ⒸNPC Australia
By Ski and Snowboard Australia
"After my injury at Sochi I knew that I had a long and tough road ahead of me so I made sure that I spent the maximum amount of time doing my rehab as well as building up my strength to prevent it from happening again."
With just over two years to go until the PyeongChang 2018 Paralympic Winter Games, Australia's para-snowboarding programme is already showing great potential for podium finishes.
Leading the charge is 21-year-old Joany Badenhorst. Born in South Africa, Badenhorst was involved in a severe tractor accident when she was 10 years old and her left leg was amputated below the knee.
After moving to Australia in 2009 with her family Badenhorst excelled in athletics but after missing selection for the London 2012 Paralympics, she transferred into the new para-snowboard programme ahead of its debut at the Sochi 2014 Paralympic Winter Games.
Badenhorst's progress in the sport was rapid but her Paralympic debut was cut short when she crashed in the final training run and dislocated her knee, ruling her out of competition. Her strong will and dedication to recovery and rehabilitation saw her back on the slopes the following season and taking silver in the banked slalom at the 2015 World Championships in La Molina, Spain.
"After my injury at Sochi I knew that I had a long and tough road ahead of me so I made sure that I spent the maximum amount of time doing my rehab as well as building up my strength to prevent it from happening again," she said.
"2014 was an incredibly tough season with a lot of unfortunate circumstances but in all fairness I need to leave it where it belongs – in the past – and focus on what I want to do now and in the future."
Badenhorst has launched into the current World Cup season with a silver medal at the first competition in the Netherlands and is forging a strong path to the 2018 Winter Paralympics.
"She is a force to be reckoned with," head coach Lukas Prem said. "She's battled a couple of injuries but is riding stronger every day. She's already very fast in certain parts of the race courses and once she reaches her full potential she'll be hard to beat."
Prem made the move into para-snowboarding after successfully coaching snowboarders at the 2010 and 2014 Winter Olympics, a move he said was one of the best decisions of his life.
"It's inspiring to see what my athletes are able to do, this was definitely an eye opener," he said.
"You can throw any challenge at them and they'll find a way to conquer it. At the start I had to approach training a bit differently, learning all the ins and outs of each disability and each athlete. Seeing an athlete with one leg or cerebral palsy landing a 20 metre jump and knowing you've played a crucial part in them achieving their goal gives you a different perspective on life."
Along with Badenhorst, Prem is overseeing the rise of young snowboarder Ben Tudhope.
At the 2014 Sochi Paralympics, Tudhope made history as the youngest athlete at the Games, competing at just 14 years of age.
"Competing at such a high level at such a young age was amazing for me," said Tudhope who was born with cerebral palsy hemiplegia.
"Carrying the flag and just being in the village full of athletes was awesome and learning where professional sport can take you. Because I did well at the Games it really motivated me to keep on snowboarding and be competitive amongst my field of competition. The overall Games also inspired me to keep pushing myself so I can have the same experiences again."
Since Sochi, Tudhope has gone from strength to strength, including two top-10 results at the 2015 World Championships in snowboard cross and banked slalom. Still just 15, Tudhope has a lot of growing to do, something which excites his coach.
"We've been working a lot on his technical riding and once he's fully grown, watch out," Prem said.
"Never forget he's racing fully grown men in a gravity fed sport. He's half the size of his competitors and is already within striking distance of the podium this year!"
Badenhorst and Tudhope are joined on the circuit this season by Simon Patmore who crossed over from athletics to snowboarding and hasn't looked back.
"I raced competitively in athletics for more than six years and I've enjoyed every moment in the sport," said Patmore who won bronze at the London 2012 Paralympics men's 200 m – T46.
Patmore has erbs palsy which limits the movement in his left arm and when the International Paralympic Committee sanctioned an event for impaired upper limb athletes he couldn't resist the opportunity
"I have a passion for board sports," he said. "I'm still in shock that I'm competing in winter sports."
Badenhorst, Tudhope and Patmore will contest four more World Cup competitions this Northern Hemisphere season as they build their Paralympic campaign.
"The roadmap to PyeongChang is already laid out," Prem said. "There are going to be bumps along the way but so far we're tracking above expectation.
"There's definitely a lot of potential in Australia and I'm hoping that the success of our athletes can pave the way for the future. It's not just creating awareness about the sport but also gives a lot of people with a disability a new perspective, motivation and inspiration."
The PyeongChang 2018 Paralympic Winter Games will take place between 9-18 March 2018.