Destination PyeongChang for Esther Vergeer
Wheelchair tennis legend preparing for Chef de Mission role at Winter Paralympics
25 Oct 2017
Imagen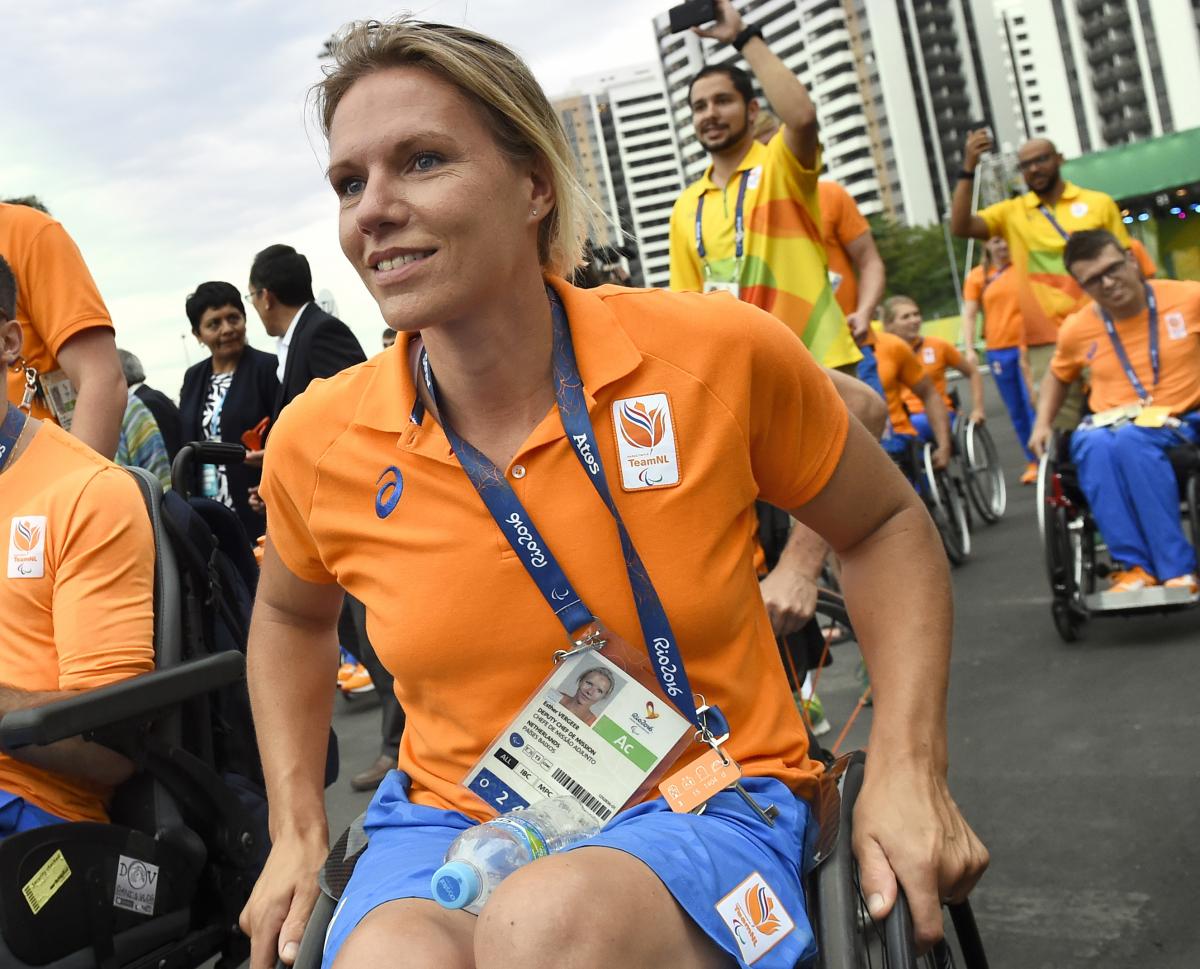 ⒸMathilde Dusol
By ITF and IPC
"The Winter Games are smaller than the Summer Games, so it's more controllable and I'm very glad I can get a feel for being responsible for the whole team in that environment."
The most successful female wheelchair tennis player of all time is not the first person that springs to mind when you think of winter sports. But Esther Vergeer's background in elite sport has landed her one of the biggest roles at next year's Paralympic Winter Games in PyeongChang, South Korea.
The former world No.1 has some experience in the field, having been the Deputy Chef de Mission for the Dutch Paralympic Team at Rio 2016. And after successfully leading the athletes in a Summer Games, Vergeer is looking forward to the challenge of a Winter Paralympics.
"I wasn't sure whether that was the right place for me to be in. It was quite weird being in the Paralympic village and not being an athlete," she said.
"But when the athletes came into the village I could actually talk to them and help them and I could provide them with some information in making sure facilities were OK, support them and cheer for them. And I could have a shoulder for them if and when something went wrong.
"The Winter Games are smaller than the Summer Games, so it's more controllable and I'm very glad I can get a feel for being responsible for the whole team in that environment.
"I went to the alpine skiing venue recently and, of course, you're waiting at the bottom of the mountain for the athletes, so it has a very different way of how you feel connected to the sport. Not in a bad way, but it is totally different as the action is taking place further up the mountain, but I'm very much looking forward to the whole experience."
Life after retirement
Vergeer has remained heavily involved in wheelchair tennis since announcing her retirement in February 2013. She ended her career on a high with a 470-match winning streak stretching back more than 10 years and seven Paralympic golds under her belt.
Since then, the Dutch has divided her time between introducing more children to wheelchair tennis through the work of the Esther Vergeer Foundation and undertaking the role of tournament director on the UNIQLO Wheelchair Tennis Tour.
"There are lots of organisations in the Netherlands that organise clinics for one day and make the kids happy for one day and then don't have much else to offer to the kids so they can play a specific sport for a longer period of time," she explained.
"So for us the focus is on how we connect the kids to a local tennis club and we make sure there is a little group of wheelchair-user kids becoming a member of that club and facilitate them to get lessons for at least eight weeks. And after those eight weeks we continue to make it possible for them to join the club for a year.
"So whether it be financial help or the provision of something material like a tennis wheelchair, we help with the whole process of when you first become introduced to wheelchair tennis through to a year or two years later, when you finally say 'yes, this is my sport and I want to provide for myself'. And it's exciting because we see that it works.
"When I retired, there were not many youth players becoming members of tennis clubs. That was quite worrying and frustrating in terms of who was going to be the next generation. Now we've seen 60 kids become members of a tennis club in a year-and-a-half."
Next year, Vergeer will again reprise her role as tournament director for the ABN AMRO World Wheelchair Tennis Tour in Rotterdam. The ITF 1 Series event is one of several wheelchair tournaments during the year to take place alongside an ATP World Tour or WTA event.
"I see that the partnership or collaboration with ATP and WTA events is very important for profiling wheelchair tennis and for getting it more seen" she said.
"Of course, the regular standalone wheelchair tennis tournaments need to exist and they are very, very important for the development and the growth of the sport. But to raise the profile of wheelchair tennis ad getting it seen by more and more public I think it is important that we are integrating more and more tournaments throughout the year.
"So I think probably the challenge wheelchair tennis is facing is how can we make a balance between those tournaments for profiling the sport and those tournaments for growing the sport."