Japan's Muraoka has high hopes for Test Event
The 19-year-old sit skier is aiming to improve some technical detail, but she is also aiming to reward her supporters.
21 Feb 2017
Imagen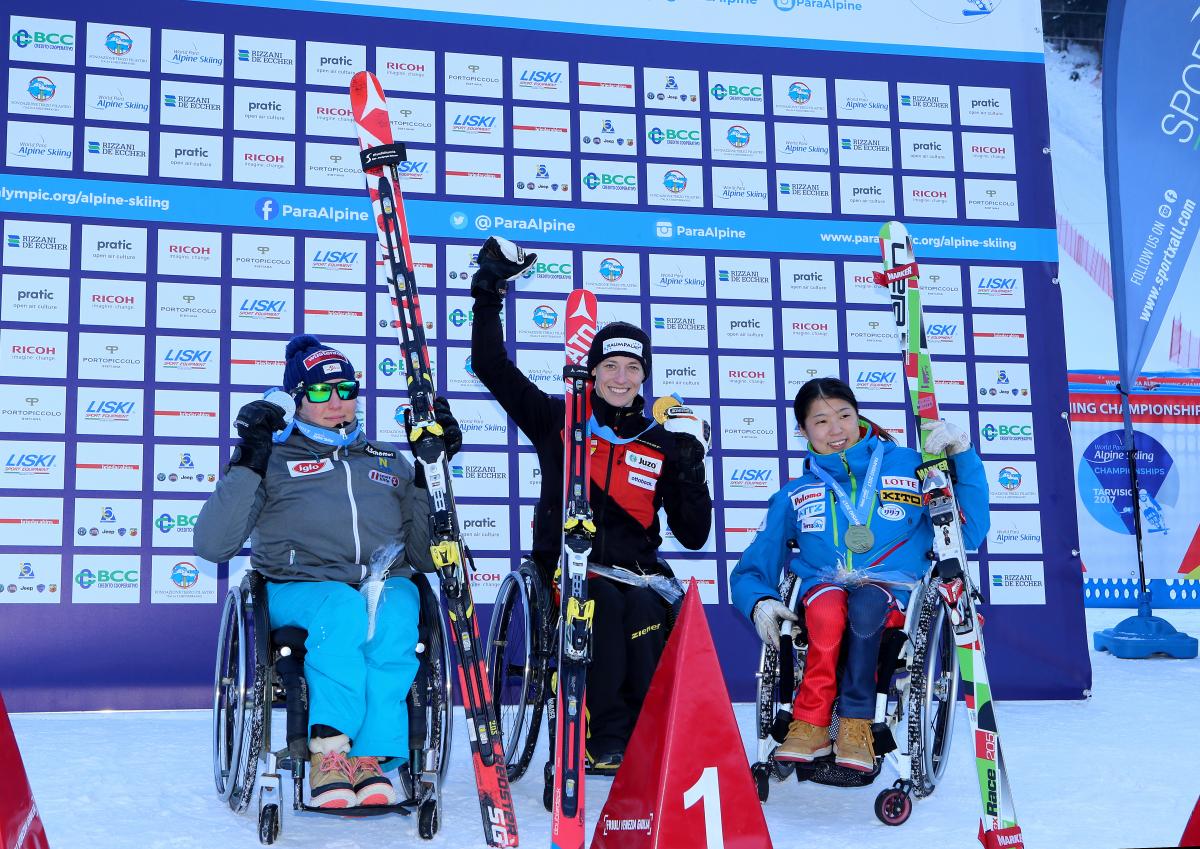 ⒸAndrea Carloni for the IPC
By Ryan Wilson | For the IPC
After an impressive performance at the 2017 World Para Alpine Skiing Championships in Tarvisio, Italy, Japanese sit-skier Momoka Muraoka is looking to take her success to the slopes of the next Paralympic Winter Games.
Her goal is to assess the venue for PyeongChang 2018 at the Test Event, taking place at the Jeongseon Alpine Centre from 12-18 March. The competition will also be the World Para Alpine Skiing World Cup Finals.
"I wish to know the shape and quality of the snow etc, through the World Cup Final in order to get multiple medals in PyeongChang," she said.
Muraoko said she started her season earlier this time, and it gave her the confidence to set higher goals. Despite this she admits to feeling a little bit disappointed with her World Championships performance, where she took three bronze medals in the women's sitting.
"I believed that I would be able to get better results than last year [2015 Worlds]," Muraoka said.
"However, other countries' athletes also improved themselves much more, and I felt the gap with them with regret. Therefore, I am thinking what I can do up to PyeongChang now."
Muraoka, who has competed in Para athletics in national championships, now wants to work on the technical set-up of her sit-ski.
"I am trying to improve and adjust my suspension, in case that such improvement will match my style," she said. "This will greatly impact my performance."
Behind a full schedule of races in the World Cup and World Championships, she has had the opportunities to better her skiing and equipment.
"I could find my points, which shall be resolved," Muraoka said. "What I need to do is to solve such issues and to improve myself much more. I have a very short time period, but I will do it!"
She added: "I am thinking now how to minimise the gap with top athletes. I will try, and I wish to take myself to the best situation."
Muroako said her high expectations, especially with multiple Paralympic and world champions Claudia Loesch of Austria and Germany's Anna Schaffelhuber leaving Tarvisio with gold medals, have added some pressure. But she is not distracted by them.
"I felt the pressure due to my big expectation from my environments to get the medals," she said. "However, my strong mind to get the medals is much stronger than such pressure. I wish to do the best, to be able to give my thanks to the people who are supporting me."
But despite any added pressure, the 19-year-old wants more than medals: She wants smiles.
"I heard that smiles will take people to happiness," Muraoka said. "I strongly believe that my smiles will make people smile. Even in very hard times, smiles lead me to the good results. Therefore, I wish to smile, and I am happy that my people will be happy because of my smiles!"
The World Para Alpine Skiing Test Event and PyeongChang 2018 Paralympic Winter Games Test Event will get underway with downhill on 12 March. A full programme of technical and speed events will be contested.
Live results will be available at World Para Alpine Skiing's website.