PyeongChang 2018: Biathlon flash quotes day 4
Athletes' reaction to six medal events in biathlon 10km/12.5km on Tuesday
13 Mar 2018
Imagen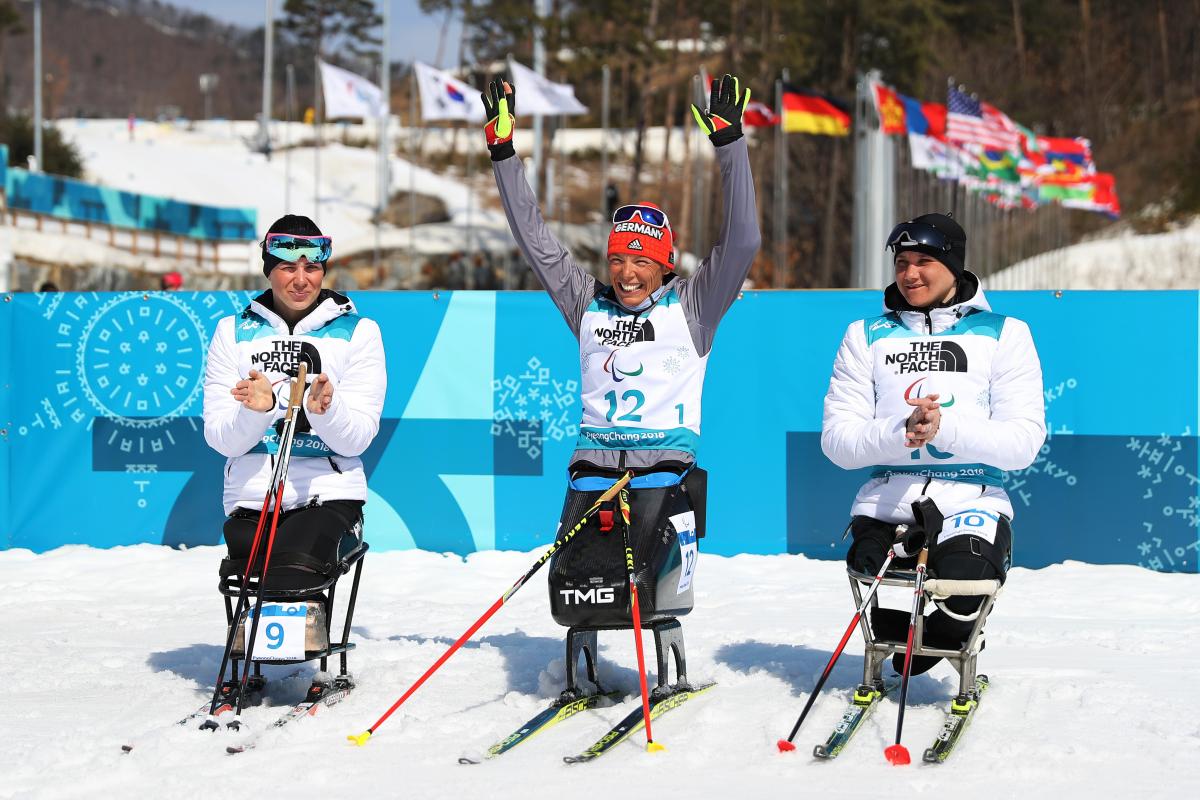 ⒸGetty Images
Andrea Eskau (GER) - gold medallist in women's sitting 10km
"It's totally crazy. I can only explain it as crazy because I did not expect to win."
"I'm so old I could not (get) so excited like the young girls. They are getting crazy about the races and I'm not and maybe that's why I'm on the top today. I believe in that. The others are really stressed, even at the start, and I said to myself, 'It's quite like just another training.'
"And if you're getting a gap (to the rest), you are getting more calm because you know, 'OK, I can even go once in the penalty loop, it doesn't matter', and that makes you not so stressed.
"I'm very proud about it because I couldn't train much shooting because I have no shooting range close to my home. It's a lot of effort for me and a lot of effort for my girlfriend to help me with that because I can't train on my own. I need someone to help me with the weapon.
"For that, it's really nice that we got something back. But I believe in that. if you've done so much, you get something back."
"You will not believe: this was one of my easiest wins. Sometimes, like in the long distance, I have to fight the whole time. But today I didn't fight. I just did my stuff. Sometimes, it's so crazy, you get everything. The winner takes it all."
Oksana Shyshkova (UKR) - gold medallist in the women's 10km vision impaired
"I still don't believe it. When I stand on the podium and the flag of Ukraine is raised, when we sing the anthem, maybe then I will realise that I have achieved victory.
"We were not yet the leaders in the first two laps but thanks to the shooting and skiing we surged ahead and this is very nice when you are the first, finally.
"I have been moving towards this moment for many years and we trained hard, but right now I don't really understand it."
Taras Rad (UKR) - gold medallist in men's 12.5km sitting
"I am very, very, very happy. Everything turned out just like I wanted. I am so happy.
"It shows that the young ones, like me, can also get top results."
"I am a very athletic guy. I love sport, so training comes naturally to me."
Benjamin Daviet (FRA) - gold medallist in men's 12.5km standing
"Relief, joy and happiness.
"In the last sprint, I knew I was leading, but I thought it was with one or two seconds, not with six.
"The last energy came from my mind and my guts."
"Now I'm happy but I have two more races to do and I want to get two more medals."
Yury Holub (BLR) - gold medallist in the men's 12.5km vision impaired
"The emotions are unbelievable. It's simply the best race I've had. I can't say any more.
"I wouldn't say that it was easy to ski. It was hard to ski. Yesterday we skied 20km, and still you feel the heaviness."
Marta Zainullina (NPA) - silver medallist in women's 10km sitting
"It was hard. I had to stay in the shooting range for a long time. There were strong gusts of wind on the third shooting so I had to shoot fast and I still missed one shot."
"The course itself is not really that difficult but it is hard to breathe here. The first race was really hard for me. The second was so and so but still on the last laps it is very hard to ski."
Anna Milenina (NPA) - silver medallist in women's 10km standing
"Stability is a sign of mastery. This is my 15th Paralympic medal. It's an anniversary medal."
"I don't know what more I can do. The stars have to align.
"(I can improve) in skiing, the speed, in the shooting. Maybe something didn't work out today in the shooting, I missed two."
"The course is good. Despite these weather conditions, with such a plus (in temperature), all the climbs are hard. The only issue is that the stadium is soft, but we are going to hope that there will be enough snow to last until the end of the Paralympics. We've been promised rain and we hope that there is enough snow. Other than that, the climbs are good. They are salting them and they are hard."
Mikhalina Lysova (NPA) - silver medallist in the women's 10km vision impaired
"We were counting on more. When we were preparing for the Paralympics, we were preparing for more.
"We knew what we were going for. We had great performances at the World Cup stages and were going pretty much for the same result, but the nerves let themselves be known here.
"Probably one thing piled on top of the other, my mental state and the physical preparation for this Paralympics. It's very hard."
Daniel Cnoseen (USA) - silver medallist in the men's 12.5km sitting
"For me, this was a big breakthrough. This is only the second time I've ever shot clean in a four-stage, 20-shot race. And to do it in a Paralympics, I feel like I really overcame a big mental hurdle. For me this means a lot, internally. I'm so proud of this, that I shot so well under pressure."
"Certainly, there's a lot of wind on the course, then I think that the range is a little bit tricky. The nation flags up high show the winds but down below it wasn't too bad.
"There were some gusts and our game plan was that every time you here a gust, especially here at the range with the nation flags, you take a couple of more breaths, it will probably die down about five seconds later."
"It's really easy to keep the motivation because I've been training for this for four years. After Sochi (2014 Games, at which he won no medals), I told myself to just train consistently, don't get sick, take care of my body. The results are one thing but what really matters is the work that I put into it.
"I have another four years after this, so every race here is so precious. You only get six individual races. You have to make the most out of them."
Ihor Reptyukh (UKR) - silver medallist in the men's 12.5km standing
"We trained this tactic (late surge) a lot. There was strength, but it was dwindling quickly. After yesterday's 20km race, today it is much harder. I was doing everything that I could. I put it all out on the course, I gave it everything to the last drop. I could not have gone any faster in any way, even one second faster. I did everything that I could. Second place is also very good. I'm very glad.
"It's a bit of a shame (to wins silver) because gold is gold. That would be important for the country and for me, but a silver medal is also very good. I am very happy with my work in the shooting range. This is an accomplishment for me, despite the wind, which was very flighty today, and missing one shot because of one such gust of wind. I am very happy with my result.
"The snow was just coming apart. The water was all over the place. After the second lap, the skis were significantly slower. They stopped skiing well because they were soaked through, so I had to really fight with myself."
Liudmyla Liashenko (UKR) - bronze medallist in the women's 10km standing
"Yesterday the race (15km cross-country) was much harder. It was a long distance race and there was no place to stop and rest. But here you know that you need to recover your breath before the shooting. You try to breathe more calmly and because of this you have a small phase of recovery to gain strength and ski the next lap.
"It's very hard. Each medal comes with hardship. It's never easy.
"It's very hard to battle with the Russian girls, but I'm happy with my result because in the last Paralympics, you can say I was still 'green' and my best place was fourth even though I worked really hard and I really aimed to get a medal. Now I have medals, but I want to get higher places and more medals."
"Maybe if I didn't make two mistakes in the second shooting range I could have finished second. But it's shooting and you can't say, 'What if, what if'. You take it as it is."
"It (the wind) was messing up things a little bit during the fourth shooting. There was a moment where I had to wait a long time at the fourth shooting, on the fourth shot, and I hit all five shots, and then with a calm soul I skied into my fifth, last lap."
Andrew Soule (USA) - bronze medallist in the men's 12.5km sitting
"It's a great feeling. I'm really excited, really proud to be a part of this team. Probably the best sports team I could possibly dream of being involved with, so I'm really excited, really thankful for all the great support I got here.
"I was really skiing at an aggressive pace and I was certainly struggling to hold it together at the range, those last two shootings. I actually did back off a little on the fourth.
"When I missed those two (shots), I also knew that I'd seen that other people were missing so I knew a miss or two was not necessarily going to put me out of it, that I was still competitive.
"I just needed to get back up, set the same aggressive pace and maybe just back it off just a little earlier on the next lap to make sure I hit the shots. And it came together just fine.
"There's some incredibly talented young people in the sport. Taras Rad is one of the most talented, strongest, young athletes I've ever seen. He is tough to compete against."
Mark Arendz (CAN) - bronze medallist in the men's 12.5km standing
"We finally saw the PyeongChang wind.
"I enjoyed the shooting in this wind. I've always prided myself on my shooting and that's kind of paid off today. I knew there were some tired guys so I kind of went from the start, (to) see if I could put those guys under pressure and I was doing a really good job.
"I just needed that little bit more so I decided on that last bout to go for it all and throw it down, go for the win. That's what I went into this race going for and unfortunately I added that miss and really made it into a tight, interesting race, but then just ran out of energy just a little bit on the climbs there at the end, but I'm really happy with the race.
"It's another medal. Everything's going well. I just have to put that last little tweak in order to win the race."
Iurii Utkin (UKR) - bronze medallist in the men's 12.5km vision impairment
"It means a lot to me because it's the third Paralympics in my career. In Vancouver (2010) I went as a debutante. I had only been training for a year and for me it was just about seeing for the first time what the Paralympics were about.
"In Sochi (2014), I came with goals. I was preparing hard, but unfortunately, my opponents were stronger and I got two fourth places in biathlon and one fifth place.
"I left from the Paralympics in Sochi with a wooden medal. Even though I had a silver medal in the relay, it's a team medal. An athlete wants his individual medal and for me it wouldn't matter if it was gold or bronze.
"My brain has not realised it yet. I understand that I've finally earned my first individual medal. Even though it's a bronze, it's like gold to me because it is mine, because I earned it individually. My emotions are just going through the roof."
"In the last lap I gave it everything I had.
"The only thing that I'm sorry for in terms of the time lost to the second place finisher (Oleksandr KAZIK, UKR) is my two missed shots on the first shooting. They robbed me of the possibility to be in a higher place on the podium."