PyeongChang 2018: Bonding through guiding - Part One
New series takes an in-depth look at vision impaired skiing ahead of PyeongChang 2018
22 Feb 2018
Imagen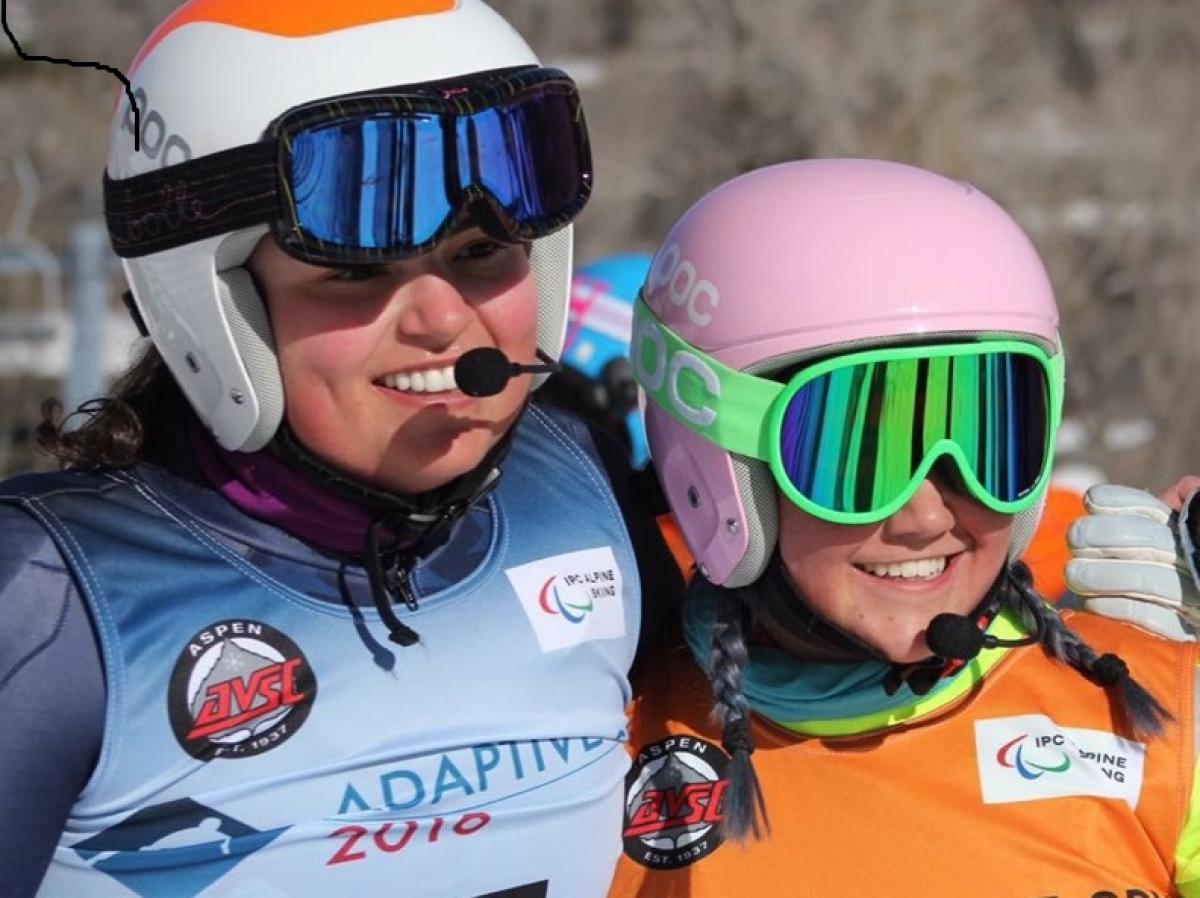 ⒸStaci Manella
By Ryan Wilson | For the IPC
Sadie DeBaun found a purpose in guiding.
It came at a crucial time in her high school career: her own skiing career was over after nagging knee injuries. Despite efforts to return, the injuries persisted.
Feeling done with high school, she found herself writing some of life's most-pressing questions on a piece of paper as she found herself without a purpose.
'What do I love? What do I want to do most?'
Her answer: I want to travel the world and ski.
"I just kept that in my mind and finished high school," DeBaun said.
The DeBaun family, living in Park City, Utah, USA, suddenly found a new neighbor. It was Rob and Danelle Umstead, who purchased a house directly next to the DeBauns.
Danelle is a three-time Paralympian, and as a vision impaired skier she has been guided by her husband since 2008.
At that time, Danelle was trying to find a guide for Staci Manella, whom Danelle mentors. Menella was looking for a new guide after an appearance at the 2014 Sochi Paralympic Winter Games.
Danelle then approached DeBaun about the opening.
This was the first time DeBaun had heard of guiding, and Danelle only shared details in broad strokes.
"I asked her if I could think about it, and then I looked up Staci, because Staci had gone to the Games with her old guide," DeBaun said. "Then I saw how cool it was, and I was like, 'Wow, that's something I could really see myself doing.'"
Manella said Danelle loved DeBaun's decision to think about the offer, and it sealed the deal for Manella, Danelle and DeBaun.
"When she (Danelle) came back to tell me about Sadie, she was like, 'This girl's going to be perfect,'" Manella said. "'I told her all the stuff about guiding, and she didn't just jump into it, she wanted to think it over and know she was making the right decision.'"
Three years into their skier-guide relationship, DeBaun and Manella are entering their first Paralympic Games together. The PyeongChang 2018 Paralympic Winter Games will be Manella's second Games. It will be DeBaun's first.
DeBaun is glad she took the offer to become a guide.
"It definitely gave me a purpose," she said.
Gernot Morgenfurt and Christoph Gmeiner
"After a brief reflection and great curiosity," Austria's Christoph Gmeiner became Gernot Morgenfurt's guide.
It became in response to a Facebook message sent by Gmeiner's mother. Gernot Morgenfurt, a long-time family friend of the Gmeiner's, was in need of a new guide. Morgenfurt hit to Facebook in search of one, and Gmeiner's mother responded with Christoph's name.
With a previous relationship already established, Morgenfurt, 53, and Gmeiner, 25, took their relationship to the slopes.
"At the beginning, I just wanted to ski a bit and try it out and if it was possible for ski races," Morgenfurt said. "After just trying, I told him my goals and then we started."
Immediately, the pair clicked, and they had similar goals: To achieve success.
"Christoph did his job very well, and we were able to attack more goals and races, and we were able to attack more goals and races," Morgenfurt said.
"I knew from the beginning that I must have the fullest confidence in myself, my body, my preparations and in my guide. So many successes came about in this short time."
Not long after, the two found themselves competing in Austria Cup races, eventually landing a spot on the Austrian National Team.
Despite a previous relationship, the most challenging part of skiing together was building "limitless" trust.
"I knew from the beginning that it was mainly up to me to transfer the safety and trust to the guide, so that he did not have to worry about the possible difficulties in the sport of blindness and about tasks as a guide" Morgenfut said.
"Much works with the power of thought, and this has been the case with me for many years.
"Success is always the first thing in your head."
The Paralympic Winter Games take place in PyeongChang, South Korea from 9-18 March. Tickets can be purchased here.