PyeongChang 2018: The 'guru' of Para ice hockey!
IPC writer Stuart Lieberman shares his experience of working at the Games
12 Apr 2018
Imagen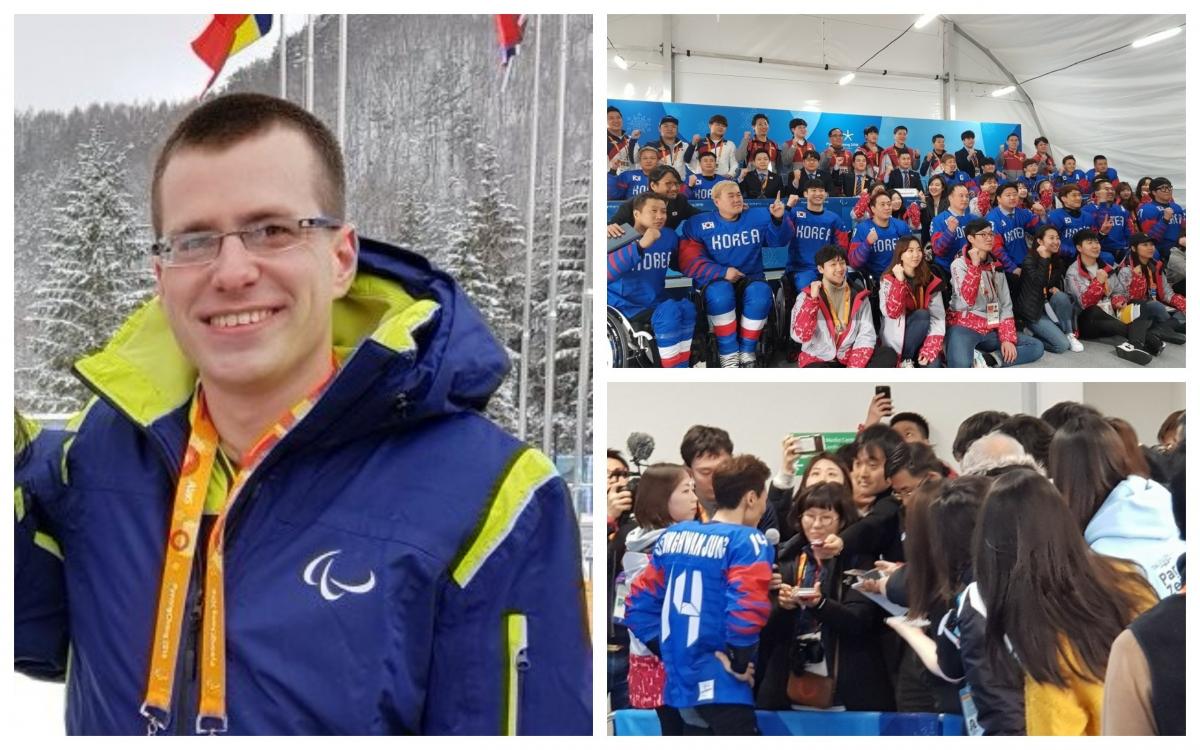 ⒸGetty Images
By Stuart Lieberman | For the IPC
While PyeongChang 2018 was the eighth international Para ice hockey tournament I covered in person, I was shocked when an IPC colleague called me a "guru" in the sport when I arrived on-site.
But, that first competition day, I learned that being a "guru" is what made these Paralympics different for me.
Let me rewind a bit, first.
Previously, I had the privilege of working full-time for the International Paralympic Committee (IPC) from 2011-2014, covering the London 2012 and Sochi 2014 Paralympics, and several world and regional championship events in between.
I left my full-time role with the IPC in 2014, but stayed on the last four years in a consultant capacity to assist with media content for Para ice hockey. It was a sport I first fell into when being handed a camera and tripod bigger than myself, and sent on a plane to the 2012 IPC Ice Sledge Hockey Championships in the tiny town of Hamar, Norway, without an inkling of what lay ahead.
Now, back to PyeongChang 2018.
Sitting (and sometimes shivering) in the Para ice hockey press tribunes and standing in the venue mixed zone for 10 hours a day was immensely rewarding, as I came into these Paralympics privileged to have already established working relationship with the majority of the athletes and knowing their back stories.
Simply put, I knew the faces behind the helmets.
I knew Brody Roybal and Kevin McKee woke up at 5am during the week to practice every day at a Chicago ice rink so they could help the US win another gold. I knew Sandro Kalegaris upstarted Austria's Para ice hockey programme and worked fervently to obtain a new passport so he could help Italy make the Paralympic semi-finals for the first time. I knew Seung-Hwan Jung had practiced his favourite "fighting" photo pose in every media mixed zone the last four years so he could be prepared for the South Korean media.
I'll spare you a brain dump of the other 100+ players, as you probably get the point.
Every goal and stat line this time around had context for me.
And, already comfortable enough with the logistics of navigating a Paralympic Games and knowing what to do should a challenge arise, I could sit back this time around and focus on the storylines on the ice.
Being so entrenched in the sport made the last two days of the Para ice hockey competition a thrilling roller-coaster ride of emotions. I felt like I had just watched a tear-jerking film with a perfect ending after seeing South Korea win a historic bronze and knowing how hard they had worked every day for four years. After the gold-medal game, I was just as depressed for Canada as I was elated for the US, knowing the sacrifices players on both teams made for these Games.
Watching journalists every single day in the media mixed zone uncover these storylines for the first time made me smile, as they, too, were now putting names to the Games. The powerful tool of storytelling was getting us all to smile, laugh, cry and get goosebumps together.
We were all learning more about the faces behind the helmets. We were all putting names to the Games.
When I returned home to the US, a familiar theme arose. Rather than friends asking questions they did four years ago like "How do sledge hockey players stay strapped into their sledges?" or "Are those athletes in wheelchairs able to drive cars back home?" they were now asking "What was it like to see South Korea win bronze in person?" and "Is Declan Farmer even human?"
People were now championing people. Everyone became invested in who these Para ice hockey players were, reacting to whichever storylines tugged at their heart strings.
The Games may be over now, but athletes' stories continue to evolve on a daily basis.
One month has already flown by, and new storylines are already emerging.
I encourage everyone to continue following these Para ice hockey athletes' journeys as this next Paralympic cycle begins because, trust me, you'll want to ride the roller coaster, too.
So strap yourselves in. Beijing 2022 is just around the corner.
Stuart Lieberman covers Para ice hockey for the IPC. He was the Para ice hockey reporter at PyeongChang 2018. He can be followed on Twitter @StuLieberman.