PyeongChang 2018 Paralympic Village ready
The village will house athletes and officials during March's Paralympic Winter Games
16 Dec 2017
Imagen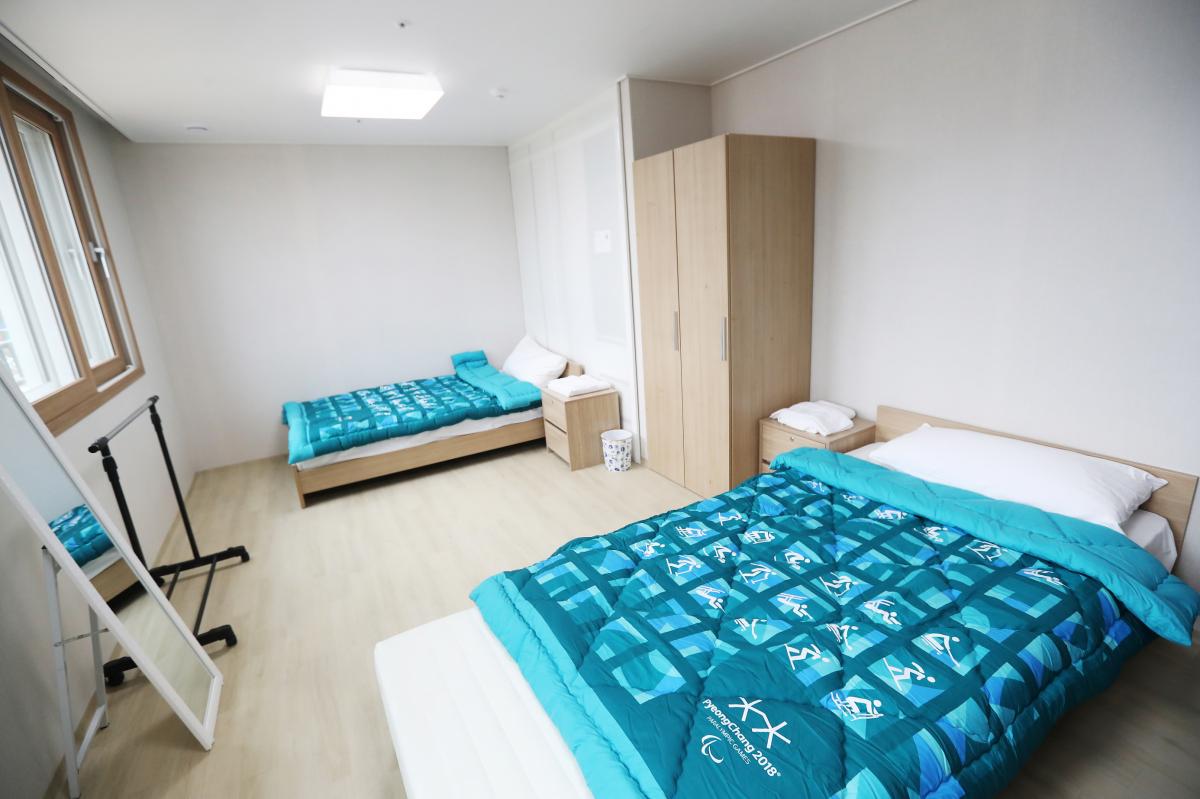 ⒸPOCOG
By POCOG
"The villages will serve as a place where athletes and officials can relax and connect with athletes from other nations, creating memories and friendships that will last a lifetime."
The villages for the PyeongChang 2018 Olympic and Paralympic Winter Games are complete. A special ceremony took place on Friday (15 December) at the PyeongChang Village to recognise the completion of construction at both athletes' villages, which will welcome their first guests on 1 February.
The PyeongChang Village will be used to house up to 3,894 athletes and team officials during the Olympic Winter Games, and will then be used as the PyeongChang Paralympic Village where it will house up to 2,268 personnel. The second village in Gangneung will be used to accommodate more than 2,900 for the Olympic Winter Games only.
POCOG President Lee Hee-beom said: "The PyeongChang 2018 Villages are complete after years of hard work and we are pleased that they will serve as a legacy for the Games.
"The villages will serve as a place where athletes and officials can relax and connect with athletes from other nations, creating memories and friendships that will last a lifetime."
The ribbon cutting ceremony was attended by the President of the PyeongChang 2018 Organising Committee (POCOG), Lee Hee-beom, along with the Minister of Culture, Sports and Tourism, Do Jong-whan, National Assembly Member Yeom Dong-yeol, Gangwon Province Vice Govenor Song Suk-doo, Gangwon Provincial Assembly Chairman KIM Dong-il, President of the Korean Sport and Olympic Committee, Lee Kee-heung, President of the Korea Paralympic Committee, Lee Myung-ho, PyeongChang County Mayor Sim Jae-gook, some other representatives of provincial government agencies and a selection of local residents.
The PyeongChang Village consists of 600 units across eight 15-storey buildings and was constructed by Yongpyong Resort with 180 billion won of private investment. The Gangneung Village has 922 units across nine 25-storey buildings and was constructed by Korea Land and Housing Corporation at a cost of 214.6 billion won.
Both villages have been designed to provide a home from home for the participating athletes and officials, and have been built in locations that allow for short travel times to the respective competition venues near each village.
Onsite, residents will find a host of facilities that they have come to expect and enjoy at all Summer and Winter Games including a bank, post office, general store, laundry service, fitness centre, recreational centre, a beauty salon and a multi-faith centre. The villages also have a large dining facility that will cater a wide range of cuisines and dietary requirements and serve up meals 24 hours a day during the competition period.
Each athlete delegation will be part of an official welcome ceremony when they enter the village at the central square. This will be the site for various cultural events and performances during the Olympic and Paralympic Winter Games including K-pop concerts, traditional Korean musical performances and special mask dances on Lunar New Year's Day. The cultural programme within the villages has been designed to meet the cultural vision of the Games and give all delegations the chance to experience more than just their competition venue and sport during their time in PyeongChang.
Both villages were offered for sale to the general public and were completely sold out in May, 2017 and November, 2017 in PyeongChang and Gangneung respectively. They will leave a legacy from the Games for generations to come.
All that remains to be done is the final overlay and completion of the temporary tents that will be used as village operational facilities. The construction on both villages began back in mid-2015 and was completed on time.
The PyeongChang 2018 Paralympic Winter Games will take place between 9-18 March. You can buy tickets for the Games here.