PyeongChang 2018: Wheelchair curling flash quotes
The athletes' reaction following the bronze and gold medal matches
17 Mar 2018
Imagen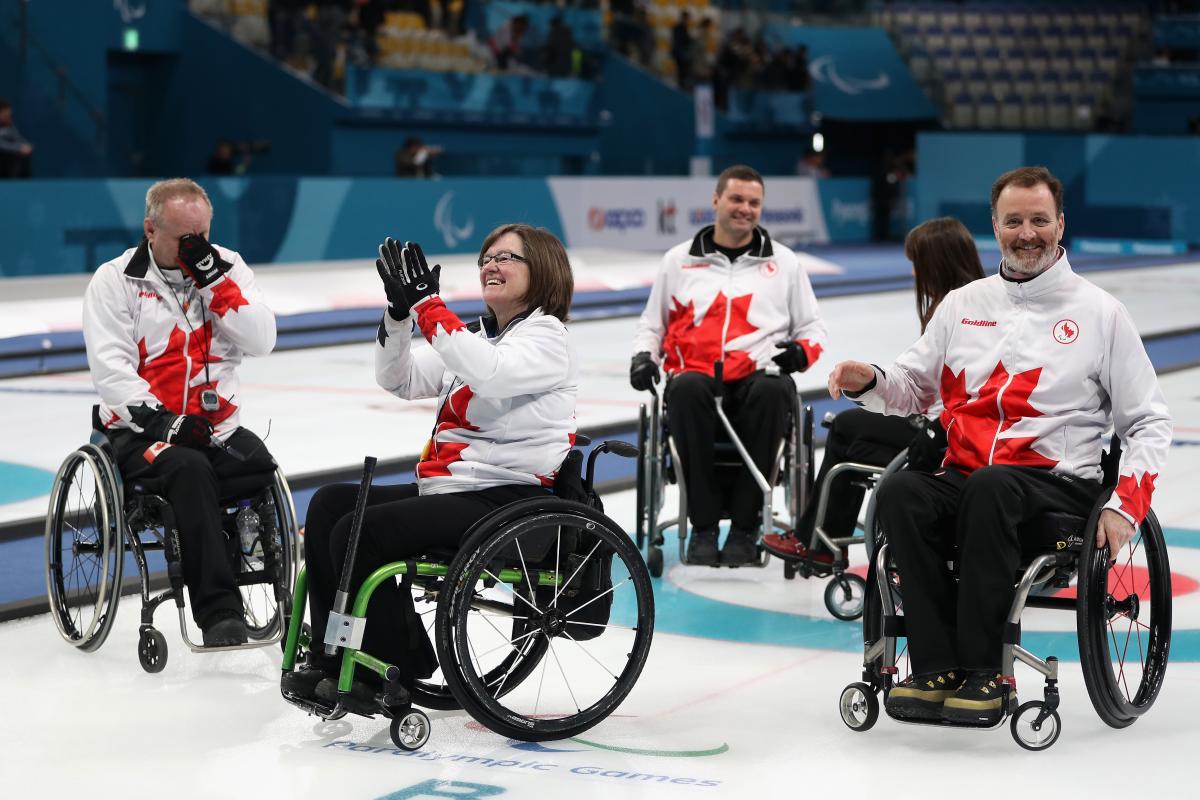 ⒸGetty Images
Wang Haitao (CHN) - gold
"At the beginning I was so nervous and I felt the pressure so I was making mistakes. Now I am so happy."
"All my friends and family were watching the TV to see this final."
On preparing for the final.
"I had a good night's sleep."
Rune Lorentsen (NOR) - silver
"It's all good, I have to say. I think we played a good final. We made some mistakes in some ends, which was a pity because we had some chances to get some more points. But we'll have to take it as it comes."
"I don't know what I was thinking. Afterwards, I think that I perhaps should have gone around it with the second stone and closed that gap.
"I regret it now, but that's how it is. We made a couple of attempts to stop their best stone but we failed."
On whether winning Norway's first ever wheelchair curling medal almost feels as good as a gold:
"Oh my God yes, I'm super happy."
Mark Ideson (CAN) – bronze
"I did shed a tear because my family is here, my kids, my wife, my parents. In 2007 after my accident (helicopter crash) I couldn't imagine me in this position. I was a broken person and we were navigating new waters. Without the support of my wife and my family I wouldn't have made it here.
"After a life-changing accident it puts a new perspective on life. No matter the results this week I know my kids are still going to love me, my wife is still going to love me and the sun is going to come up tomorrow. I was emotional, I am emotional."
"We had a goal. We know we have a target on our back and today we played for Canada."
"It is kind of fitting that Jon Montgomery (Canadian Paralympian who inspired Ideson to take up sport and who celebrated winning skeleton gold in Vancouver 2010 by drinking a pitcher of beer in public) started this journey for me and I might end it like he did. If someone hands me a pitcher then I will drink out of it."
"We played our hearts out yesterday (Friday) and the result didn't go our way so we picked each other up and played for each other and played for Canada.
"We had some laughs, kept it light, ate together, hit the hay early. What an opportunity to represent your country and ultimately it doesn't matter the colour of the medal, it is the flag on your back that matters.
"It is great to come out with 'W' (win) despite the way I was playing out there. Marie (Wright), Ina (Forrest) and Dennis (Thiessen) are world class. I don't know what Ina shot but she shot the lights out. I think she is the best in the world."
Ina Forrest (CAN) - bronze
"Tears shed, even from the unexpected ones. Oh yeah, Mark's emotional, and Jamie (ANSEEUW), now that surprised me. Tears there too. It's not me, I don't cry. I'm just so happy that it is beyond tears."
On recovering to win a medal after losing the semifinal against China on Friday:
"In this field a medal is a huge win. Yesterday didn't work out for us but we have come back, played hard and to go on the podium is a big win."
Marie Wright (CAN) - bronze
"It is my first ever Paralympic medal, the first time I will be on the podium and I had butterflies today. I got stronger as I went on and the more butterflies I had the stronger I was able to play.
"When I first started curling I would never have seen myself here. I've had a lot of feedback from home and my kids and friends can't go anywhere without someone saying, 'Hey I've seen your mum'."
Dennis Thiessen (CAN) - bronze
"I have had a tough past four years. To be here and win a bronze is just amazing.
"This was very emotional for me. I went through cancer and I never thought I would get a chance to do this again. My coaches believed in me and I am here today.
"I fought like heck. I was on the ice more and trying to do what I could do, and do it better."
Wayne Kiel (CAN) – coach
"That was a heart breaker. The interesting thing about this team is that we walked into the dressing room yesterday (afterwards) and Mark (Ideson) gave us a tremendous motivational process that we just followed."