No. 13 IPC's sponsorship success
IPC signs new partnership with Panasonic and extends its partnership with Samsung
19 Dec 2014
Imagen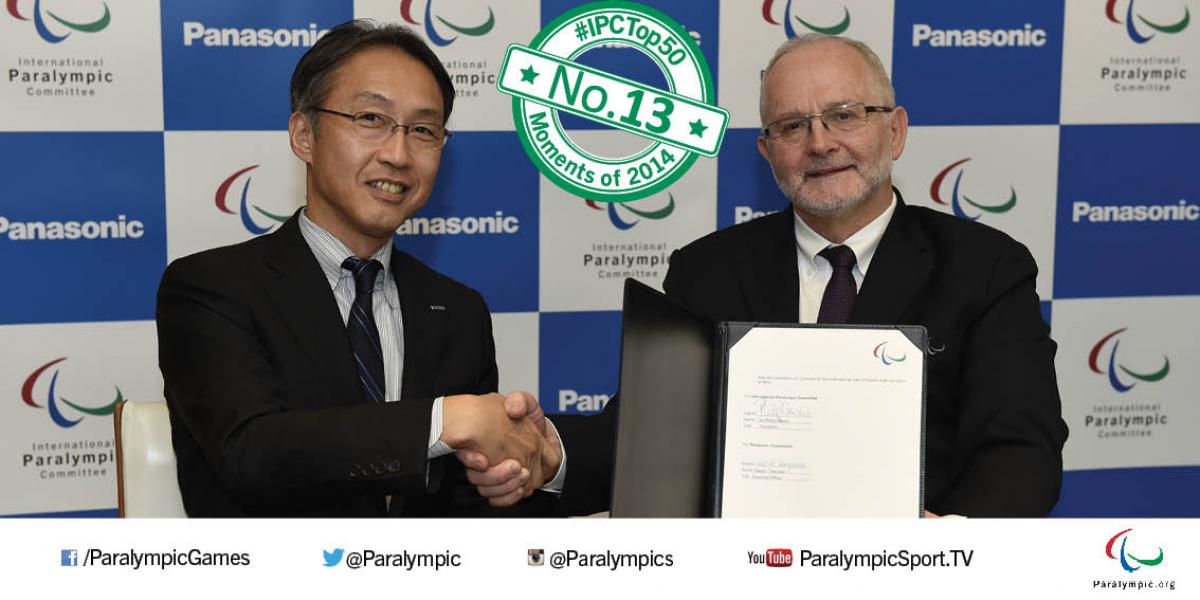 ⒸPanasonic
By IPC
After ending 2013 with BP signing as a new international partner, the International Paralympic Committee (IPC) extended its partnership with Samsung and added Panasonic as a World Paralympic Partner in 2014. This sponsorship success made it to No. 13 of the IPC's top 50 moments of 2014.
Panasonic – a new Worldwide Paralympic Partner
On 15 October, Panasonic announced it had signed an Official Worldwide Paralympic Partnership agreement with the IPC for six years and two months from 2014 to the Tokyo 2020 Paralympic Games. This made them the fifth Worldwide Paralympic Partner alongside Atos, Ottobock, Samsung and Visa.
IPC President Sir Philip Craven, attended the signing ceremony in Tokyo, Japan, and expressed his joy about this new addition to the IPC's sponsor family.
"We are absolutely delighted that such a prestigious and globally reputable company as Panasonic has signed to become the IPC's latest Worldwide Paralympic Partner," said Sir Philip.
"In recent years the Paralympic Games has grown into the world's third biggest high performance sporting event. Through this partnership with Panasonic I am confident we can consolidate this position and grow the Paralympic Movement to new levels as we build towards the Tokyo 2020 Paralympic Games."
The new agreement not only includes the already existing Audio-Visual Equipment category but also includes such disability care products as The Shower and Wearable Powered Suit. For these products, Panasonic has acquired global marketing rights with the Paralympic Movement in conjunction with the Paralympic Games.
Extending the partnership with Samsung
Just eight days later, the IPC announced the extension of its partnership agreement with Samsung Electronics through to the PyeongChang 2018 and Tokyo 2020 Paralympic Games.
For the next six years of this agreement, Samsung, who has sponsored the IPC since 2006, will remain as one of the IPC's Official Worldwide Paralympic Partners and will expand its category of sponsorship after 2016 to the "Wireless Communications Equipment and Computing Equipment". This includes smartphones, tablets, laptops, personal computers and other computing equipment, and desktop printers.
Sir Philip said: "Samsung and its wireless technology have a long and rich history in delivering unforgettable moments for the last five Paralympic Games. Through various campaigns, Samsung has led the way in engaging the wider public in the day-to-day lives of para-athletes in the lead-up to and during Games time. We are delighted to be able to continue inspiring more people to become engaged and involved in the Paralympic Movement and Paralympic Games together with Samsung."
In partnership with the IPC, Samsung honours the commitment of Paralympians by encouraging people to view them as athletes with the same shared passion for sport. Central to that mission is Samsung's Sport Doesn't Care video campaign, which was updated for the Sochi 2014 Paralympic Winter Games following its success during London 2012. Through Sport Doesn't Care and other programmes, Samsung and the IPC aim to change people's perception of Paralympic athletes.
Samsung and the IPC will also continue the Samsung Paralympic Blogger programme, where Paralympic athletes have the chance to connect directly with fans via social media. Samsung provided Paralympic athletes with Samsung Galaxy devices to chronicle and share their personal behind-the-scene Paralympic Games experiences through exclusive video blogs during London 2012 and Sochi 2014. For the Sochi 2014 Paralympic Winter Games, Samsung also introduced the Accessibility Map mobile application, enabling people with impairments to easily find barrier-free facilities across Russia and nearby locations where they can practice Paralympic sport.