PyeongChang 2018: Alpine skiing flash quotes day 4
Athletes' reaction to six medal events in super combined on Tuesday
13 Mar 2018
Imagen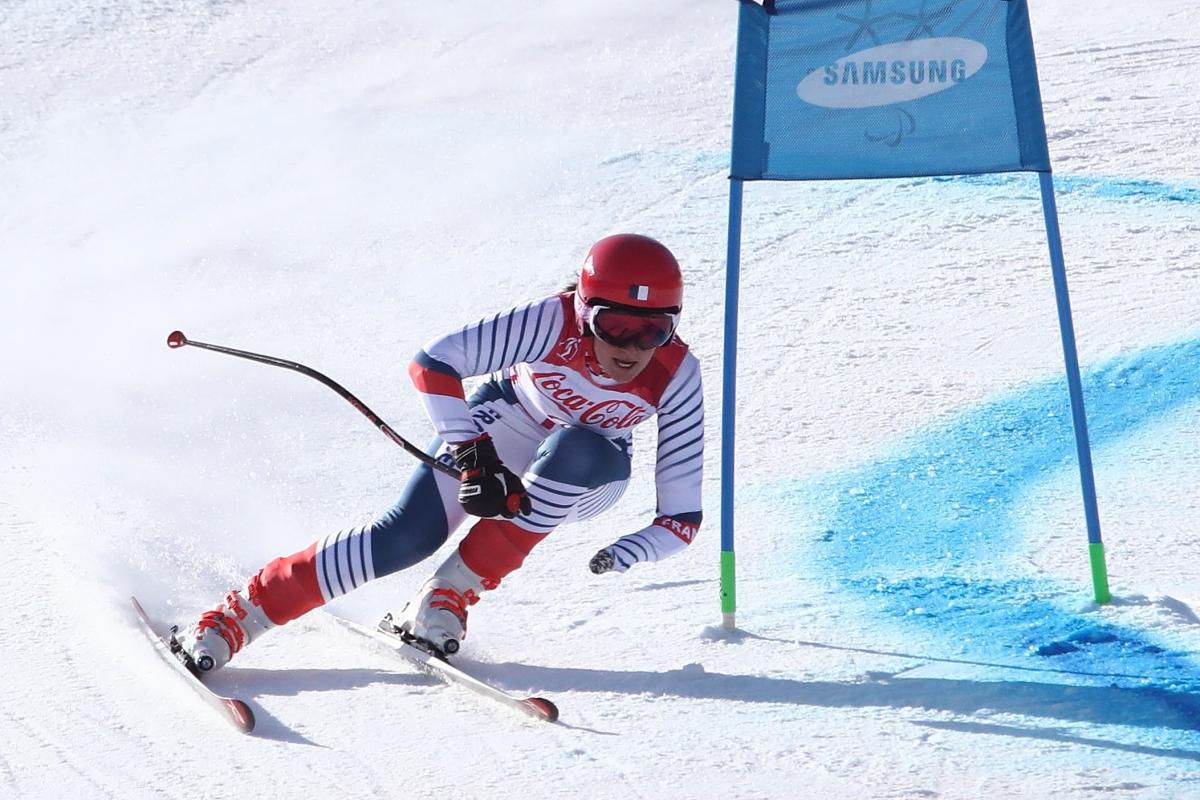 ⒸGetty Images
Henrieta Farkasova (SVL) - gold medallist in women's vision impairment
"There is definitely a lot of sweat behind it: a lot of training, a lot of tears, struggle, internal struggle particularly when something is not going your way. We had a really hard last training before PyeongChang back in Slovakia.
"It might look so easy in the competition but it's definitely not. Once you are competing at such an event though you have to be confident in your skills and make peace with it.
"This is what we are trying to do and we are pretty experienced. This is our 10th season and third Paralympics: we are ready.
"I am a little bit tired because it was quite a demanding day and also a bit relieved after we crossed that finish line because of the huge mistake we made on the bottom part of the course.
"The pressure definitely went up after that mistake but all I tried to do was get myself together, fight for that gate and then once I made it, refocus and push through to the finish.
"We are aiming for five golds and tomorrow we are hoping for another one."
Mollie Jepsen (CAN) - gold medallist in women's standing
"I didn't know until after my super-G run (that Bochet had fallen) because I try and stay away from everything but after I saw that I was like, 'OK, you have got to bring the slalom skiing back into your life and get it going. It was definitely a little bit of a boost.
"I was just trying to keep a really positive vibe at the top of the hill. I don't ski a lot of slalom so I didn't have very high expectations for this run so I was just trying to be aggressive and ski my best. It turned out pretty well.
"In the environment I was in, I had a lot more adrenaline, aggression.
"I enjoy slalom but I am definitely more of a speed skier.
"I have had two ACL (anterior cruciate ligament) reconstructions which is also a reason I have drifted away from slalom because it is quite aggressive on the knees. They felt good today.
"I have put a lot, a lot of work into rehab and everything is coming along this season and I am feeling really strong."
Anna-Lena Forster (GER) - gold medallist in women's sitting
"It's awesome for me. I trained so much in the last years and I wanted to be on the top of the world and now I have reached it. It's incredible.
"It's incredible, I can't imagine it, it's so crazy.
"I had no pressure because I knew whenever I got a medal it would be awesome.
"I knew (after the super-G section) that I had not that big a gap to the top (and) that I could reach it in the slalom. I was sure I could get a medal, I was not sure it would be gold.
"It was a fight today. It was very hard, the course. It's not easy.
"I trained a lot in slalom and I know I am good in it but when there are courses like that, or a hill like that, it's not certain I can get it (the gold)."
Miroslav Haraus (SVK) - gold medallist in men's vision impaired
"It is my first gold medal and I'm very excited for (it) of course. The competition was perfect today because the track was well prepared and the organisation is also very good and I am very satisfied.
"There won't be a celebration now because I have two more competitions, but after all the competitions (there will be) great celebrations."
Aleksei Bugaev (NPA) - gold medallist in men's standing
"I am very tired because it's a very long day. I am happy.
"I (was) expecting the best result of course, but before it was difficult for our group.
"Slalom is a more technical discipline, a more difficult discipline, I think."
Jeroen Kampschreur (NED) - gold medallist in men's sitting
"That was amazing. It was a dream come true. It was kind of the same as the World champs: third after the first run in the super-G and make everything up in the slalom. Everything was following my plan in my head. I went at the slalom so fast. I just wanted to win, I wanted the gold medal. First gold medal for the Netherlands in alpine skiing.
"It was a long day. It was hard to keep my focus but still I could put pressure on it and I could maintain my focus with skiing. It was amazing. I was enjoying (it) while I was skiing slalom. I was going so fast and everything was going to plan.
"Three years ago I was 10 kilos lighter and we gained a lot of muscle. I gained 10 kilos in three years. (A lot of steak?) Yes, and a lot of bench pressing and chin-ups and everything. It's necessary, I'm small. I was light but not any more, and in the speed discipline you need some weight."
Menna Fitzpatrick (GBR) - silver medallist in the women's standing
"It was good, it was tough. It is pretty tough up there. It's the warmest weather we've had skiing in a very long time so the snow is getting really soft, really slushy. The slippers (whose job is to slide sideways down the course, smoothing it out) have done an amazing job on the course. (We've got) factor 50 (sun cream).
"It (her run) felt really good, a lot better than the super-G run the other day. I was definitely skiing with a lot more confidence. We (with guide Jennifer KEHOE, GBR) both were.
"When I first went ski racing, which was when I was 13 years old, I went away on a Ski Fest holiday along with the GB rowers, Sir Steve Redgrave, Matthew Pinsent (GBR), and they were a great laugh and Steve Redgrave brought his gold medal and he let me hold it and said, 'This will be you one day'. Finally, I got a silver and a bronze (in women's super-G visually impaired)."
Andrea Rothfuss (GER) - silver medallist in the women's standing
"Definitely (disappointed), but more about my run and performance than about the medal because (being a) three-time silver medallist here in PyeongChang that's really great. It's just with my performance.
"I wanted to go fast and I tried to push myself and my ski down but in the end it was a little bit too slow, my movement. I guess Mollie (JEPSEN, CAN - gold) had a really good run and did it a lot better than me.
"I just couldn't do what I wanted. The body was feeling really good."
Anna Schaffelhuber (GER) - silver medallist in the women's sitting
"It's not disappointment. Before the Games I always said that I won't win the five gold medals because if you have seen the results of the season, you have seen that she (Anna-Lena Forster) is very, very strong in slalom. I didn't think about winning the five golds.
"The super-G was very good for the most parts. In slalom I had my problems.
"From the first gate it was a fight until the finish line but, all in all, I won silver today and I knew Anna-Lena is very strong in slalom this year, so it's OK. I am happy with that, I have respect for her performance.
"It's very hard when it doesn't feel very good. I just had to focus on the next gate, keep the ski going.
"From the first gate I didn't have a good feeling at all and from the halfway gate I was like, 'Oh my goodness, I don't think I have any advantage (over the field) at all'. Then I just thought about fighting."
Jon Santacana Maiztegui (ESP) - silver medallist in men's vision impaired
"It was very difficult for us, we did a very good slalom run. Not the super-G as well, but overall we are silver and it's incredible and amazing for us because we are not in the top world class, but this silver medal is amazing for us.
"I first started skiing, my grandfathers were (inspirational) in life, not in skiing and also they were very good skiers. In Alpine skiing my hero is (former World Cup champion) Hermann MAIER (AUT). I am meeting him so it will be very nice. Some friends are recording a film about us and they contacted Hermann MAIER because he is a hero of (mine). They tell the story and he says, 'OK, I want to meet him'."
Arthur Bauchet (FRA) - silver medallist in the men's standing
"It is magic. I can't dream better so it's just perfect.
"The conditions were good, but a little warm. The run was difficult so I am happy to arrive at the bottom of the slope and that is (the) satisfaction for me. (Is it like being on a summer holiday?) Yes, but I'm on the ski slope but not on the beach so it's not good. I think I'm going in the wrong race."
Marie Bochet (FRA) - after failing to finish her first run
"It is so much frustration. I did a really good run. At the start I did my best skiing which I was really happy with because it wasn't the case in the super G and the downhill.
"It was a crazy run and really I take so much pleasure. I was so concentrated. I just missed the line on one gate.
"We knew that this gate was very hard to take. On the inspection, I was very concentrated on it and I was a little surprised by not seeing a gate (before) and then I missed the next one. It's like that.
"It was a technical run, more turny and more technical (than the super-G individual). I like this run.
"Our sport is like that, if you miss a gate it's finished. I promise, I looked up to see if I could take the gate but it was so far. It's the game I play and I don't regret today. And that's my goal, I don't want to have some regrets.
"I will come back tomorrow."
Mac Marcoux (CAN) - after failing to finish his first run
"I overskied it. I went a little outside the paint and got caught up in some of the bumpy stuff, leaned a little bit inside and ended up falling over. Got close but not quite far enough.
"We try to push as hard as we can. Sometimes it works and sometimes it doesn't. It feels good going out knowing we were trying hard."
Theo Gmur (SUI) - after failing to finish his first run
"I can say it was my mistake. I didn't inspect well today. When you don't inspect well, you can't (expect to) finish the race. My head was in another world I think because of the two golds. I was thinking about the golds, all the emotions of the past two days."
"I did all that I had today, it was not so good but tomorrow is giant slalom and I want to win another medal. I don't want to think too much about today. It's life.
"For tomorrow it will be good. Giant slalom is my race."
Claudia Loesch (AUT) - after failing to finish her second run
"In 16 years of racing I have never missed a gate because I couldn't remember it. I was so focused on just skiing well that that hairpin, which I needed to ski from the other side, I completely forgot about it.
"I know it's something that shouldn't happen after 16 years of World Cup racing but that's what happened today. It's so absurd. I have been racing so long and that has never happened to me in a race before.
"I was feeling good, I haven't skied slalom that well on a course that difficult in a very long time.
"I am just having a Games where everything happens it seems.
"At the moment I definitely get the feeling that the Games are somewhat cursed for me. I will try to battle it and come back in the GS (giant slalom)."