PyeongChang 2018: Biathlon flash quotes day 7
Athletes give their reaction after races over 12.5km and 15km
16 Mar 2018
Imagen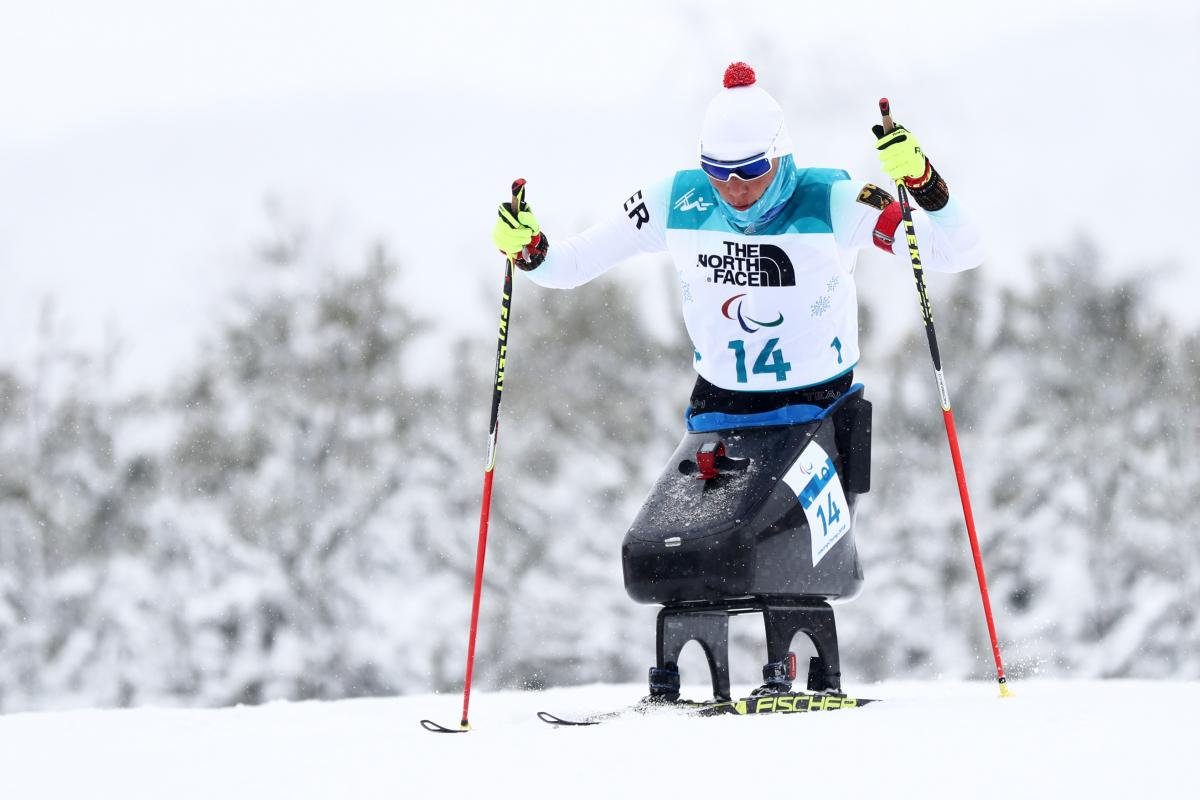 ⒸGetty Images
Mikhalina Lysova (NPA) - gold - women's 12.5km vision impaired
"I was carefully aiming each shot because I didn't want to be stressed out on the last lap and have to fight for first place. I wanted to get to the finish line in a relaxed state and enjoy each moment.
"I was focused on the last shooting because nobody knows what will happen there. But after the last shooting, I got up with a smile and I already knew that we were first and our victory will not get away from us."
"Today everything came out well, the skiing and the shooting, so everything was super."
Vitaliy Luk'yanenko (UKR) - gold - men's 15km vision impaired
"I was nearly fainting because I was so tired. The start was very strong. I think I skied these 15km not worse than the 7.5km (race). Even though it was twice as long, the intensity was the same. I skied at the same speed as I did the 7.5km."
"Perhaps I took too long to shoot, and the coaches will tell me about this, but overall I am happy with the race. Everything went well, especially the skiing, so I think I was able to win back the minute penalty that I got (from the missed shot)."
Andrea Eskau (GER) - gold - women's 12.5km sitting
"Sometimes everything works together. You don't do anything different than the other days but it works together, I just go on the track.
"I had to just do my part, nothing more, nothing less.
"I was sure I had to stay zero [n shooting] because of the time gaps, so I was more focused there, but the track part was going very easy.
"I was a little bit more focused on the shooting. I took more time than the other times, because it depends really on the shooting. One miss will hurt you very much because of this minute [added to the time per miss] so I stayed a little bit calmer and took more time because I was sure I could even catch some time in the tracks if it'd been necessary, but it was not.
"It's crazy. You can't explain it. I never count or think about it, it doesn't matter to me, to me the race matters. Have I made the right decisions? I don't count the medals but a lot of media types seem to be doing it."
"The summer was nice for the tan, but the snow conditions were really bad two days ago.
"[Yesterday] our whole team was on the beach with short pants and T-shirt. They had no bathsuit to go into the water, otherwise they would have gone. They sent me pictures and I thought, 'That can't be here, have we gone to Thailand or something?'
"I have a little cold and I have to prepare myself for the last races so I decided to stay in bed and take a rest. I don't like long car rides and I don't like beaches that much anymore because of the wheelchair. You can't go into the water with it and I don't like the feeling of being unable. I like to watch it but it makes me a little bit sad."
"He [teammate Martin Fleig] is one of the best biathletes in the world and he didn't win any medal in his two races before so he had a lot of pressure before this race. I told him he needs to always remember what he can do. He is able to shoot zero, he is a much better shooter than me, and I think he has done it.
"For him it's really important to know that the material is good and he saw that in the first laps for me, we are together with the good ones [wax technichians] and this weather is really good for the German team."
Oksana Masters (USA) - silver - women's 12.5km sitting
"It feels absolutely amazing because I never thought I'd ever be able to clean [shoot] a four-stage biathlon race, let alone an individual where every missed shot is a minute penalty. I never considered myself as a biathlete and now I can't believe that it's my second time on the podium for biathlon racing at the Paralympic Games.
"I cannot ask for anything more for myself at all. I've never cleaned a four-stage race ever for the five years I've been doing this.
"So excited, especially to get on the podium and redeem myself from the last race [women's 10km] where I was not able to finish at all."
"It's much prettier with a white background.
"I have this massive tan line from my hand right now, I'm sunburned, and now I'm freezing. But it's good, we needed the snow."
"She's [Andrea Eskau] a really great biathlete. She's had many many experiences shooting and doing this, and I'm just a baby still in this. I know I have way more to go and learn."
Lidziya Hrafeyeva (BLR) - bronze - women's 12.5km sitting
"l like this distance. Today the weather was excellent, the skis went really well. I could keep pushing more the whole way and to be honest I only started to get out of breath in the last lap when I understood that I had to give it everything I got.
"The wind was different at every shooting. Sometimes it was completely calm and sometimes the flag was completely parallel to the ground, so we made adjustments as we went.
"I was lucky. One miss is very little for today.
"I understood that this biathlon race was probably my last chance for a medal because I'm not the best cross-country racer here. We have girls that are much stronger than me.
"It is very hard to cling to medals. The girls are very strong. All the girls that are on the podium today with me came from the Summer Games. They all win medals at the Paralympic Summer Games and myself I'm not as professional as they are, so for me it's a big honour to be next to them on the podium.
"I dedicate this medal to my mom.
"My mom is very emotional. She loves biathlon madly. She always watches all the able-bodied races. She watched biathlon even before I started training in it, so I think she will be very proud today."
"She's [Andrea Eskau] a real warrior. She's at such a great age and when I watch her race I see how professional she is. She is an absolute professional."
Martin Fleig (GER) - gold - men's 15km sitting
"It's amazing, I don't know what to say. It's an unbelievable feeling and an unbelievable day for me. We had perfect skis, perfect clean shooting which is important for the individual race. It's awesome.
"It's much bigger for me, it's awesome.
"It's special for me because it's only on every four years."
"It was very hard because I knew I was in the lead by four seconds, but I knew what I can. I had to concentrate and I did it.
"I imagined that I'd been at home at a training, everything is normal. That was what I thought."
"Andrea [Eskau] is always an inspiration because she's so professional and always so strong, and it's amazing for me to be her teammate."
Daniel Cnossen (USA) - silver - men's 15km sitting
"I came into these Paralympic Games not thinking about medals because that's not really what it's about. The media and others sometimes tend to focus on medals, but as an individual I can say, within my own sense of meaning of what this is about, it's being in the intensity and the moment of the race, pushing myself, especially on the last lap when the coaches are telling me to go harder and go harder. I really key off of that. That intensity is hard to find in other aspects of life. That's why I really like racing, especially at this level.
"It is quite special. That is what it's all about. That moment is not about a medal afterwards or any of that. It's about the intensity and savouring that high that occurs in a race. It just makes me really want to do this in four more years.
"I'm getting a bit tired, but I also had a little bit of regret from the sprint race the other day and I wanted to make sure that I had a solid performance and not lose the mental battle to stay on top of my own performance."
"This [the snow] is what makes the sport so interesting. One day to the next can be quite different and especially on a biathlon day when you have to account for shooting, it just makes it interesting."
Collin Cameron (CAN) - bronze - men's 15km sitting
"It feels amazing coming home with two biathlon medals. Didn't expect that at all, so it's pretty cool. It's exciting.
"I just went out there trying to be very steady and focused and pace it as well as I can, and it felt very comfortable."
Anna Milenina (NPA) - gold - women's 12.5km standing
"I was just told that I'm a seven-time champion. I didn't even think about that.
"I didn't think about that. Just personally I had a sense of content that the Paralympics are going well. To be honest, coming in here I thought that if I get four medals at these Paralympics, that would be good. And this is the fifth medal at these Paralympics so my statistics just went out the window.
"I liked it out there today. The skis slided well.
"The wind is not so strong in the shooting range and when you ski, you don't feel it. It pushes you from the back.
"There were nerves at the finish line as I waited when Katya would finally finish. The difference on the course was eight seconds they said, but it seems I was able to hold on to these seconds. If it wasn't for the last miss I could have skied more calmly."
Ekaterina Rumyantseva (NPA) - silver - women's 12.5km standing
"It was cold. It was hard.
"On the range my hand was frozen. As soon as I came to the finish they tried to warm me up.
"I didn't know how far I was behind. I was told later that I was losing by 30 seconds and I didn't know how I would regain that time and catch up to the others."
Mark Arendz (CAN) - gold - men's 15km standing
"I wanted to be consistent and focus on my process all week and this race is to my strength. It's a shooting race and you have to go clean."
"Process was key today, just making sure I'd hit those 20 targets. Once I got to that last bout I knew I wasn't going to miss so I made sure every shot before I pulled that trigger and in the end I was clean and that's how I needed this race to be."
Benjamin Daviet (FRA)- silver - men's 15km standing
"It is a great pleasure. It is marvellous to be the best among the best Nordic skiing athletes of the world.
"I am truly very, very happy to have two gold medals and also the silver medal.
"I was accelerating on the skis, everything was going well, but then in the shooting range I made a mistake and lost a minute. After that it was a bit more complicated.
"I was still searching for first place, it was still possible, but the Canadian did a perfect race and the Norwegian (bronze medallist Nils-Erik Ulset did a perfect race and today they were stronger. All my respect for them.
"It was a little bit more complicated to succeed today than in the previous days because we had to go through the cold, but now we have conditions that are typical for winter, so it is normal."