PyeongChang 2018: Cross country skiing flash quotes day 8
Athletes have their say after the 7.5km/10km races on Saturday (17 March).
17 Mar 2018
Imagen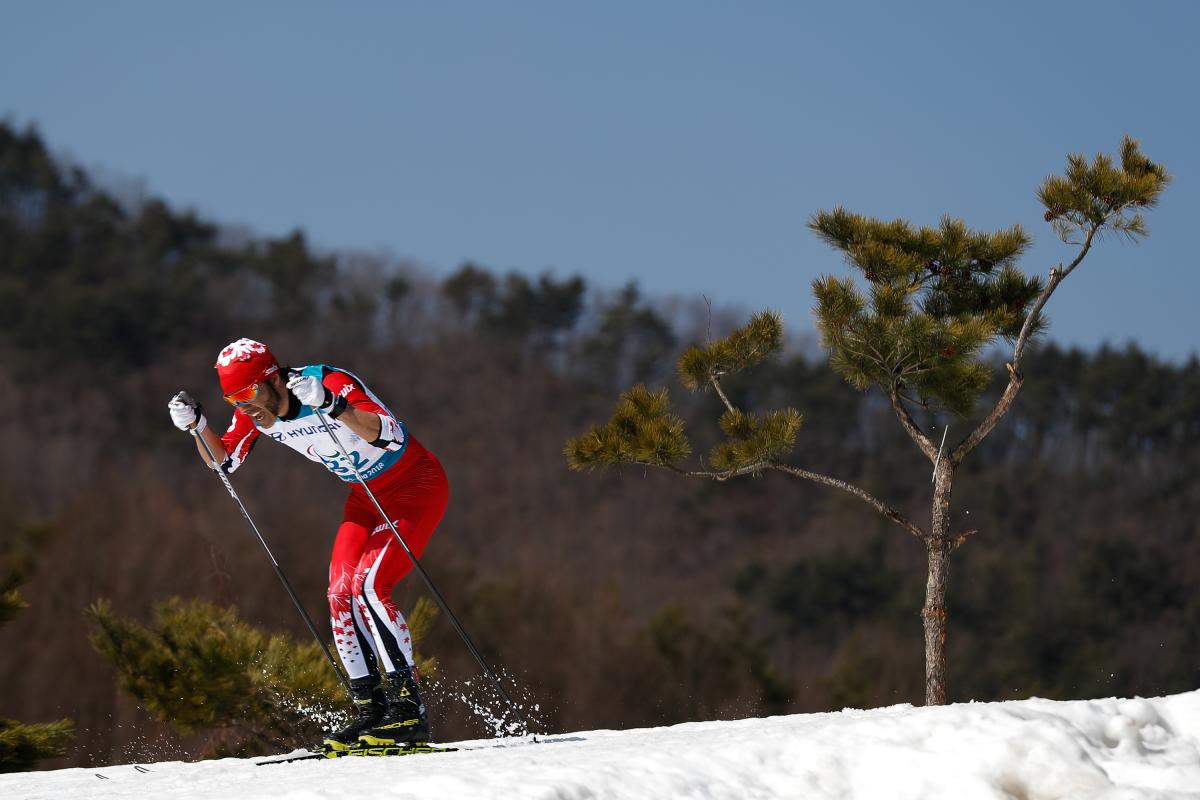 ⒸGetty Images
Sviatlana Sakhanenka (BLR) - gold - women's 7.5km vision impaired
"This was an anticipated gold medal. We were expecting only gold and preparing only for gold. But it was hard. It was not easy at all. The last individual race, it was not easy."
"A lot of the medals were a little bit expected, so everything is well deserved. I think that I gave it 100% and everything worked out just as I wanted it to."
Carina EDLINGER (AUT) - bronze - women's 7.5km vision impaired
"Since I was a young child, since I was born, I was always watching the Olympic Games or Paralympics and it made me so happy when someone got a medal and it was my biggest dream to get a medal one day and today it came true.
"I had two very bad races before and I never thought that it would happen or that it would be so hard, and now I'm here and I'm just crying."
Natalie Wilkie (CAN) - gold - women's 7.5km standing
"I didn't think I would get gold at all. This is only my first Paralympics and I'm 17 this year. It feels awesome, especially to be sharing the podium with my teammate, Emily."
"I saw Emily coming and I knew she had won a medal. She looked so strong coming into the finish and fast. She just collapsed at the end. I knew she had emptied her whole tank."
Ekaterina Rumyantseva (NPA) - silver - women's 7.5km standing
"I knew that I was losing 10 or 15 seconds. I finished and I was told, 'You were losing by 20 seconds. We decided not to tell you about it'. When I was coming to the finish, I heard, 'You are losing 10 or 5 seconds', so I hurried but I just missed by a little bit. It's a pity, it hurts."
Emily Young (CAN) - bronze - women's 7.5km standing
"It's unreal to even be here because I only started skiing three-and-a-half years ago so it's pretty crazy, for one, to be at the Paralympics, but to bring a medal home, that's pretty incredible."
"She (Natalie WILKIE) was thinking of her brother and I was thinking, 'Whatever Natalie was doing'. She has that other arm to swing and I was like, 'OK, what would Natalie do right here?'.
"I was trying and trying. I was just a little bit short every time but I knew, if anything, my chance was going to be in classic. I've been closer and closer in this race in the World Cups that I knew, if anything, this was going to be the time.
"There's nothing left in the tank. It was all left out there and, if not, it was sweated out. It was so warm."
Eui Hyun Sin (KOR) - gold - men's 7.5km sitting
"It was my dream to win a gold medal in the Paralympic Games and I don't have any words to describe this feeling. Now my dream has been realised.
"I'm so happy to perform my game at home in Korea and in biathlon I was a little bit nervous but I promised to all the press and journalists that I would sing the hymn of Korea. Today we heard the Korean hymn and I'm very happy for this."
Brian McKeveer (CAN) - gold - men's 10km vision impaired
"It was fun today, it was hard, awesome teamwork.
"We got here (to the venue) early, first athletes on the tracks this morning, Russ and Graham (guides) and I were testing skis. With a 35-degree (Fahrenheit) temperature swing from the other day to this morning, it was so different and we had to make sure we were on the ball and early and well prepared.
"He (Zebastian Modin) was ahead of us before he had two falls - one bad enough so that he couldn't finish. And that hurts and it hurts us too because nobody wants to win that way. He's a good friend of mine and I was really worried that he was injured, so I just hope he's OK. That's more important to me right now than winning a race.
"He was leading, he had every chance to win, he was strong. He made an interesting choice to go with no kick wax, to go double pull only, like we did in the sprint. It's not an obvious course for double pulling, there are some big climbs out there.
"You've got to have some big 'you-know-whats' in order to make that call and in the end he did it. He took the risks to win today and he deserved better than he got. He really did."
On winning his 13th Paralympic gold medal:
"The medals look nice but it's representative of all the work that's put in.
"We do several training camps a year, they're often three weeks long, often at a high altitude. On those weeks we might be training over 30 hours each week."
Jake Adicoff (USA) - silver - men's 10km vision impaired
"It was great. We got out here and the skiing was just so good. The skis were maybe the best out there, so it was a big help and the race was just super fun. We started skiing a little bit conservative and then just tried to build throughout the race.
Yury Holub (BLR) - bronze - men's 10km vision impaired
"The fatigue has built up. It is hard.
"There were a lot of races (at PyeongChang 2018), almost all of them ended with us among the medallists, and in each race you give a lot. The fatigue is just unbelievable.
"We didn't do enough for gold, and I do aim for gold at the start of each race.
"It was hard to ski, but we battled, we were putting our last teeth into it.
"There is no strength left. We need to go and get it back somehow (for Sunday's relay events)."
Yoshihiro Nitta (JPN) - gold - men's 10km standing
"I promised my child that I would get a gold and that's what I am most happy about, that I can keep that promise.
"I think what helped me win the gold was that the snow was very hard and firm, and there was many ups and downs on the course and that was a benefit for me."
On his wife cheering in the stands after he had promised to buy her a luxury handbag if he won gold:
"We'll have a family discussion about this.
"Hermes is too expensive, maybe it will be a Gucci one."
"The bigger things that helped was that I was able to stay in Japan until the very last day to train in my hometown before coming here, so that really helped."
Grygorii Vovchynskyi (UKR) - silver - men's 10km standing
"I was expecting yesterday (Friday's 15km biathlon) that I would get a medal. On the first day, I was expecting that I would get a medal (7.5km biathlon). In the classic sprint (on Wednesday) I was expecting that I would get a medal.
"I was looking ahead to five races here in which I could battle for medals, for first place, and it just kept not going my way. Something was in the way.
"One miss and I was thrown off the podium every time. It was just horrible.
"Today maybe it was all my strength, the faith of all my loved ones, the faith of my daughter, the team, and the universe, that gave me this chance to battle. From the start to the finish I showed what I can do, what I am capable of.
"I am grateful to the whole universe, to all the people, to all the kind and professional athletes who know how hard it is to earn medals and know how much work needs to be done to reach this place.
"It's very hard. It is unbelievably hard. It's so much work on yourself. You have to read something positive, look for something positive, while everything is coming down and slamming you on the head.
"My battery is my daughter Adriana who told me yesterday, 'Daddy, if you don't get a medal, I will be very sad'."
"I was lucky that Mark Arendz was skiing in front of me. He is today's bronze medallist. I reached him and came to the finish with him.
Mark Arendz (CAN) - bronze - men's 10km standing
"After yesterday there was still a lot of excitement, just waking up, and I actually felt amazing. I felt like I was ready to go. This race was probably the one I was the most excited for. I believed I had the ability to do well in this race.
"(The) change in conditions left my skis a little slick towards the end of the race but we had such amazing skis on the downhills, all the way from the top tier to the stadium. That was the key, in the end, for the success and for the bronze, to be able to have that kind of speed to take into the finish.
"He's (Yoshiro Nitta) amazing. I've worked with him, I've trained with him. I think there's a really good relationship between the Canadian and the Japanese team. We're always happy for them. They're cheering for me in biathlon races. We're trying to cheer for them in the cross-country.
"The respect I have for Nitta, he's been here since the very beginning when I started, winning the cross-country and the classic in particular. I've tried to copy my technique on his. He's one of the best technical classic skiers with one arm there is out there and to have that kind of person to look up to for the last 12 years has been a huge asset for me."