PyeongChang 2018: Maximum return for Maxime Montaggioni
French snowboarder credits more snow time for improved performance
26 Feb 2018
Imagen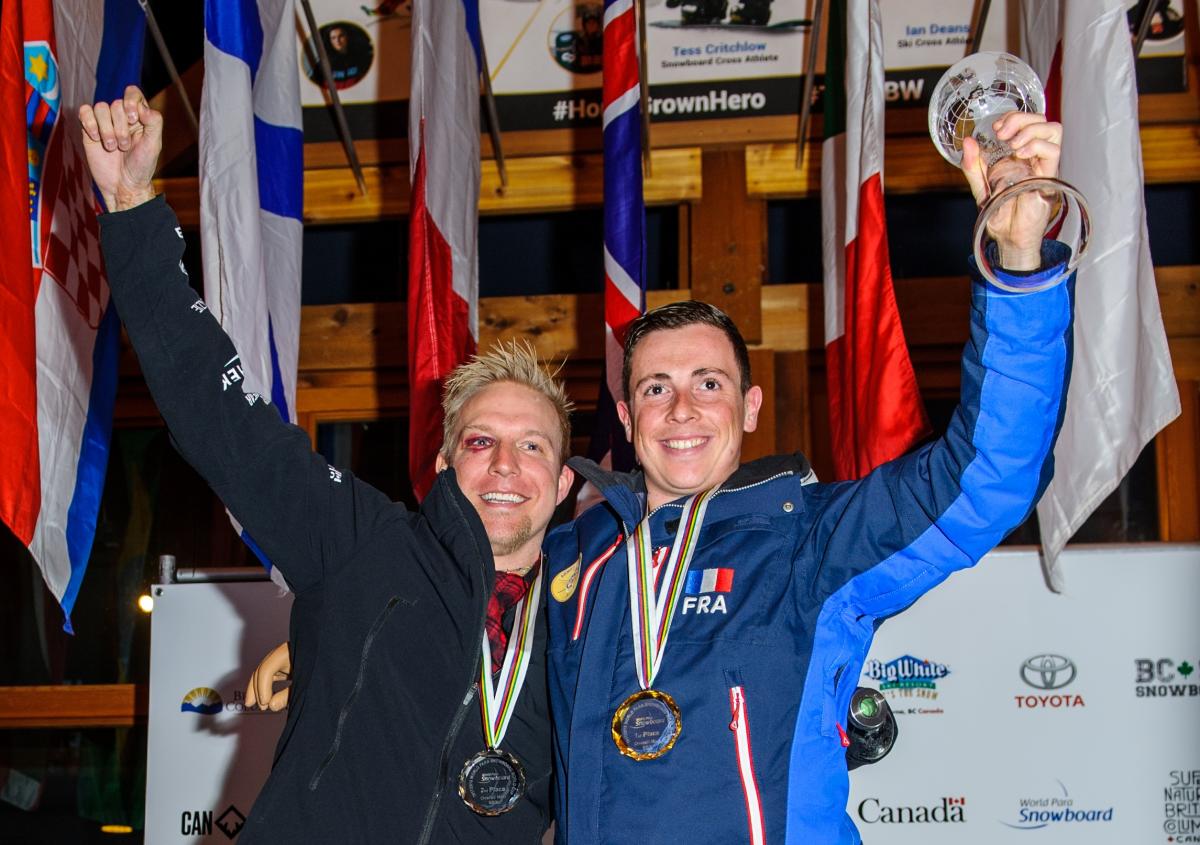 ⒸAndrew Jay
By IPC
"You can never feel too ready for PyeongChang, which will be a great experience. The most important hing is to have no regrets and to feel at the best of my form on the day."
Maxime Montaggioni was working full-time and squeezing in training whenever possible.
But thanks to "L'Armee du Champion" from the French Ministry of Defense that supports high-performance athletes, the snowboarder has been able to devote more time to training.
And what a difference that has made this season.
The 28-year-old was outstanding in the 2017-18 World Cup circuit that resulted in his first overall crystal globe, along with the snowboard-cross title in the men's SB-UL, making him a strong gold medal contender at the PyeongChang 2018 Paralympic Winter Games, which will be held 9-18 March.
"I think that this is what has made the difference, being able to train," Montaggioni said. "I'm in a phase of progression which is what is important, and I hope to do my best in PyeongChang."
There is also the team behind him.
"Collective work, even though it is an individual sport," Montaggioni continued about what the key has been this season. "With all the staff that I have at my disposal, including my coach the club that supports me, the mental and physical trainers, which I have only put in place this year."
Last season, Montaggioni finished third in the overall World Cup standings. He upset the USA's Mike Minor by winning the banked slalom at the 2017 World Championships in Big White, Canada, just after taking silver behind Minor in snowboard-cross.
The question was whether Montaggioni could produce those same performances next season. And he answered.
"Compared to last year where I missed many spots on the podium because I hadn't done all the races, this time I've done nearly all of them, except in New Zealand," he said. "So being regular, I was able to be part of the top-three, so it was very gratifying. … As I won [the overall title], it reassures me that the hard work pays off."
In early February, Montaggioni won both the banked slalom and snowboard-cross races at the World Cup Finals in Big White, and that has made him feel "better and better" leading into PyeongChang, his Paralympic debut.
"Then again, you can never feel too ready for PyeongChang, which will be a great experience," Montaggioni said. "The most important [thing] is to have no regrets and to feel at the best of my form on the day."
Montaggioni was born without his right hand and remembered being teased by other kids. It was when he was around 14 years old that he realised he had to live with his impairment. He picked up taekwondo a few years ago and fell in love with snowboard-cross because of the adrenaline rush.
"It was difficult when I was young as kids are direct and mean," he said. "People would always stare at me, but I told myself that I had to accept this, which has since been a motor for my performance."
Montaggioni entered the 2017 World Championships with no expectations, and ended up leaving with two medals. With that, he knew he was capable of at least a top-five finish.
"As long as I have no regrets, I will feel accomplished," he said.
The Paralympic Winter Games take place in PyeongChang, South Korea from 9-18 March. Tickets can be purchased here.