PyeongChang 2018 reveals victory ceremonies look
There will be 80 medal events during March's Paralympic Winter Games
28 Dec 2017
Imagen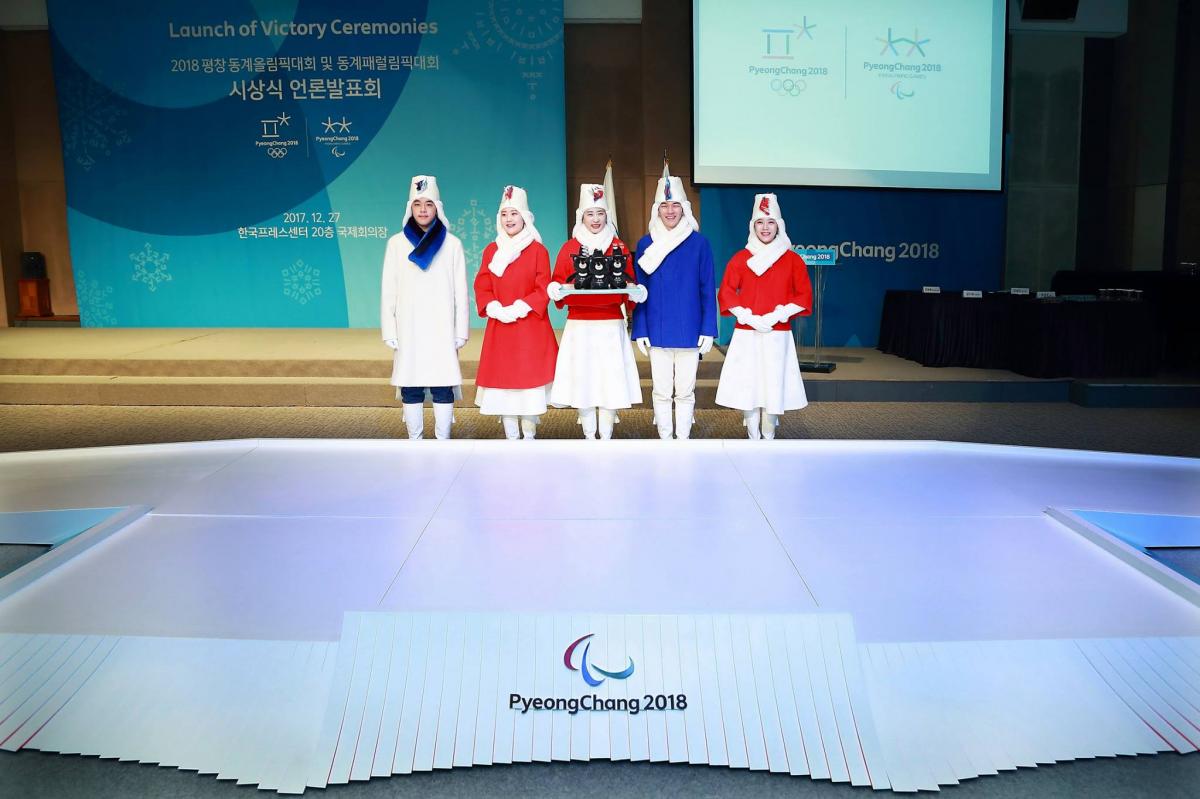 ⒸPyeongChang 2018
By PyeongChang 2018
Organisers have revealed the podiums, costumes, music and gifts that will be used during victory ceremonies at the PyeongChang 2018 Paralympic Winter Games.
The PyeongChang 2018 Organising Committee for the 2018 Olympic and Paralympic Winter Games (POCOG) said the designs of the victory ceremony items are based on the idea of combining aspects of Western and Eastern culture, as well as modern and traditional. The victory ceremony programmes will also deliver the unique beauty of South Korean culture.
Podium finishers at the Paralympic Winter Games will be recognised at the venue immediately after the end of competition. They will be honoured again in a victory ceremony which the organisers like to call a "cultural celebration." In total there will be 80 medal events across all six sports at the event which runs between 9-18 March.
The white podiums - designed by Han Kyung-woo, a professor of installation art at Seoul National University of Science & Technology - were inspired by snow on Korean traditional tiled roofs, also known as "giwa," and applied characteristics of "dancheong," Korean traditional decorative coloring on wooden buildings and artifacts.
The accessible podium structure is modular in design to account for its weight and ease of mobility, according to the organisers.
"It took me more than six months to design the podium," Han said. "I tried my best to incorporate Korean aesthetic culture."
The elegant costume designs - created by Geum Key-sook, a professor of textile arts and fashion design at Hongik University in Seoul - used the colours white, blue and red, which are also used on the South Korean national flag "taegukgi." The costumes also applied designs from Korean traditional winter clothes and hats, with a snowflake pattern and the Korean alphabet incorporated. Geum also designed the costumes for medal-bearers and athlete escorts to stay warm against PyeongChang's cold weather. There are two sets of outfits made with quilting or padding – for snow and ice sports; and a design for men and women at each.
"I wanted to show South Korea's identity and tried to add a modern flavor into our traditional wardrobe," Geum said. "It was important to make a wearer friendly outfit."
There will be no floral bouquets at the PyeongChang Games, but POCOG will give a mini doll of the Games mascots wearing "Uhsahwa," a paper flower that was bestowed to those who passed national exams during the Joseon Dynasty (1392-1910), to the medal winners.
All Paralympic medallists will receive a mini doll of Bandabi with Uhsahwa.
The music that will be used during the medal-awarding ceremony was composed by Cho Young-soo, who previously made songs for K-pop groups like SG Wannabe and T-ara.
"I first thought about the feelings of the athletes on the podium," Cho said. "I used rhythm and sound of Korean traditional music gukak, but not too much so that foreign audiences can also enjoy."
Tickets for the PyeongChang 2018 Paralympic Winter Games are now on sale. To buy tickets, please click here.