Imagen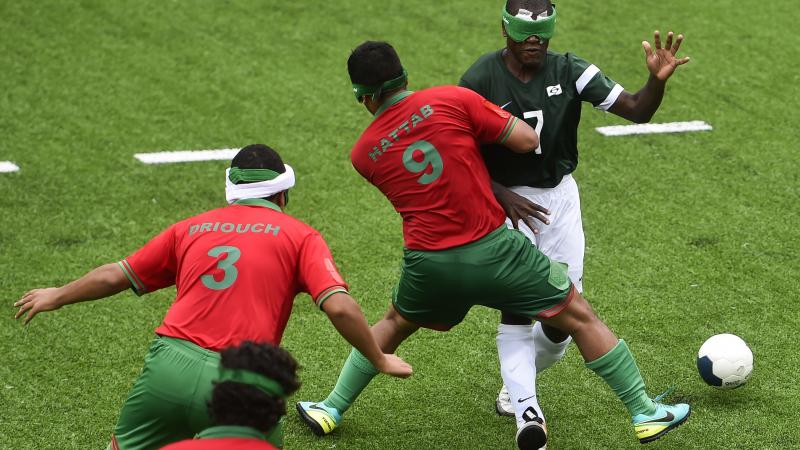 Abderrazak Hattab
Blind Football
Abderrazak Hattab is considered by many as the best football 5-a-side player in Africa due to his phenomenal track record of goals.
"Bourzouk," as he is nicknamed, was part of the Moroccan side that competed in its second World Championships at Madrid 2018. Morocco reached the quarter finals after finishing second in Group A, following victories over Turkey and Thailand and a defeat to hosts Spain.
They were then beaten by China 1-0 but still rounded off a good first experience.
Hattab also represented Morocco at Rio 2016, where they became the first football 5-a-side team in Africa to compete at the Paralympic Games.
He created even more history by scoring Morocco's first Paralympic goal in the opening match against reigning champions Brazil.
Bourzouk pressured Cassio in Brazil's penalty box, barging him to the floor while falling himself in the process. He quickly returned to his feet and fired the ball through the legs of Nonato into the bottom corner of the goal for Morocco to take a surprising lead in the 13th minute. However, Brazil fought back, scoring three goals to win 3-1 and maintain their undefeated streak.
He began his career in football 5-a-side in 2013 after competing as a goalball athlete for 11 years, making his debut for Morocco against France at the 2014 World Championships in Toyko, Japan.
Morocco only conceded three goals throughout the tournament, but they did not score a single goal, consequently resulting in finishing last. However, Bourzouk proved that he was the missing link to Morocco's attacking chain as he scored six goals at the 2015 African Championship.
Two of his goals were in the final against hosts Cameroon for Morocco to win 2-0 and lift the title. Additionally, his six goals landed him the prestigious individual awards of Top Goal Scorer and Player of the Tournament.
At the 2017 African Championships, Bourzouk captained his country and showed that his class is permanent by scoring 16 of Morocco's 21 goals. In the final against Mali, he annihilated the opposition's goal, scoring five goals in the 8-1 victory for Morocco.
Once again, Bourzouk's ability in front of goal gained him the Top Goal Scorer and Player of the Tournament awards for the second time.