Imagen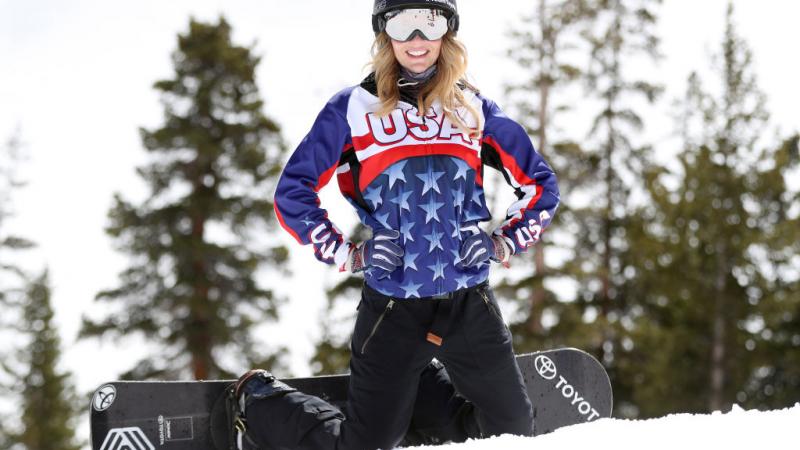 Amy Purdy
Snowboard | Alpine Skiing
Amy Purdy has been at the forefront of adaptive snowboarding since having both legs amputated in 1999 after surviving bacterial meningitis. Determined to beat the odds and continue her passion, she was riding again well before professional advice ever suggested and it did not take long for Purdy to become a force not only on the course, but behind the scenes as well.
At her second Paralympic Winter Games, Purdy reached the both podiums including a silver in snowboard-cross. She raced at the 2017 World Championships in Big White, Canada, after returning from injury. She captured bronze in banked slalom and consistently reached the podium at three more competitions afterward.
Although the women's SB-LL1 class has seen the rise of her compatriot Brenna Huckaby, a focused, healthy Purdy can still be a force to be reckoned with ahead of PyeongChang 2018.
After founding Adaptive Action Sports with her husband Daniel Gale, Purdy has pushed the boundaries of her sport in the USA and abroad, helping others find and love the sport so central to her life. She was instrumental in getting Para snowboard to be included at the Sochi 2014 Paralympic Winter Games, where she finished third in snowboard-cross.
Purdy's career since then took off exponentially not only in the sport.
In the 2014-15 season, Purdy did not compete, choosing to focus on motivational speaking, writing and starting a new clothing line after a wildly successful appearance on the US television show "Dancing with the Stars."
While her career outside snowboarding began thriving, she still missed competition and high-level training, and sought to balance her athletic and non-athletic career.
She was held back for much of the 2015-16 season to an injury and did not competed on the international scene since the US Nationals in March 2016 where she won in snowboard-cross.
Biography
Impairment information
Type of Impairment
Limb deficiency
Origin of Impairment
Acquired
Further personal information
Family
Husband Daniel Gale
Residence
Silverthorne, CO, USA
Occupation
Athlete, Author, Businessperson, Motivational Speaker
Sport specific information
When and where did you begin this sport?
She took up snowboarding at age 15 and began competing professionally in Para snowboard at age 30.
Why this sport?
Having been a snowboarder before her illness, she was determined to find a way to continue in the sport.
Club / Team
Adaptive Action Sports: Copper Mountain, CO, USA
Training Regime
She trains for up 30 hours a week. Her schedule includes 10 hours in the gym and 20 hours on the slopes, where she tests equipment, practises drills and sharpens her technique.
General interest
Hobbies
Exploring the outdoors, writing, wakeboarding, mountain biking, cooking. (teamusa.org, 07 Mar 2018)
Memorable sporting achievement
Winning a bronze medal at the 2014 Paralympic Winter Games in Sochi. (actioncam.sony.com, 14 Jul 2015)
Most influential person in career
Her husband Daniel Gale. (Athlete, 20 Nov 2013)
Injuries
She spent eight days in hospital in November 2016 with rhabdomyolysis, a condition caused by harmful proteins being released in the bloodstream due to intense exercise. (self.com, 12 Dec 2018; olympics.nbcsports.com, 29 Nov 2017)

An injury forced her to miss the start of the 2016/17 season. She returned to competition at the 2017 NorAm Cup event in Twin Bridges, CA, United States of America. (paralympic.org, 27 Jan 2017)
Superstitions / Rituals / Beliefs
She uses a visualisation technique she was taught by a sports psychologist to help her relax before competitions. "It calms me down instantly and completely puts me in the moment so when I open my eyes up, my anxiety is gone." (self.com, 12 Dec 2018)
Sporting philosophy / motto
"Never allow defeat to defeat you. You become truly disabled when you choose not to overcome your obstacles." (amypurdy.com, 01 Mar 2012)
Awards and honours
She received the Inspirational Athlete Award at the 2018 Cedars-Sinai Sports Spectacular gala in Inglewood, CA, United States of America. (justjaredjr.com, 16 Jul 2018)
Impairment
At age 19 she was rushed to hospital in a state of septic shock due to meningitis. On the way, she experienced respiratory and multiple organ failure. Combined with a blood condition, this resulted in the circulation to her feet, hands, nose, ears and kidneys being cut, and led to her lungs and adrenal glands haemorrhaging. After losing 26 pints of blood and having her ruptured spleen removed, she was diagnosed with bacterial meningitis and was in a coma for three weeks. Doctors also had to amputate both her legs below the knee. She was the first person in Las Vegas, NV, United States of America, in 20 years to contract that particular strain of meningitis and survive. (Athlete, 20 Nov 2013; amypurdy.com, 01 Mar 2012; redbull.com, 04 Feb 2012)
Other information
TRAINING FOCUS
In November 2016 she contracted rhabdomyolysis, a condition in which harmful proteins are released into the bloodstream after muscle tissue breaks down. She spent several days in hospital and the experience made her switch her focus on training, cutting down on the high-intensity workouts she did previously. "It felt amazing and that's what athletes do, you push past these barriers and that's a huge reason I love athletics and I love working out like that. But obviously it ended up with a severe injury because of that." (self.com, 12 Dec 2018)

ADAPTIVE ACTION SPORTS
In 2004 she and her husband Daniel Gale founded the non-profit Adaptive Action Sports organisation, the first adaptive snowboard and skateboard specific organisation of its type in the United States of America. It provides sports camps, events and programmes for youth, young adults, and wounded veterans living with a permanent physical impairment. She also coaches a team of aspiring Paralympians through the organisation. "It's been so fulfilling being able to help others fulfil their dreams." (self.com, 12 Dec 2018; paralympic.org, 25 Jan 2016; amypurdy.com, 01 Mar 2012)

EVACUATION
She had to evacuate her home in Silverthorne, CO, United States of America, during the Buffalo Mountain fire that struck the region in June 2018. "We were working on our yard when a neighbour said, 'You guys, better get ready to evacuate. Come look at this.' So crazy how fast this happened, we didn't even know a fire hit. If it wasn't for the fire breaks put in place, our neighbourhood would have burnt down." (denver.cbslocal.com, 13 Jun 2018)

BOOK RELEASE
In January 2015 she released her autobiography named 'On My Own Two Feet: From Losing My Legs to Learning the Dance of Life'. (teamusa.org, 26 Jan 2015)
Results
2017 IPC Snowboard World Championships Big White, CAN (Big White, Canada)

| Event | Medal | Unit | Date | Rank |
| --- | --- | --- | --- | --- |
| Women's Snowboard Cross SB-LL1 | | Race 1 | 2017-02-04 | 9999 |
| Women's Banked Slalom SB-LL1 | | Race 1 | 2017-02-07 | 3 |