Imagen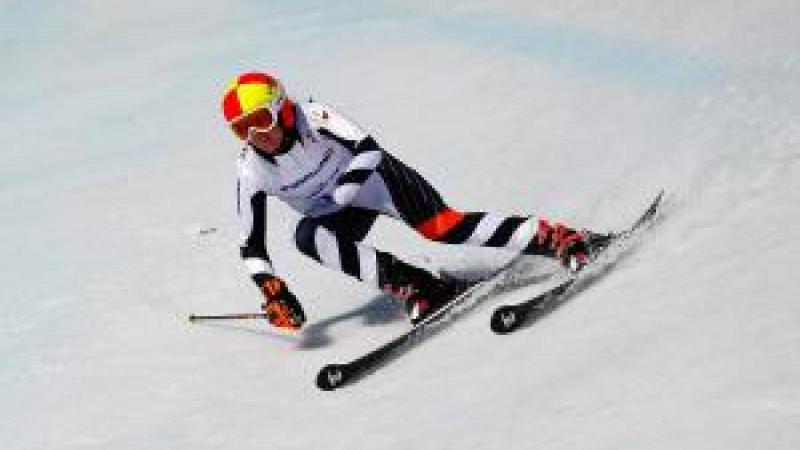 Andrea Rothfuss
Alpine Skiing
Andrea Rothfuss could have won many more titles and gold medals if it was not for her long-term rival Marie Bochet.
The German had a great performance in the women´s alpine skiing standing at the PyeongChang 2018 Paralympic Winter Games. But left with a bittersweet taste after failing to top the podium, finishing with four silvers and one bronze.
Bochet, on the other hand, returned to France with four golds.
Their rivalry came into full play at the Sochi 2014 Paralympic Winter Games, winning gold in the slalom after a DNF from the Frenchwoman and a further two silvers.
But Bochet had not failed to sweep a World Championships podium in two editions in 2013 and 2015, with Rothfuss taking silver on eight of those occasions.
That all changed at the 2017 World Para Alpine Skiing Championships. With both her and Bochet returning from injury, and keen to get back into form, the competition between the pair had never been so tight.
As Rothfuss crossed the line in the giant slalom she had an anxious wait as Bochet still had to complete her second run. As the Frenchwoman dipped over the finish, Rothfuss could not hold back her emotions as she realised the gold was hers. The German had halted the 14-time winning run of Bochet just over one year away from PyeongChang 2018.
The following day, Rothfuss proved her victory was no fluke as she claimed gold in the slalom, once again beating Bochet.
Rothfuss started her skiing career in the mid-1990s at age six, and began racing in 2000. From there, she had success at national and European level before heading to the Torino 2006 Games to make her Paralympic debut. In Torino, she took fourth in the slalom and fifth in the super-G.
Then, at just 19, Rothfuss showed her potential by winning four bronze medals in the five events she competed in at the 2009 World Championships. That set the stage for her first Paralympic Winter Games in 2010, where she won two silvers and a bronze.
Results
IPC Alpine Skiing World Championships (Kangwonland, South Korea)

| Event | Medal | Unit | Date | Rank |
| --- | --- | --- | --- | --- |
| Women's Slalom Standing | | Final | 2009-02-20 | 3 |
| Women's Giant Slalom Standing | | Final | 2009-02-21 | 3 |
| Women's Super-Combined Standing | | Final | 2009-02-23 | 3 |
| Women's Super-G Standing | | Final | 2009-02-23 | 3 |
| Women's Super-G Standing | | Run 2 | 2009-02-24 | 4 |
| Women's Downhill Standing | | Final | 2009-02-28 | 3 |
2011 IPC Alpine Skiing World Championships (Sestriere, Italy)

| Event | Medal | Unit | Date | Rank |
| --- | --- | --- | --- | --- |
| Women's Downhill Standing | | Final | 2011-01-16 | 1 |
| Women's Super-G Standing | | Final | 2011-01-18 | 3 |
| Women's Super-Combined Standing | | Final | 2011-01-19 | 2 |
| Women's Slalom Standing | | Final | 2011-01-20 | 1 |
| Women's Giant Slalom Standing | | Final | 2011-01-21 | 3 |
IPC Alpine Skiing World Championships (La Molina, Spain)

| Event | Medal | Unit | Date | Rank |
| --- | --- | --- | --- | --- |
| Women's Downhill Standing | | Race 1 | 2013-02-20 | 2 |
| Women's Super-G Standing | | Race 1 | 2013-02-21 | 9999 |
| Women's Slalom Standing | | Race 1 | 2013-02-24 | 2 |
| Women's Super-Combined Standing | | Race 1 | 2013-02-25 | 2 |
| Women's Giant Slalom Standing | | Race 1 | 2013-02-26 | 2 |
2015 IPC Alpine Skiing World Championships Panorama (Panorama, Canada)

| Event | Medal | Unit | Date | Rank |
| --- | --- | --- | --- | --- |
| Women's Downhill Standing | | Race 1 | 2015-03-04 | 2 |
| Women's Super-G Standing | | Race 1 | 2015-03-05 | 2 |
| Women's Super-Combined Standing | | Race 1 | 2015-03-07 | 2 |
| Women's Giant Slalom Standing | | Race 1 | 2015-03-08 | 2 |
| Women's Slalom Standing | | Race 1 | 2015-03-10 | 9999 |
2017 IPC Alpine skiing World Championships Tarvisio, ITA (Tarvisio, Italy)

| Event | Medal | Unit | Date | Rank |
| --- | --- | --- | --- | --- |
| Women's Downhill Standing | | Race 1 | 2017-01-25 | 2 |
| Women's Super-G Standing | | Race 1 | 2017-01-26 | 3 |
| Women's Super-Combined Standing | | Race 1 | 2017-01-28 | 2 |
| Women's Giant Slalom Standing | | Race 1 | 2017-01-30 | 1 |
| Women's Slalom Standing | | Race 1 | 2017-01-31 | 1 |
Kranjska Gora/Sella Nevea 2019 World Para Alpine Skiing Championships (Kranjska Gora/Sella Nevea, Slovenia)

| Event | Medal | Unit | Date | Rank |
| --- | --- | --- | --- | --- |
| Women's Giant Slalom Standing | | Race 1 | 2019-01-22 | 9999 |
| Women's Slalom Standing | | Race 1 | 2019-01-24 | 3 |
| Women's Downhill Standing | | Race 1 | 2019-01-30 | 2 |
| Women's Super-G Standing | | Race 1 (from SC) | 2019-01-31 | 2 |
| Women's Super-Combined Standing | | Race 1 | 2019-01-31 | 2 |
Lillehammer 2021 World Para Snow Sports Championships (Lillehammer, Norway)

| Event | Medal | Unit | Date | Rank |
| --- | --- | --- | --- | --- |
| Women's Downhill Standing | | Race 1 | 2022-01-14 | 4 |
| Women's Super-G Standing | | Race 1 | 2022-01-15 | 4 |
| Women's Super-Combined Standing | | Race 1 | 2022-01-17 | 4 |
| Women's Super-G Standing | | Race 1 (from SC) | 2022-01-17 | 3 |
| Women's Giant Slalom Standing | | Race 1 | 2022-01-20 | 5 |
| Women's Slalom Standing | | Race 1 | 2022-01-22 | 7 |
| Women's Parallel Event Standing | | Race 1 | 2022-01-23 | 10 |