Imagen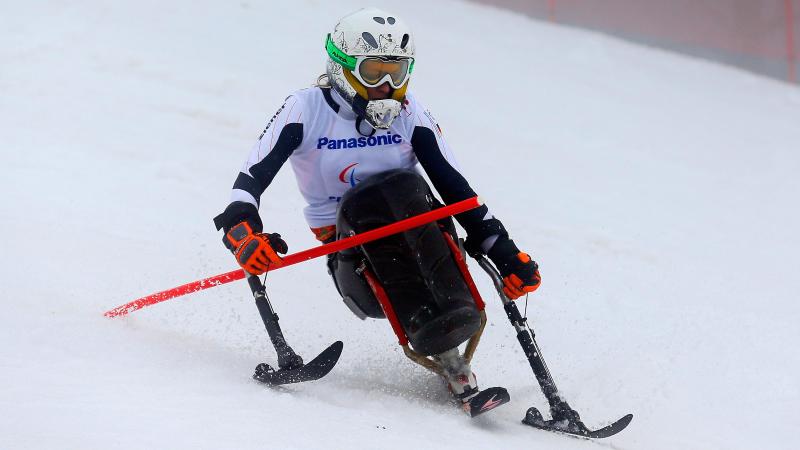 Anna Schaffelhuber
Alpine Skiing
Anna Schaffelhuber is one of Germany's most successful Para alpine skiers after winning two golds and one silver in the women's sitting events at the PyeongChang 2018 Paralympic Winter Games.
She could not repeat her staggering performance from Sochi 2014, when she swept all five events, but still left once again as one of the most decorated Paralympians.
In the 2017/2018, Schaffelhuber also ended top of the downhill and super-G World Cup rankings, as well as finishing third in the overall standings.
The previous season had also been highly successful for her as she sealed gold in the slalom, super-combined and downhill at the 2017 World Championships. Her rivalry with Claudia Loesch was once again in the headlines with the Austrian collecting wins in the remaining events.
The 2015 World Championships was the competition where Schaffelhuber's rivalry with Loesch really came to the fore. While Schaffelhuber was expected to reign supreme after her stunning performance in Sochi, she was beaten to the top of the podium twice by Loesch.
The German has been cruising down the slopes in a sit ski since age five, and in 2007 she made the national team for the first time.
Schaffelhuber made her Paralympic debut at Vancouver 2010, winning bronze in the super-G.
She was the world's top ranked sit-skier in 2012-13, winning a gold medal in slalom at the 2013 World Championships. She also was the first female sit-skier to cross the line in the first downhill race at the World Cup Finals in Sochi, on the same course that was used for the Paralympic Winter Games.
She dominated the women's sitting class again on the 2013-14 World Cup circuit, hauling in the most victories of any competitor and winning the overall women's sitting trophy.
Biography
Impairment information
Type of Impairment
Spinal Cord Injuries
Origin of Impairment
Congenital
Further personal information
Residence
Hohenkirchen, GER
Languages
English, French, German
Higher education
Teaching - Ludwig Maximilian University of Munich: Germany
Sport specific information
When and where did you begin this sport?
She first tried skiing at age five in Kaunertal, Austria.
Why this sport?
As a child she wanted to be included in all the activities her brothers and her friends were doing, which included skiing. "I wanted to ski like my brothers and I had so much fun. This sport gives me a certain freedom in movement and speed. I feel independent and inspired, and I want to do it for a long time."
General interest
Nicknames
Anni (annaschaffelhuber.de, 10 Dec 2010)
Hobbies
Sports. (bild.de, 11 Mar 2018)
Memorable sporting achievement
Winning a total of seven gold medals at the Paralympic Winter Games. (sporthilfe.de, 23 Jul 2018)
Most influential person in career
Her family, and German Para alpine skier Martin Braxenthaler. (Athlete, 08 Mar 2014)
Hero / Idol
German Para alpine skier Martin Braxenthaler. (Athlete, 08 Mar 2014)
Superstitions / Rituals / Beliefs
"My ritual is to do everything the same. I have the same schedule each time I race." (paralympic.org, 14 Jan 2015)
Sporting philosophy / motto
"You have to push the limits." (Beth D. Dixon YouTube channel, 22 Nov 2016)
Awards and honours
In 2018 she received the Jahrhundert-Sportpreis [Century Sports Award] from the state government of Bavaria in Germany. (welt.de, 12 Jul 2018)

In 2015 she was named Best Female Athlete by the International Paralympic Committee [IPC]. (IPC, 10 Feb 2018)

In 2014 she received the Silbernes Lorbeerblatt [Silver Laurel Leaf] in Germany. (bundespraesident.de, 05 May 2014)

She was named the 2014 Para Sportswoman of the Year by BVS Bayern in Germany. (dbs-npc.de, 01 Apr 2014)

She was flag bearer for Germany at the closing ceremony of the 2010 Paralympic Winter Games in Vancouver. (sport1.de, 2011)

She has been named Para Sportswoman of the Year by the German Paralympic Committee on five occasions. (IPC, 10 Feb 2018; dbs-npc.de, 28 Nov 2015, 29 Nov 2014)
Impairment
She was born with incomplete paraplegia. In 2009 her condition developed into complete paraplegia. (IPC, 10 Feb 2018; Beth D. Dixon YouTube channel, 22 Nov 2016)
Other information
RETIREMENT
In November 2019 she announced her retirement from Para alpine skiing. "Everything in life has its time. After careful thought, I decided to step down from active competitive sports. After 12 years it's time for me to open a new chapter. I am very grateful that I was able to celebrate great successes during this time, but also defeats have positively shaped my life. Sport also gave me the opportunity to meet many people from all over the world and to have gained exceptional friends. I realise a resignation at 26 years old appears early. Nevertheless, it feels 'complete' and I'm looking forward to new challenges. After my wedding and graduation from my teaching degree, a new phase of life begins." (Facebook page, 11 Nov 2019)
Results
2011 IPC Alpine Skiing World Championships (Sestriere, Italy)

| Event | Medal | Unit | Date | Rank |
| --- | --- | --- | --- | --- |
| Women's Downhill Sitting | | Final | 2011-01-16 | 4 |
| Women's Super-G Sitting | | Final | 2011-01-18 | 4 |
| Women's Super-Combined Sitting | | Final | 2011-01-19 | 1 |
| Women's Slalom Sitting | | Final | 2011-01-20 | 1 |
| Women's Giant Slalom Sitting | | Final | 2011-01-21 | 1 |
| Mixed Team Event VI/Sitting/Standing | | Final | 2011-01-23 | 2 |
IPC Alpine Skiing World Championships (La Molina, Spain)

| Event | Medal | Unit | Date | Rank |
| --- | --- | --- | --- | --- |
| Women's Downhill Sitting | | Race 1 | 2013-02-20 | 3 |
| Women's Super-G Sitting | | Race 1 | 2013-02-21 | 2 |
| Women's Slalom Sitting | | Race 1 | 2013-02-24 | 1 |
| Women's Super-Combined Sitting | | Race 1 | 2013-02-25 | 3 |
| Women's Giant Slalom Sitting | | Race 1 | 2013-02-26 | 2 |
2015 IPC Alpine Skiing World Championships Panorama (Panorama, Canada)

| Event | Medal | Unit | Date | Rank |
| --- | --- | --- | --- | --- |
| Women's Downhill Sitting | | Race 1 | 2015-03-04 | 3 |
| Women's Super-G Sitting | | Race 1 | 2015-03-05 | 1 |
| Women's Super-Combined Sitting | | Race 1 | 2015-03-07 | 2 |
| Women's Giant Slalom Sitting | | Race 1 | 2015-03-08 | 1 |
| Women's Slalom Sitting | | Race 1 | 2015-03-10 | 2 |
2017 IPC Alpine skiing World Championships Tarvisio, ITA (Tarvisio, Italy)

| Event | Medal | Unit | Date | Rank |
| --- | --- | --- | --- | --- |
| Women's Downhill Sitting | | Race 1 | 2017-01-25 | 1 |
| Women's Super-G Sitting | | Race 1 | 2017-01-26 | 2 |
| Women's Super-Combined Sitting | | Race 1 | 2017-01-28 | 1 |
| Women's Giant Slalom Sitting | | Race 1 | 2017-01-30 | 2 |
| Women's Slalom Sitting | | Race 1 | 2017-01-31 | 1 |
Kranjska Gora/Sella Nevea 2019 World Para Alpine Skiing Championships (Kranjska Gora/Sella Nevea, Slovenia)

| Event | Medal | Unit | Date | Rank |
| --- | --- | --- | --- | --- |
| Women's Giant Slalom Sitting | | Race 1 | 2019-01-22 | 2 |
| Women's Slalom Sitting | | Race 1 | 2019-01-24 | 2 |
| Women's Downhill Sitting | | Race 1 | 2019-01-30 | 1 |
| Women's Super-G Sitting | | Race 1 (from SC) | 2019-01-31 | 1 |
| Women's Super-Combined Sitting | | Race 1 | 2019-01-31 | 2 |