Imagen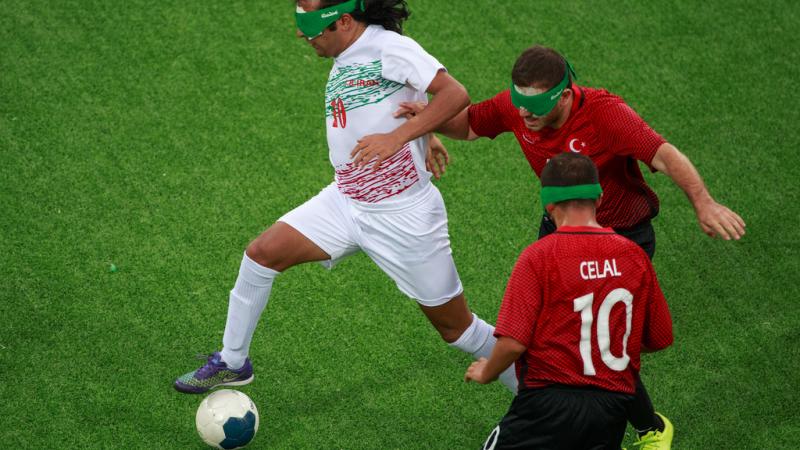 Behzad Zadaliasghari Yengejeh
Football 5-a-side
Behzad Zadaliasghari has been leading the Iranian football 5-a-side team, most recently at the 2018 World Championships in Madrid, Spain. Iran were drawn in a tough-looking Group B together with Argentina, Colombia and France.
The Asian team finished third and failed to qualify for the quarter finals. They followed that up with wins against Thailand and Senegal to end in ninth place.
One year before, Iran lost to China in the 2017 Asian Championships final, handing over the continental throne. But they are still a force to be reckoned with, especially after delivering an historic performance at the last Paralympic Games.
Zadaliasghari was the stand out player of the team that made history at Rio 2016 by claiming silver. Along the way his side eliminated gold medal contenders Argentina and Turkey.
Iran learned from their first football 5-a-side Paralympic experience at London 2012, where they finished sixth, coming back stronger at Rio 2016.
They defeated African champions Morocco 2-0 and secured goalless draws against Brazil and European champions Turkey to finish second in Group A behind the hosts and qualify for the semi-finals.
In the match against Morocco, Zadaliasghari made the headlines after scoring an outstanding goal. He received the ball in his own half and dribbled past the entire African team before shooting past goalkeeper Samir Bara to score a Lionel Messi-like goal.
"International media started calling me the 'Blind Messi'," he said.
"In fact, not just the media but also Brazilian fans got into what the Iranian team was doing after that game. People started calling me by my last name while I was walking at the Olympic Village. It was great".
In the semi-finals, Iran sprang a surprise and beat Argentina 2-1 on penalties. They lost to Brazil 1-0 in the gold-medal match.
"In London, we finished in sixth place, in Rio we won silver, and if we keep working the way we are doing it, we might fight for the gold medal once again at Tokyo 2020."