Imagen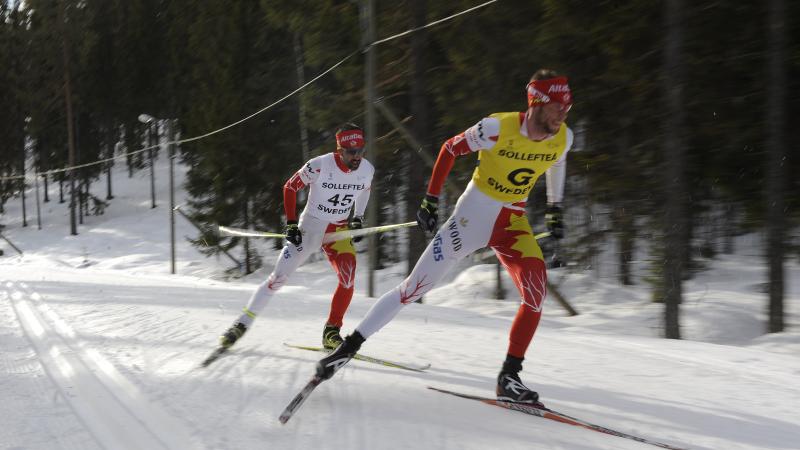 Brian McKeever
Nordic Skiing
Brian McKeever has continued his winning form into 2019, with one gold and two silvers in cross-country vision impaired races at the Vuokatti World Cup. This was the first event he competed in after making history at PyeongChang 2018.
Alongside guides Russell Kennedy and Graham Nishikawa, he won three gold medals to become the most successful male cross-country skier in Winter Paralympic history. He has so far won 13 golds across five Games.
The Canadian legend won gold in the long distance, middle distance and sprint vision impaired, before adding a bronze in the open relay on South Korean soil.
One year before, McKeever had claimed double cross-country gold in the men's middle and long distance vision impaired at the World Championships in Finsterau, Germany. He has so far won 16 world titles.
McKeever is widely-recognised as one of the best Para Nordic skiers in history.
He first tried skiing at three years old and began competing at 12. He was chosen as Canada's flag bearer for the Closing Ceremony of Salt Lake City 2002.
In 2007, he was named Best Male Athlete at the International Paralympic Committee (IPC) Paralympic Sport Awards and received the Best Male Athlete award at the 2014 Canadian Paralympic Sport Awards.
His older brother Robin, who competed in cross-country skiing at the Nagano 1998 Olympic Winter Games, has also served as Brian's guide for several years and has coached the Para Nordic skiing team on the international scene.
At age 19, McKeever was diagnosed with Stargardt disease (a macular degeneration or loss of central vision – fine detail and colour), which had also afflicted his father.
Biography
Impairment information
Type of Impairment
Vision impairment
Further personal information
Residence
Canmore, AB, CAN
Languages
English, French
Sport specific information
When and where did you begin this sport?
He first tried skiing at age three, and began competing at age 12.
Why this sport?
He enjoys the adrenaline rush when racing.
Name of coach
Robin McKeever [national, brother], CAN
Training Regime
He trains up to six hours a day.
General interest
Hero / Idol
US distance runner Marla Runyan. (paralympic.ca, 05 Feb 2014)
Injuries
He injured two discs in his spine in June 2017. (btcalgary.ca, 23 Mar 2018)

In late 2015 he suffered an injury while training in Finland. (cccski.com, 19 Nov 2015)

His performances during the 2010/11 season were affected by a sinus and chest infection. (vancouversun.com, 15 Mar 2011)

In March 2009 he broke his left humerus [upper arm] after crashing during the Canadian championships. (paralympic.ca, 05 Feb 2014)

In October 2008 he suffered a micro-fracture in his ribs. (paralympic.ca, 05 Feb 2014)
Sporting philosophy / motto
"I've always said medals are for other people, because that's never why I did it. I mean, they're nice. There is no doubt they're nice, and every medal I've won, I'm proud of. But it's more about what they represent, because they represent four years of kicking your own butt to be better. It's always like, 'Today was good, tomorrow needs to be better'. You wake up and think, 'Let's be better today than I was yesterday', and you do that again and again and again." (theguardian.pe.ca, 27 Nov 2020)
Awards and honours
He was named Male Athlete of the Year for Winter Sport Performance at the 2018 Canadian Sport Awards. (Twitter profile, 21 Sep 2018; games.paralympic.ca, 21 Sep 2018)

He was flag bearer for Canada at the opening ceremony of the 2018 Paralympic Winter Games in Pyeongchang. He performed the same role at the closing ceremony of the 2002 Paralympic Winter Games in Salt Lake City. (cbc.ca, 08 Mar 2018; paralympic.ca, 05 Feb 2014)

In 2016 he and his brother Robin received a Meritorious Service Medal [civil division] from the governor general of Canada in recognition of their sporting achievements. (skitrax.com, 24 Jun 2016)

He received the Best Male Athlete award at the 2014 Canadian Paralympic Sport Awards. (paralympic.org, 22 Sep 2014)

He was named Best Male Athlete at the 2007 International Paralympic Committee [IPC] Paralympic Sport Awards. (paralympic.ca, 05 Feb 2014)
Other sports
He competed in both cross-country skiing and biathlon at the 2002, 2006, 2010 and 2014 Paralympic Winter Games. He has also represented Canada in able-bodied cross-country skiing, including at the 2007 World Championships in Sapporo, Japan. (paralympic.ca, 05 Feb 2014; SportsDeskOnline, 30 Dec 2020)
Milestones
At the 2018 Paralympic Winter Games in Pyeongchang he extended his Paralympic medal tally to 17, including 13 gold medals. Both his total medal tally and his number of gold medals are records for a Canadian athlete at the Paralympic Winter Games. (paralympic.ca, 12 Mar 2018; SportsDeskOnline, 30 Dec 2020)

His tally of 13 gold medals makes him the male athlete with the most gold medals in cross-country skiing at the Paralympic Winter Games. He surpassed the previous record of 10 gold medals at the 2018 Games in Pyeongchang. (paralympic.ca, 12 Mar 2018; SportsDeskOnline, 30 Dec 2020)
Famous relatives
His older brother Robin represented Canadian in cross-country skiing at the 1998 Olympic Winter Games in Nagano. He has also served as McKeever's guide and has coached the Canadian Para Nordic skiing team. His nephew Xavier has competed in cross-country skiing at provincial level in Canada. (cccski.com, 17 Aug 2015; albertaventure.com, 01 Jul 2015; edmontonnordic.ca, 11 Dec 2014; SportsDeskOnline, 30 Dec 2020)
Ambitions
To compete at the 2022 Paralympic Winter Games in Beijing. (insidethegames.biz, 23 Oct 2020)
Impairment
At age 19 he was diagnosed with Stargardt disease, a degenerative eye condition that also affected his father. He has less than 10% vision. (theguardian.pe.ca, 27 Nov 2020; paralympic.ca, 05 Feb 2014)
Other information
SUPER BOWL ADVERT
In February 2022 he and his brother Robin featured in a Toyota television advertisement broadcast during Super Bowl 56, the final game of the National Football League [NFL] season in the United States of America. The advertisement, titled 'Brothers', lasted 60 seconds and portrayed his and Robin's journey from childhood to the Paralympic Winter Games. Super Bowl 56 averaged a US television viewership of around 100 million. "When I watched it a second time it was with a friend of mine and we both cried. It was suddenly the reality of what it was showing. It's snippets of a life lived, and a career skied, and just how much went into it. There's a lot of emotion packed into 60 seconds. It's a wonderful opportunity to showcase Paralympic sport to the world, to a broader audience that maybe hasn't ever seen it before, or they don't know the story. I think any exposure we can get for the Paralympic movement is welcome and it doesn't get any bigger than this." (paralympic.org, 13 Feb 2022; usatoday.com, 13 Feb 2022; touchdownwire.usatoday.com, 15 Feb 2022)

RETIREMENT THOUGHTS
He plans to retire from competition after the 2022 Paralympic Winter Games in Beijing. "I think it will be declaring it as an end point. As much as I enjoy this, I have to face facts that I'm pretty old with my beard getting longer and greyer every day, it's time. [The 2022 Games] gives me mentally as well a place to close it out and then gives me some time to think about what else to do. Of course that's difficult and at least it's making me aware that there's a need to transition and shift focus and think about it. When you are in your 40s and you're still trying to compete with young guys and be a professional, there is no such thing as being refreshed. I think the biggest thing is just the body breaking down and doesn't recover, so I'm in constant pain every day and as much as I can put that aside, it's a job, you start to realise. It's tough waking up every morning and barely being able to walk and going to bed at night and having pain all night. It wakes me up in the middle of the night and that stuff starts to weigh on you pretty heavily." (insidethegames.biz, 23 Oct 2020)

OLYMPIC SELECTION
At the 2010 Olympic Winter Games in Vancouver, he looked set to become the first athlete to compete at the Olympic and Paralympic Winter Games in the same year when he was selected for the Canadian able-bodied cross-country skiing team. However, the night before the 50km classic in Vancouver, the Canadian team announced its four-man line-up and he had been left out as he was the fifth-ranked member. "I am crushed by the decision, but I understand. Our boys are racing so fast and they have deserved everything they have got." (nationalpost.com, 08 Mar 2017; metronews.ca, 11 Mar 2011; cbc.ca, 27 Feb 2010)
Results
IPC Nordic Skiing World Championships Solleftea (Solleftea, Sweden)

| Event | Medal | Unit | Date | Rank |
| --- | --- | --- | --- | --- |
| Men's Sprint - Classic VI | | Final | 2013-02-25 | 1 |
| Men's Long Distance - Free Style VI | | Final | 2013-02-27 | 1 |
| Men's Middle Distance - Classic VI | | Final | 2013-03-05 | 9999 |
2015 IPC Nordic Skiing World Championships Cable (Cable, United States of America)

| Event | Medal | Unit | Date | Rank |
| --- | --- | --- | --- | --- |
| Men's Long Distance - Free Style VI | | Race 1 | 2015-01-25 | 1 |
2017 IPC Nordic skiing World Championships Finsterau, GER (Finsterau, Germany)

| Event | Medal | Unit | Date | Rank |
| --- | --- | --- | --- | --- |
| Open Relay | | Final | 2017-02-15 | 3 |
| Men's Long Distance - Classic VI | | Final | 2017-02-16 | 1 |
| Men's Middle Distance - Free Style VI | | Final | 2017-02-19 | 1 |
Prince George 2019 World Para Nordic Skiing Championships (Prince George, Canada)

| Event | Medal | Unit | Date | Rank |
| --- | --- | --- | --- | --- |
| Open Relay | | Final | 2019-02-23 | 8 |
| Men's Long Distance - Classic VI | | Final | 2019-02-24 | 1 |