Imagen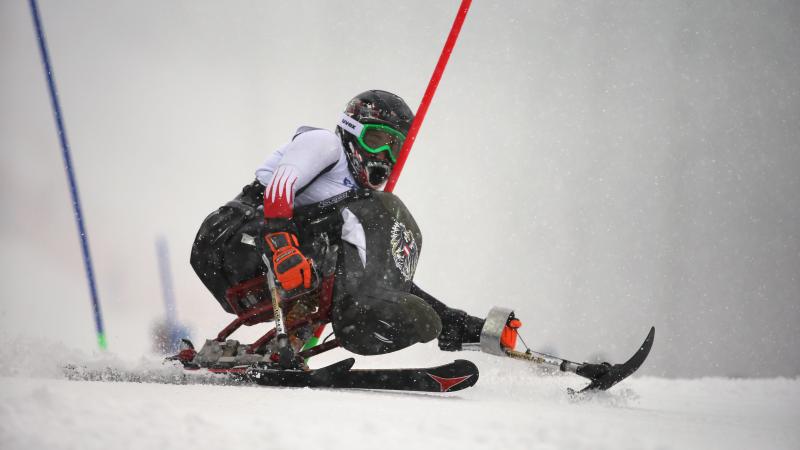 Claudia Loesch
Alpine Skiing
Much was expected from Claudia Loesch at the PyeongChang 2018 Paralympic Winter Games after she dominated the World Cup season from start to end to claim the overall, slalom and giant slalom women´s sitting titles.
But surprisingly she ended the Games with only one silver in the super-G and bronze in the giant slalom. Despite that, this last performance will in no way overshadow a long and successful career on the slopes.
The Austrian alpine skier has won two golds, four silvers and three bronze over four Winter Paralympics.
She enjoyed a successful return from injury in the 2016-17 season, winning two world titles in giant slalom and super-G, defeating long-time rival Anna Schaffelhuber.
Loesch has bad memories of Sochi 2014, with Schaffelhuber sweeping the board with five golds to leave her without a Paralympic title.
However, the Innsbruck native was able to get revenge at the 2015 World Championships, leaving with three titles in Panorama, Canada, after an intense competition. That included a much coveted first gold medal in downhill, a victory which she cites as one of the most important in her career alongside her first world title in 2013.
Loesch finished second in the 2014-15 World Cup standings behind Schaffelhuber.
Loesch, who became paraplegic after a car accident at age five, was originally inspired to take up skiing in 1996 after she saw Paralympic athletes cruising down the slopes on television.
She graduated from the 2006 IPC Alpine Skiing development camp along with fellow Austrian and Paralympic champion Markus Salcher.
Results
IPC Alpine Skiing World Championships (Kangwonland, South Korea)

| Event | Medal | Unit | Date | Rank |
| --- | --- | --- | --- | --- |
| Women's Slalom Sitting | | Final | 2009-02-20 | 4 |
| Women's Giant Slalom Sitting | | Final | 2009-02-21 | 2 |
| Women's Super-G Sitting | | Final | 2009-02-23 | 5 |
| Women's Super-Combined Sitting | | Final | 2009-02-23 | 2 |
| Women's Super-G Sitting | | Run 2 | 2009-02-24 | 5 |
2011 IPC Alpine Skiing World Championships (Sestriere, Italy)

| Event | Medal | Unit | Date | Rank |
| --- | --- | --- | --- | --- |
| Women's Downhill Sitting | | Final | 2011-01-16 | 3 |
| Women's Super-G Sitting | | Final | 2011-01-18 | 3 |
| Women's Super-Combined Sitting | | Final | 2011-01-19 | 2 |
| Women's Slalom Sitting | | Final | 2011-01-20 | 2 |
| Women's Giant Slalom Sitting | | Final | 2011-01-21 | 2 |
| Mixed Team Event VI/Sitting/Standing | | Final | 2011-01-23 | 6 |
IPC Alpine Skiing World Championships (La Molina, Spain)

| Event | Medal | Unit | Date | Rank |
| --- | --- | --- | --- | --- |
| Women's Downhill Sitting | | Race 1 | 2013-02-20 | 4 |
| Women's Super-G Sitting | | Race 1 | 2013-02-21 | 1 |
| Women's Slalom Sitting | | Race 1 | 2013-02-24 | 9999 |
| Women's Super-Combined Sitting | | Race 1 | 2013-02-25 | 1 |
| Women's Giant Slalom Sitting | | Race 1 | 2013-02-26 | 1 |
2015 IPC Alpine Skiing World Championships Panorama (Panorama, Canada)

| Event | Medal | Unit | Date | Rank |
| --- | --- | --- | --- | --- |
| Women's Downhill Sitting | | Race 1 | 2015-03-04 | 1 |
| Women's Super-G Sitting | | Race 1 | 2015-03-05 | 9999 |
| Women's Super-Combined Sitting | | Race 1 | 2015-03-07 | 1 |
| Women's Giant Slalom Sitting | | Race 1 | 2015-03-08 | 2 |
| Women's Slalom Sitting | | Race 1 | 2015-03-10 | 1 |
2017 IPC Alpine skiing World Championships Tarvisio, ITA (Tarvisio, Italy)

| Event | Medal | Unit | Date | Rank |
| --- | --- | --- | --- | --- |
| Women's Downhill Sitting | | Race 1 | 2017-01-25 | 2 |
| Women's Super-G Sitting | | Race 1 | 2017-01-26 | 1 |
| Women's Super-Combined Sitting | | Race 1 | 2017-01-28 | 2 |
| Women's Giant Slalom Sitting | | Race 1 | 2017-01-30 | 1 |
| Women's Slalom Sitting | | Race 1 | 2017-01-31 | 3 |