Imagen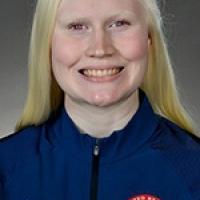 Biography
Impairment information
Type of Impairment
Vision impairment
Origin of Impairment
Congenital
Classification
S13, SB13, SM13
Further personal information
Residence
Colorado Springs, CO, USA
Occupation
Athlete, Student
Languages
English, German
Higher education
Communications, Marketing, Public Relations - Fairfield University: United States
Sport specific information
When and where did you begin this sport?
She took up swimming at age seven.
Why this sport?
Her family encouraged her to take part in a range of sports. She played in golf tournaments and swam competitively, but after the 2012 Paralympic Games in London, chose to focus on swimming. "My mother and my aunt were swimmers and I had no fear of being in the water. Being in the water is like floating, rather than being heavy on land."
Training Regime
In August 2020, she moved to Colorado Springs, CO, to train full-time at the US Olympic & Paralympic Training Center. During the COVID -19 pandemic she created a new exercise to simulate breaststroke. She lies on a medicine ball and has her father hold her legs down while she lifts two 4.5 kilogram weights in a breaststroke motion.
General interest
Hobbies
Coffee, meditation, spending time with her dog. (Instagram profile, 16 Feb 2021; teamusa.org, 30 Apr 2020)
Hero / Idol
Her mother. (hercampus.com, 19 Apr 2017)
Superstitions / Rituals / Beliefs
"I have to talk to people before I race, I think it loosens me up." (Athlete, 07 Jan 2016)
Sporting philosophy / motto
"Anyone can swim, any ability, any age, because the water treats you the same." (colleenroseyoung.com, 01 Mar 2021)
Awards and honours
In 2014 she won the Vornbrock Award. The honour is presented to the best female and best male swimmer, as voted by coaches, in Ozark, MO, United States of America. (teamunify.com, 12 Dec 2014)
Other sports
She competed in able-bodied swimming and golf at university level in the United States of America. (colleenroseyoung.com, 03 Mar 2022; riverbender.com, 08 Oct 2021; ctpost.com, 24 Dec 2018)
Milestones
At age 14 years and 64 days, she was the youngest athlete in any sport to represent the United States of America at the 2012 Paralympic Games in London, when she finished 12th in the S13 50m freestyle. (SportsDeskOnline, 23 Mar 2021; huffingtonpost.com, 30 Aug 2012)
Impairment
She was born with albinism and is legally blind. "I couldn't really see the ball coming [when playing softball or soccer at school]. With swimming it's just you and the water, and you don't have to focus on anything coming at you except for the wall. I love the feeling of being in the water. It's so inclusive, like anyone can swim, any ability, any age, because the water treats you the same." (colleenroseyoung.com, 01 Feb 2021; Fairfield University YouTube channel, 26 Nov 2019; ctpost.com, 24 Dec 2018; everydayhealth.com, 17 Aug 2012)
Other information
RETIREMENT PLANS
She took a four-month break after competing at the 2020 Paralympic Games in Tokyo and contemplated retirement from competitive sport. "From the outside looking in, it would be fair to assume that I'd be over the moon about my races [in Tokyo], but during the four months I took off from swimming there I was, contemplating retirement and moving on with my life. Vulnerability as an athlete is not something that is often talked about. People don't hear the talks with coaches, teammates, or family, the nerves before the race, the heartbreak after a bad race, the shattered faith after not achieving a goal. All the things listed above are what I felt after my performance in Tokyo, but nobody knew that. So I did what any person would do, googled myself, trying to figure out if swimming was worth continuing. It was watching my growth and improvement as a swimmer that snapped me out of the funk I was in, and suddenly I knew my journey with swimming wasn't over yet. I still have so much more untapped potential in me and I can feel it sitting there waiting to be unleashed. I've been representing the USA internationally since 2011, my first international trip when I was in seventh grade, and yet I feel like I have this new energy and sense of redemption in me that will carry me through to Paris 2024. Paris would be my last Games. I might go to the world championships after that. I'll be 26 at that point and I'll start settling down." (colleenroseyoung.com, 15 Feb 2022; stltoday.com, 18 Jun 2021)

CHANGE OF ATTITUDE
She said she had put too much pressure on herself to perform during the 2019/20 season and planned to focus on enjoying the sport going forward. "If I didn't have a good practice, I would really beat myself down. Now, once [COVID-19] clears up and I go back to regular training, I just want to have fun with it. If you don't love the sport you're competing in, then it's not going to be fun and it's going to feel like you're stuck in a rut. I really want to focus on keeping that fun attitude, while still accomplishing my goals in a light-hearted way." She took up daily morning meditation, began writing a list of targets and working with a sports psychologist during the COVID-19 pandemic in 2020. "It brings you a sense of accomplishment, and goals you would normally have during a practice. I'm trying to take it one day at a time, and focus on one race at a time. If I set this goal, what are the things I need to do to get to that goal. And if I don't get that goal, how am I going to react to it? Honestly, I started talking to a sports psychologist probably about a year ago [speaking in 2021]. I don't know how I did swimming at such a high level without her." (US Association of Blind Athletes Facebook page, 28 May 2021; teamusa.org, 30 Apr 2020)

PARALYMPIC EXPERIENCE
She was the youngest athlete in any sport to represent the United States of America at the 2012 Paralympic Games in London. She was also part of the US national team at the 2016 and 2020 Games. "I definitely loved Rio a whole lot more than London. I was only 14 when I went to London so honestly I didn't really know what was going on half of the time. Don't get me wrong, London was great, but in Rio I was a lot more aware of my goals and what was happening." (colleenroseyoung.com, 15 Feb 2022; hercampus.com, 19 Apr 2017; huffingtonpost.com, 30 Aug 2012)

FURTHER STUDIES
After completing a degree in communications with a minor in public relations at Fairfield University in the United States of America, she began studying for a master of business administration [MBA] with a focus on health services at Keller Graduate School of Management of DeVry University in Naperville, Illinois. (colleenroseyoung.com, 01 Mar 2021)
Results
2013 IPC Swimming World Championships (Montreal, Canada)

| Event | Medal | Unit | Date | Rank |
| --- | --- | --- | --- | --- |
| Women's 200 m Individual Medley SM13 | | Final 1 | 2013-08-12 | 5 |
| Women's 100 m Breaststroke SB13 | | Heat 2 | 2013-08-13 | 2 |
| Women's 100 m Breaststroke SB13 | | Final 1 | 2013-08-13 | 2 |
| Women's 100 m Butterfly S13 | | Final 1 | 2013-08-14 | 7 |
| Women's 50 m Freestyle S13 | | Heat 2 | 2013-08-15 | 9 |
| Women's 400 m Freestyle S13 | | Final 1 | 2013-08-16 | 3 |
| Women's 100 m Backstroke S13 | | Final 1 | 2013-08-17 | 2 |
| Women's 100 m Freestyle S13 | | Heat 2 | 2013-08-18 | 10 |
2015 IPC Swimming World Championships (Glasgow, Great Britain)

| Event | Medal | Unit | Date | Rank |
| --- | --- | --- | --- | --- |
| Women's 50 m Freestyle S13 | | Heat 1 | 2015-07-13 | 7 |
| Women's 50 m Freestyle S13 | | Final 1 | 2015-07-13 | 6 |
| Women's 200 m Individual Medley SM13 | | Final 1 | 2015-07-14 | 5 |
| Women's 200 m Individual Medley SM13 | | Heat 2 | 2015-07-14 | 5 |
| Women's 100 m Backstroke S13 | | Final 1 | 2015-07-15 | 3 |
| Women's 100 m Backstroke S13 | | Heat 1 | 2015-07-15 | 4 |
| Women's 400 m Freestyle S13 | | Heat 1 | 2015-07-16 | 11 |
| Women's 100 m Breaststroke SB13 | | Final 1 | 2015-07-17 | 3 |
| Women's 50 m Breaststroke SB13 | | Intermediate Time | 2015-07-17 | 9999 |
| Women's 100 m Breaststroke SB13 | | Heat 1 | 2015-07-17 | 3 |
| Women's 100 m Butterfly S13 | | Heat 1 | 2015-07-19 | 10 |
Mexico City 2017 World Para Swimming Championships (Mexico City, Mexico)

| Event | Medal | Unit | Date | Rank |
| --- | --- | --- | --- | --- |
| Women's 100 m Backstroke S13 | | Final 1 | 2017-12-02 | 3 |
| Women's 100 m Freestyle S13 | | Final 1 | 2017-12-03 | 6 |
| Women's 50 m Freestyle S13 | | Final 1 | 2017-12-05 | 5 |
| Women's 100 m Breaststroke SB13 | | Final 1 | 2017-12-06 | 1 |
| Women's 200 m Individual Medley SM13 | | Final 1 | 2017-12-06 | 2 |
| Women's 200 m Individual Medley SM13 | | Heat 1 | 2017-12-06 | 2 |