Imagen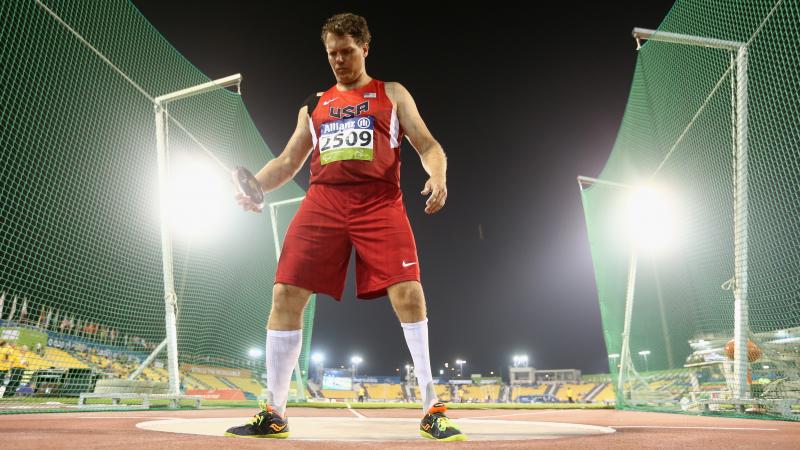 After a 16-year break from the sport, US discus thrower David Blair came back with a vengeance in February 2015 and by October that year was a world silver medallist.
Eighteen months after his return, the Utah-based athlete won Paralympic gold at Rio 2016, with a stunning world record of 64.11m. Months prior to Rio, he threw 63.61m – breaking teammate Jeremy Campbell's four-year-old world record – to underline his credentials as a gold medal contender at his first Paralympics.
Blair, who has club foot, started throwing at junior high school; his aim was to win a scholarship to fund him through college. By the time he was in high school, the teenager was making his mark - in 1993 he won the Utah State Championships.
College and freshman records followed – in the hammer, discus and indoor weight. By the time he graduated from Weber State University in 1999, Blair was throwing over 54 metres – just a few metres shy of the mark that would have enabled him to compete at the Olympic Trials.
After getting married and starting a family, Blair gave up athletics due to severe arthritis on both sides of his foot, establishing his career as a database programmer.
Then in 2012, Blair was watching South African Oscar Pistorius race at the London Olympics. It got him thinking about Para athletics. But Blair could not find any Para athletics record of the hammer throw - his favourite event - and the idea slipped away.
Then in February 2015 he decided to give it another try, throwing 55m at his first collegiate meeting.
Biography
Impairment information
Type of Impairment
Limb deficiency
Origin of Impairment
Congenital
Further personal information
Family
Wife Cindy, daughters Alyssa, Aubriela, Bethany, and Mayzie
Residence
Eagle Mountain, UT, USA
Higher education
Computer Science - Weber State University: Ogden, UT, USA
Sport specific information
When and where did you begin this sport?
He began throwing the discus at high school and continued through university, before giving it up. He took up Para athletics in 2015 after 16 years away from the sport.
Why this sport?
He never considered becoming a thrower growing up as his passion was baseball. One high school coach told him that it would be easier to get a scholarship in a field event than in baseball, so he decided to try able-bodied athletics. Paralympic runner Oscar Pistorius' performance at the 2012 Olympic Games in London motivated him to think about picking up the sport again as a Para athlete. In 2015 he learned Jeremy Campbell had become the first Para athlete to throw over 60 metres and made the decision to start pursuing the sport. "It made something in my head click. I'm like, 'Hey, he [Oscar Pistorius] has more movement in those prosthetics than I have in my foot. In 1999, which was nine years sooner, almost 10 years sooner, I'd already thrown that [60 metres], but I'd thrown it with a heavier implement. My freshman year in college, which was 1994, without question I could've thrown it 60 metres."
General interest
Hobbies
Spending time with family. (Instagram profile, 19 Feb 2020)
Injuries
He sustained a stress fracture to the fifth metatarsal of his left foot in March 2019. He was able to throw again 12 weeks later. (Instagram profile, 19 Feb 2020)
Awards and honours
He won the Male Adaptive Athlete of the Year award at the 2016 Governor's State of Sport Awards, presented by the Utah Sports Commission. (teamusa.org, 19 Sep 2016)
Other sports
He competed in able-bodied athletics for Weber State University in the United States of America. (teamusa.org, 06 Nov 2020)
Ambitions
To win gold at the 2020 Paralympic Games in Tokyo. (teamusa.org, 06 Nov 2020)
Impairment
He was born with congenital talipes equinovarus, commonly known as club foot. (teamusa.org, 19 Sep 2016)
Other information
ATHLETIC SCHOLARSHIP
After winning a high school state championship in the discus throw against able-bodied athletes, he received an athletic scholarship to Weber State University in Ogden, Utah. He quit the discus after university, but in 2015 he discovered that he was eligible to compete at the Paralympic Games, and returned to the sport after 16 years away. "I had no idea that my limb deficiency would have qualified me for the Paralympics. I still remember how bad the pain was on my very last meet in college." (teamusa.org, 06 Nov 2020, 19 Sep 2016)

SCOUTING
He has a long-term affiliation with the Eagle Scout troop, having been a scout, scoutmaster, and committee chairman among other roles. "It was every Wednesday, and we always went to the scout camps, earned the merit badges that we needed to and put in my time on my own to make sure that I got the requirements done. I still remember the pain my foot I had the morning after a long, 20-mile hike at Camp Loll. I was not much use for walking the next day but still went out on all the activities and if they needed to wait for me, they did. No complaining from them. I think now more than ever, this generation of young men need something like scouting to get them out from in front of their screens, learning hands-on about new things and seeing new places that they have never been and would not have been otherwise." (blog.scoutingmagazine.org, 14 Sep 2016)
Results
IPC Athletics 2015 World Championships (Doha, Qatar)

| Event | Medal | Unit | Date | Rank |
| --- | --- | --- | --- | --- |
| Men's Discus Throw F44 | | Final 1 | 2015-10-22 | 2 |
| Men's Shot Put F44 | | Final 1 | 2015-10-27 | 3 |
World Para Athletics Championships London 2017 (London, Great Britain)

| Event | Medal | Unit | Date | Rank |
| --- | --- | --- | --- | --- |
| Men's Discus Throw F44 | | Final 1 | 2017-07-16 | 2 |