Imagen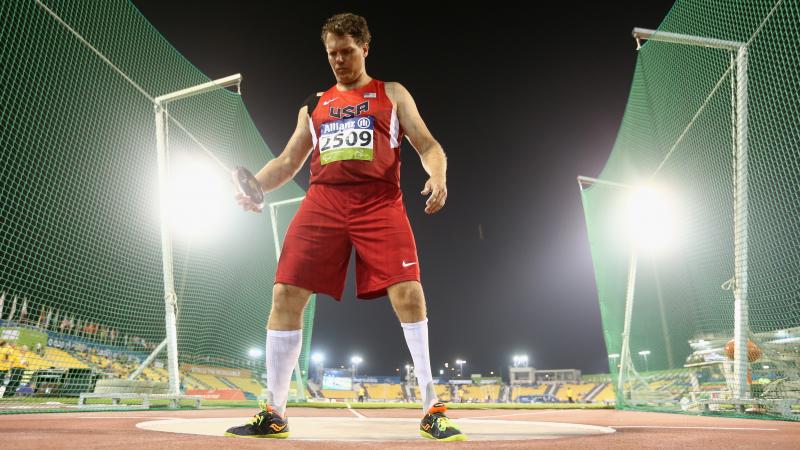 After a 16-year break from the sport, US discus thrower David Blair came back with a vengeance in February 2015 and by October that year was a world silver medallist.
Eighteen months after his return, the Utah-based athlete won Paralympic gold at Rio 2016, with a stunning world record of 64.11m. Months prior to Rio, he threw 63.61m – breaking teammate Jeremy Campbell's four-year-old world record – to underline his credentials as a gold medal contender at his first Paralympics.
Blair, who has club foot, started throwing at junior high school; his aim was to win a scholarship to fund him through college. By the time he was in high school, the teenager was making his mark - in 1993 he won the Utah State Championships.
College and freshman records followed – in the hammer, discus and indoor weight. By the time he graduated from Weber State University in 1999, Blair was throwing over 54 metres – just a few metres shy of the mark that would have enabled him to compete at the Olympic Trials.
After getting married and starting a family, Blair gave up athletics due to severe arthritis on both sides of his foot, establishing his career as a database programmer.
Then in 2012, Blair was watching South African Oscar Pistorius race at the London Olympics. It got him thinking about Para athletics. But Blair could not find any Para athletics record of the hammer throw - his favourite event - and the idea slipped away.
Then in February 2015 he decided to give it another try, throwing 55m at his first collegiate meeting.
Results
IPC Athletics 2015 World Championships (Doha, Qatar)

| Event | Medal | Unit | Date | Rank |
| --- | --- | --- | --- | --- |
| Men's Discus Throw F44 | | Final 1 | 2015-10-22 | 2 |
| Men's Shot Put F44 | | Final 1 | 2015-10-27 | 3 |
World Para Athletics Championships London 2017 (London, Great Britain)

| Event | Medal | Unit | Date | Rank |
| --- | --- | --- | --- | --- |
| Men's Discus Throw F44 | | Final 1 | 2017-07-16 | 2 |
Dubai 2019 World Para Athletics Championships (Dubai, United Arab Emirates)

| Event | Medal | Unit | Date | Rank |
| --- | --- | --- | --- | --- |
| Men's Discus Throw F64 | | Final 1 | 2019-11-14 | 2 |