Imagen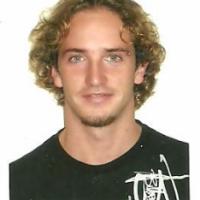 Biography
Impairment information
Type of Impairment
Limb deficiency
Origin of Impairment
Congenital
Classification
S10, SB9, SM10
Further personal information
Occupation
Athlete, Coach
Languages
Catalan, English, French, Italian, Spanish
Higher education
Physiotherapy - University of Valencia: Spain
Sport specific information
When and where did you begin this sport?
He took up swimming at age 10 and began competing in Para swimming at around age 15. "As a child I did all kinds of sports, but they wouldn't let me compete because of my ankle and when I was 10, I started swimming and training at the club in Burjassot [Spain], competing with able-bodied swimmers until I was 15. At that age someone saw me in a competition and asked me if I wanted to compete in the S10 Para swimming category."
Why this sport?
He was introduced to Para sport by his sister, who knew Spanish Para swimmer and Para cyclist Ricardo Ten. "I liked all sports, but my parents advised me to take up swimming because of my foot."
Club / Team
CD Aquatic Campanar [ESP] / CN Xativa [ESP] / Universidad Catolica de Murcia [ESP]:
Name of coach
Jaume Marce, ESP
Training Regime
He trains at the High Performance Centre in Sant Cugat, Spain.
International debut
Tournament
European Championships
General interest
Hobbies
Electronic music, sports, travelling. (Athlete, 10 Sep 2019)
Memorable sporting achievement
Winning a silver medal in the S10 50m freestyle at the 2004 Paralympic Games in Athens. (Athlete, 10 Sep 2019)
Most influential person in career
His parents. (Athlete, 10 Sep 2019)
Hero / Idol
Spanish Para swimmer and Para cyclist Ricardo Ten. (Athlete, 10 Sep 2019)
Sporting philosophy / motto
"Enjoy doing what you are doing." (Athlete, 12 Jul 2015)
Ambitions
To compete at the 2022 World Championships in Madeira, Portugal, and the 2024 Paralympic Games in Paris. Outside of competing, he aspires to become a sports psychologist. (proyectofer.es, 11 Feb 2022; asprovincias.es, 03 May 2021; sportlife.es, 09 Mar 2021)
Impairment
He was born with an underdeveloped right foot and right ankle [clubfoot]. (Athlete, 10 Sep 2019; cac.drac.com, 21 Jul 2011 )
Other information
RETIREMENT THOUGHTS
Though he would like to compete at the 2024 Paralympic Games in Paris, he says he will consider whether to continue swimming at the end of the 2022 season. "I am not in podium positions at the Paralympic Games any more. I have to be aware and face reality. On the one hand, I am already old. On the other, the talent in Para swimming has grown exponentially. I had already noticed it at international events in recent years, but at the 2020 Paralympic Games in Tokyo it was really surprising. There are very young people who swim really fast. My goal is to compete in my sixth Paralympic Games [in Paris]. However, I know that getting there will already be a titanic challenge. For this reason, I will make the final decision about my sporting future as the year [2022] progresses, after the World championship in Portugal. It is an event comparable to the Paralympic Games. Based on my performance, my experience, my times, we will see if I continue or not. I am optimistic. I think I can go all the way and compete in Paris, but I will decide at the end of the season." (proyectofer.es, 11 Feb 2022)

COACHING
He works as a part-time coach at Cerdanyola Triathlon Club in Spain. "I finish the week exhausted, but I can balance it well and I like it. I train children, adolescents and some adults. Passing the passion for sports on to kids is something that I love." (Twitter profile, 29 Apr 2022; lasprovincias.es, 03 May 2021; sportlife.es, 09 Mar 2021)

FROM FRANCE TO SPAIN
Born in Beziers, France, at age three he and his family moved to Valencia, Spain. (proyectofer.es, 09 Apr 2019)

FURTHER STUDIES
In addition to his bachelor's degree in physiotherapy, he has also studied for postgraduate qualifications in sports management, and physical activity and illness at the University of Barcelona in Spain, and a master's degree in high-performance sport through the Spanish Olympic Committee. He has also studied psychology remotely through the San Antonio Catholic University of Murcia in Spain and is a qualified swimming coach. (Athlete, 10 Sep 2019; lasprovincias.es, 03 May 2021)

OTHER ACTIVITIES
He has run the Taronja Games in Spain, a three-day mixed sporting event for people of all ages and abilities that offers the chance to get involved in sports while raising money for charity. One of the events, a 1km open water race, is named after him. (Twitter profile, 26 Jul 2019; yosoynoticia.es, 02 Jul 2018; superdeporte.es, 28 Jun 2017)
Results
IPC Swimming World Championships Eindhoven 2010 (Eindhoven, Netherlands)

| Event | Medal | Unit | Date | Rank |
| --- | --- | --- | --- | --- |
| Men's 50 m Freestyle S10 | | Final Round | | 7 |
| Men's 50 m Freestyle S10 | | Heat 3 | | 3 |
| Men's 4x100 m Medley 34pts | | Final Round | | 4 |
| Men's 4x100 m Medley 34pts | | Heat 1 | | 3 |
| Men's 4x100 m Freestyle 34pts | | Heat 1 | | 9999 |
| Men's 100 m Freestyle S10 | | Final Round | | 8 |
| Men's 100 m Freestyle S10 | | Heat 1 | | 2 |
| Men's 100 m Butterfly S10 | | Final Round | | 3 |
| Men's 100 m Butterfly S10 | | Heat 1 | | 1 |
IPC Swimming World Championships Durban 2006 (Durban, South Africa)

| Event | Medal | Unit | Date | Rank |
| --- | --- | --- | --- | --- |
| Men's 100 m Butterfly S10 | | Heats | | 1 |
| Men's 100 m Butterfly S10 | | Final Round | | 2 |
| Men's 100 m Freestyle S10 | | Heats | | 4 |
| Men's 100 m Freestyle S10 | | Final Round | | 3 |
| Men's 4x100 m Freestyle 34 pts | | Final Round | | 6 |
| Men's 4x100 m Medley 34 pts | | Heats | | 9999 |
| Men's 50 m Freestyle S10 | | Heats | | 2 |
| Men's 50 m Freestyle S10 | | Final Round | | 3 |
IPC Swimming World Championships Mar del Plata 2002 (Mar del Plata, Argentina)

| Event | Medal | Unit | Date | Rank |
| --- | --- | --- | --- | --- |
| Men's 4x100 m Medley 34 pts | | Final Round | | 2 |
| Men's 4x100 m Medley 34 pts | | Heats | | 6 |
| Men's 200 m Individual Medley SM10 | | Final Round | | 7 |
| Men's 200 m Individual Medley SM10 | | Heats | | 8 |
| Men's 100 m Butterfly S10 | | Final Round | | 6 |
| Men's 100 m Butterfly S10 | | Heats | | 2 |
| Men's 100 m Freestyle S10 | | Final Round | | 2 |
| Men's 100 m Freestyle S10 | | Heats | | 2 |
| Men's 50 m Freestyle S10 | | Final Round | | 3 |
| Men's 50 m Freestyle S10 | | Heats | | 1 |
2013 IPC Swimming World Championships (Montreal, Canada)

| Event | Medal | Unit | Date | Rank |
| --- | --- | --- | --- | --- |
| Men's 100 m Freestyle S10 | | Heat 2 | 2013-08-12 | 8 |
| Men's 100 m Freestyle S10 | | Final 1 | 2013-08-12 | 6 |
| Men's 100 m Butterfly S10 | | Heat 1 | 2013-08-16 | 3 |
| Men's 100 m Butterfly S10 | | Final 1 | 2013-08-16 | 3 |
| Men's 50 m Freestyle S10 | | Final 1 | 2013-08-18 | 5 |
2015 IPC Swimming World Championships (Glasgow, Great Britain)

| Event | Medal | Unit | Date | Rank |
| --- | --- | --- | --- | --- |
| Men's 50 m Freestyle S10 | | Heat 1 | 2015-07-13 | 5 |
| Men's 50 m Freestyle S10 | | Final 1 | 2015-07-13 | 5 |
| Men's 100 m Butterfly S10 | | Final 1 | 2015-07-17 | 4 |
| Men's 100 m Butterfly S10 | | Heat 1 | 2015-07-17 | 8 |
| Men's 100 m Freestyle S10 | | Heat 1 | 2015-07-18 | 3 |
| Men's 100 m Freestyle S10 | | Final 1 | 2015-07-18 | 5 |
| Men's 4x100 m Medley 34pts | | Heat 2 | 2015-07-18 | 7 |
| Men's 4x100 m Medley 34pts | | Final 1 | 2015-07-18 | 7 |
Mexico City 2017 World Para Swimming Championships (Mexico City, Mexico)

| Event | Medal | Unit | Date | Rank |
| --- | --- | --- | --- | --- |
| Men's 50 m Freestyle S10 | | Final 1 | 2017-12-02 | 3 |
| Men's 100 m Freestyle S10 | | Final 1 | 2017-12-03 | 3 |
| Men's 100 m Butterfly S10 | | Final 1 | 2017-12-06 | 2 |
| Men's 100 m Butterfly S10 | | Heat 1 | 2017-12-06 | 5 |