Imagen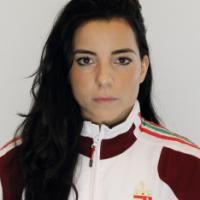 Biography
Impairment information
Type of Impairment
Limb deficiency
Origin of Impairment
Congenital
Classification
S6, SB4, SM6
Further personal information
Languages
English, Hungarian
Higher education
Social Work Studies - Eotvos Lorand University: Budapest, HUN
Sport specific information
When and where did you begin this sport?
She began swimming at age 12 in Heviz, Hungary.
Why this sport?
Her doctor recommended swimming as a form of rehabilitation after diagnosing her with scoliosis. She was also inspired by Hungarian Para swimmer Dora Pasztory. "What started as a joke by my father, that I would qualify for the Games in Beijing [2008], actually became a reality. I was so excited to get my first swimsuit and learn to swim. From the get-go it was obvious that I had found my natural and happy place in the water where everything is much easier. Swimming means everything to me. It helped me to accept myself and I believe it can help other people to accept themselves too. It gave me goals to become my own hero, the sportswoman who achieves great things. It also built my self-confidence. People no longer pitied me but started to appreciate me and applaud my success."
Club / Team
Vasas SC: Budapest, HUN
Name of coach
Almos Szabo [club], HUN
Training Regime
She trains at the Danube Arena in Budapest, Hungary.
General interest
Hobbies
Travel, hiking, watching films, blogging. (sportandmove.hu, 30 Dec 2020; Athlete, 12 Sep 2019)
Memorable sporting achievement
Winning a gold medal in the SB4 100m breaststroke at the 2019 World Championships in London, England. (paralympic.org, 28 Jan 2021; Athlete, 12 Sep 2019)
Most influential person in career
Her parents, Hungarian Para swimmer Dora Pasztory, and Hungarian swimmer Katinka Hosszu. (24.hu, 24 Dec 2019; Athlete, 12 Sep 2019)
Hero / Idol
New Zealand Para swimmer Sophie Pascoe, Egyptian footballer Mohamed Salah. (Athlete, 12 Sep 2019)
Injuries
She underwent multiple shoulder surgeries in 2020. (varosikurir.hu, 11 Sep 2020)

She underwent elbow surgery in 2017 after a fall. (llesfanni.hu, 24 Dec 2019)

She experienced elbow problems in 2016. (glamouronline.hu, 26 Jan 2017)

She underwent shoulder surgery in September 2012, and returned to training in January 2013. (napiboldogsag.com, 14 Oct 2014)
Sporting philosophy / motto
"Hard work always pays off and no matter how hard the situation, you can always come out of it a winner." (paralympic.org, 28 Jan 2021)
Awards and honours
In 2020 she was named Female Athlete of the Year by Glamour, a Hungarian fashion magazine. (paralympic.org, 28 Jan 2021)

She was named the 2019 University Athlete of the Year by Eotvos Lorand University in Budapest, Hungary. (parauszas.hu, 01 Jan 2020; llesfanni.hu, 24 Dec 2019)

In 2008 she was named Person of the Year, Female Athlete of the Year, and Student Athlete of the Year in Zala, Hungary. (parauszas.hu, 01 Jan 2020; llesfanni.hu, 24 Dec 2019)
Milestones
At age 16 years and 139 days, she was the youngest athlete from any sport to represent Hungary at the 2008 Paralympic Games in Beijing. (SportsDeskOnline, 09 Aug 2019; webbeteg.hu, 02 Sep 2012)
Ambitions
To win a medal at the 2020 Paralympic Games in Tokyo. (allianz.hu, 17 Dec 2020)
Impairment
She was born with dysmelia in all four limbs. The condition affects her arms and also meant she was born without legs. (Athlete, 12 Sep 2019)
Other information
INJURY AND NEW CLASSIFICATION
In 2017 she was reclassified from SB5 to SB4 following an elbow injury she sustained in a fall. "I was sitting on a window ledge trying to get a Christmas decoration. I fell down and injured my elbow. I believe nothing happens by accident. After all, this unfortunate accident and my change of state following my elbow surgery made it possible for me to apply for a new category in 2017 and to reconsider my degree of injury. In 2018 I became European champion, and in 2019 I became world champion." (llesfanni.hu, 24 Dec 2019)

FOUNDATION
In 2006 her parents set up the Golden Butterfly Foundation in Hungary to help support her training and buy her swimming equipment. The organisation has also been used to mentor other children since 2019. "In the last two years all the donations have been used to support local Para swimmers with their needs. They are around 15 years old and are the shining hope for the future. I always try to show a good example. I enjoy inspiring others and believe if there is only one person whose life I can have an impact on, I am happy." (paralympic.org, 28 Jan 2021)
Results
IPC Swimming World Championships Durban 2006 (Durban, South Africa)

| Event | Medal | Unit | Date | Rank |
| --- | --- | --- | --- | --- |
| Women's 400 m Freestyle S6 | | Final Round | | 7 |
| Women's 200 m Individual Medley SM6 | | Heats | | 10 |
| Women's 100 m Breaststroke SB5 | | Final Round | | 7 |
| Women's 100 m Breaststroke SB5 | | Heats | | 7 |
| Women's 100 m Backstroke S6 | | Heats | | 9 |
IPC Swimming World Championships Eindhoven 2010 (Eindhoven, Netherlands)

| Event | Medal | Unit | Date | Rank |
| --- | --- | --- | --- | --- |
| Women's 400 m Freestyle S6 | | Final Round | | 7 |
| Women's 400 m Freestyle S6 | | Heat 2 | | 4 |
| Women's 200 m Individual Medley SM6 | | Heat 2 | | 5 |
| Women's 100 m Freestyle S6 | | Heat 2 | | 6 |
| Women's 100 m Breaststroke SB5 | | Final Round | | 5 |
| Women's 100 m Breaststroke SB5 | | Heat 2 | | 2 |
| Women's 100 m Backstroke S6 | | Final Round | | 6 |
| Women's 100 m Backstroke S6 | | Heat 1 | | 3 |
2013 IPC Swimming World Championships (Montreal, Canada)

| Event | Medal | Unit | Date | Rank |
| --- | --- | --- | --- | --- |
| Women's 400 m Freestyle S6 | | Final 1 | 2013-08-12 | 6 |
| Women's 400 m Freestyle S6 | | Heat 2 | 2013-08-12 | 6 |
| Women's 4x50 m Freestyle 20pts | | Final 1 | 2013-08-14 | 5 |
| Women's 4x100 m Freestyle 34pts | | Final 1 | 2013-08-15 | 5 |
| Women's 200 m Individual Medley SM6 | | Heat 2 | 2013-08-15 | 10 |
| Women's 100 m Breaststroke SB5 | | Final 1 | 2013-08-16 | 7 |
| Women's 4x50 m Medley 20pts | | Final 1 | 2013-08-16 | 5 |
| Women's 100 m Breaststroke SB5 | | Heat 1 | 2013-08-16 | 6 |
| Women's 100 m Backstroke S6 | | Heat 1 | 2013-08-17 | 8 |
| Women's 100 m Backstroke S6 | | Final 1 | 2013-08-17 | 7 |
| Women's 100 m Freestyle S6 | | Heat 2 | 2013-08-18 | 9 |
2015 IPC Swimming World Championships (Glasgow, Great Britain)

| Event | Medal | Unit | Date | Rank |
| --- | --- | --- | --- | --- |
| Women's 400 m Freestyle S6 | | Heat 1 | 2015-07-13 | 10 |
| Women's 100 m Breaststroke SB5 | | Heat 1 | 2015-07-14 | 2 |
| Women's 100 m Breaststroke SB5 | | Final 1 | 2015-07-14 | 9999 |
| Women's 200 m Individual Medley SM6 | | Heat 1 | 2015-07-17 | 11 |
| Women's 100 m Backstroke S6 | | Heat 2 | 2015-07-18 | 9 |
| Women's 100 m Freestyle S6 | | Heat 1 | 2015-07-19 | 12 |
Mexico City 2017 World Para Swimming Championships (Mexico City, Mexico)

| Event | Medal | Unit | Date | Rank |
| --- | --- | --- | --- | --- |
| Women's 100 m Freestyle S5 | | Heat 2 | 2017-12-02 | 5 |
| Women's 100 m Freestyle S5 | | Final 1 | 2017-12-02 | 7 |
| Women's 100 m Breaststroke SB4 | | Final 1 | 2017-12-02 | 3 |
| Women's 50 m Butterfly S5 | | Heat 2 | 2017-12-03 | 9 |
| Women's 200 m Individual Medley SM6 | | Final 1 | 2017-12-07 | 5 |